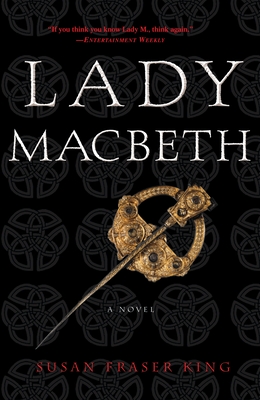 Lady Macbeth (Paperback)
Three Rivers Press (CA), 9780307341754, 356pp.
Publication Date: April 7, 2009
* Individual store prices may vary.
or
Not Currently Available for Direct Purchase
Description
From towering crags to misted moors and formidable fortresses, Lady Macbeth transports readers to the heart of eleventh-century Scotland, painting a bold, vivid portrait of a woman much maligned by history. Lady Gruadh--Rue--is the last female descendant of Scotland's most royal line. Married to a powerful northern lord, she is widowed while still carrying his child and forced to marry her husband's murderer: a rising warlord named Macbeth. As she encounters danger from Vikings, Saxons, and treacherous Scottish lords, Rue begins to respect the man she once despised. When she learns that Macbeth's complex ambitions extend beyond the borders of the vast northern region, she realizes that only Macbeth can unite Scotland. But his wife's royal blood is the key to his ultimate success. Determined to protect her son and a proud legacy of warrior kings and strong women, Rue invokes the ancient wisdom and secret practices of her female ancestors as she strives to hold her own in a warrior society. Finally, side by side as the last Celtic king and queen of Scotland, she and Macbeth must face the gathering storm brought on by their combined destiny. This is Lady Macbeth as you've never seen her.
About the Author
With graduate degrees in art and art history, former college lecturer Susan Fraser King is the author of several bestselling novels praised for lyrical style and historical accuracy. Raised in upstate New York and a frequent visitor to Scotland, she lives in Maryland with her family.
Praise For Lady Macbeth…
"A compelling book, vividly realized with fascinating detail."
–Rosalind Miles, international bestselling author of I, Elizabeth

"Forget everything you ever knew about Lady Macbeth! This the real deal, immediate and powerful. Combining fresh new scholarship with a rare gift for storytelling, Susan Fraser King brings to life the true Scottish Queen–brave, wise, and altogether enthralling."
—Susan Holloway Scott, author of Duchess: A Novel of Sarah Churchill

"Lady Macbeth paints a most intriguing portrait of the woman we thought we knew. A richly detailed, beautifully written, and moving story.
—Loretta Chase, USA Today bestselling author

"Weaves fact and fiction seamlessly, and transports the reader to eleventh century Scotland. Fluidly written, sometimes lyrical, Lady Macbeth is fascinating, exciting and memorable."
—Edith Felber, author of Queen of the Shadows

"Spinning her tale from the steel and bones of history, Susan Fraser King tackles one of literature's most famous villainesses, and utterly transforms her. With vividly drawn details and richly believable characters, Lady Macbeth takes place in a Scotland that feels so authentic readers can smell the heather and feel the cold northern winds; this novel will forever change the way you view Macbeth and his lady.
—Mary Jo Putney, New York Times bestselling author

"King is an exceptional medievalist who has moved from historical romance to historical fiction with a novel exploring the life of Lady Macbeth--not Shakespeare's Lady Macbeth, but a full-blooded woman with a warrior's heart and a politician's mind.  She will surely influence the way readers view Macbeth and his queen in the future."
—Romantic Times

"Historical romance novelist King leaps into deeper historical waters with this captivating take on Lady Macbeth, who tells her side of the story with a forceful, uncompromising daring…Based on historical evidence and recent theories of the era, this is an epic tale written in high-voltage prose. King's novel will thrill lovers of Shakespeare adaptations and delight anyone who wants to enjoy a ripping tale of love and ambition."
—Publishers Weekly

"A fascinating, layered story: King's novel turns Shakespeare's play on its ear, setting history against fable as it brings a nuanced and fierce truth to the life of the much-maligned Lady Macbeth."
–Eloisa James, New York Times bestselling author
Advertisement