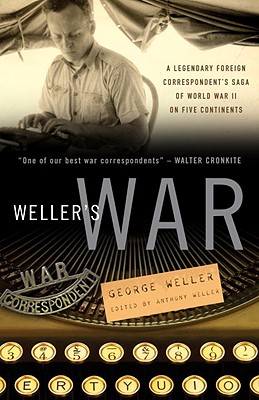 Weller's War: A Legendary Foreign Correspondent's Saga of World War II on Five Continents (Paperback)
A Legendary Foreign Correspondent's Saga of World War II on Five Continents
Three Rivers Press (CA), 9780307342034, 643pp.
Publication Date: March 16, 2010
* Individual store prices may vary.
or
Not Currently Available for Direct Purchase
Description
Walter Cronkite called him "one of our best war correspondents." His stories from Europe, Africa, Asia, and the Pacific during World War II won him the Pulitzer Prize. Now, George Weller is immortalized in a collection of fearless, intrepid dispatches that crisscross a shattered globe. Edited by his son, Weller's War provides an eyewitness look at modern history's greatest upheaval, and also contains never-published reporting alongside excerpts from three books. From battlefront to beachhead, Weller incisively chronicles the heroism and humanity that still managed to triumph amid horrific events. Following the Nazi seizure of Eastern Europe and his own "quarantine" in Greece by the Gestapo, George Weller accompanies Congolese troops freeing Ethiopia for Haile Selassie. He remains in doomed Singapore until the colony falls. On Java, he watches brave American fighter pilots delay the island's collapse. Strafed by Japanese planes, he escapes by small boat to Australia. He covers the Pacific, from the Solomon Islands to the jungle hell of New Guinea. Back in Europe he sees a liberated Greece beset by civil war, then crosses the Middle East. In Burma, he risks guerrilla raids behind enemy lines. At the war's close, he hurries from China to a defeated but uncowed Japan, where new horrors await. And he struggles throughout against a tireless adversary--censorship. Vivid and heart-stopping, the dispatches of World War II reporter George Weller are as intimate, memorable, and relevant today as they were nearly seventy years ago--and demonstrate what it meant to be a foreign correspondent long before the era of satellite phones and the Internet. From the Hardcover edition.
About the Author
George Weller was born in Boston and graduated from Harvard in 1929. As an admired but penniless young novelist, he began reporting on Greece and the Balkans for the New York Times in the 1930s, then made his name covering World War II for the Chicago Daily News. He won a 1943 Pulitzer Prize for his story of an emergency appendectomy on a submarine in enemy waters. Throughout his long career Weller reported from five continents; he was a Nieman Fellow in 1947 and also won a 1954 George Polk Award. His work includes two highly praised WWII books, Singapore Is Silent and Bases Overseas. He died at his home in Italy at the age of 95. Anthony Weller is the author of three novels--The Garden of the Peacocks, The Polish Lover, and The Siege of Salt Cove--and a memoir of India and Pakistan called Days and Nights on the Grand Trunk Road. He has traveled widely for numerous magazines and is also a much-recorded jazz and classical guitarist.
Praise For Weller's War: A Legendary Foreign Correspondent's Saga of World War II on Five Continents…
"At this moment of journalism's peril there arrives, perhaps just in time, a heavy volume that tells us what journalists did amid indescribable peril, and reminds us of what journalists can do amid the most trying circumstances…These tales of heroism, fear, loss, national dreams, and an international nightmare are some of the finest ever told. And this collection, annotated by the correspondent's son, Anthony Weller, secures the father's place among the most gifted storytellers ever born. These are stories that should never die."
—Boston Globe

"[Weller] reported it all in an urbane, understated style that never palls. Weller had no sense of himself as a Great Journalist–which perhaps is why he was one. Weller's 1944 presentation of "the worldwide American" stands out as a model of brevity and insight: "His foreign policy represents an attempt to become popular by being benevolent, rather than to be respected by being responsible." Weller has been obscured by better known personalities like Ernie Pyle. This anthology, edited by his son, should give him the recognition his work merits."
—Publishers Weekly (starred review)

"[A] humbling reminder of what an important contribution to our understanding of the world a really good 'traditional' reporter can offer…The great power of Weller's reporting lies in his ability to convey a vivid sense of how the war felt on the ground (or on the sea and in the air) to those fighting it — and to those civilians caught up in its whirlwind. His eye for detail, his ability to let those he encounters tell their stories and his descriptive power bring all too alive the scary, messy, relentless, bloody business of warfare. His courage and sheer resilience were remarkable…We must hope there will always be people such as George Weller with the skills and the spirit to tell the world the often tortured stories of itself."
—Financial Times

"Even if you, like me, are not normally drawn to war reporting, there's a fabulous new book . . .George Weller, a World War II correspondent in Europe, Asia, Africa, and the Pacific, was fearless and prolific. He filed eyewitness accounts from the battlefield to the beachhead and chronicled feats of heroism and humanity, winning a Pulitzer. . . Compelling and precise."
—Boston Globe/Boston.com

"Weller carried into his Chicago Daily News reportage a literary sensibility adjusted to the incident at hand, whether a battle, an interview with de Gaulle, or an Axis atrocity…Shrewd and verbally pictorial, Weller's wartime articles constitute a rewarding reminder of his prominence——he received a Pulitzer Prize in 1943——and of the intrepidness, not to mention mobility (the datelines range from Greece to Ethiopia to New Guinea), associated with the title "war correspondent."
—Booklist

"Readers will be immediately struck by the profound difference between Weller's coverage of armed conflict and the sort typically seen on television today. The cultured, cosmopolitan, multilingual journalist strove to present not just the images and events of a world war but the political machinations behind its gruesome twists and turns...Adds scope, analysis and emotional immediacy to a critical body of history."
—Kirkus (starred review)

"[H]is dispatches…add tremendously to our understanding of the war at ground level, the people's war… Anyone interested in World War II will want to read both [Weller's War and First Into Nagasaki]."
—Library Journal
Advertisement