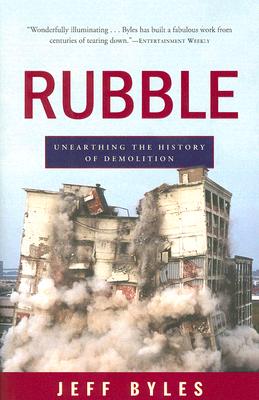 Rubble: Unearthing the History of Demolition (Paperback)
Unearthing the History of Demolition
Three Rivers Press (CA), 9780307345288, 353pp.
Publication Date: November 28, 2006
Description
Ride the Wrecking Ball Through the History of Demolition
Rubble is the first-ever biography of the wrecking trade, a riveting, character-filled narrative of how the black art of demolition grew to become a multi-billion-dollar business, an extreme-spectator sport, and a touchstone for what we value and what we disdain.
Rich with stories of demolition's quirky impresarios--including Mark Loizeaux, the world-famous engineer of destruction who brought Seattle's Kingdome to the ground in mere seconds--this account makes firsthand forays to implosion sites and digs extensively into wrecking's little-known historical record. Told with arresting detail and energy, this tale reveals the scientific, social, economic, and personal reasons for why we unbuild our world.
Named to the "Best of 2005" lists of Time Out New York and The Village Voice
About the Author
Jeff Byles has written feature articles and critical reviews about architecture, urbanism, and culture for the New York Times, Metropolis, and other publications. He earned his MFA in creative nonfiction from the University of Alaska Anchorage and lives in New York City. Visit his website at jeffbyles.com.
Praise For Rubble: Unearthing the History of Demolition…
"Wonderfully illuminating . . . Byles has built a fabulous work from centuries of tearing down." —Entertainment Weekly

"Engaging." —The Atlanta Journal-Constitution

"A live-wire, multilevel study . . . the demolition of buildings inspires complex emotions—shock, horror, even awe—and those responses are well worth thinking about." —Time Out New York

"Urban design, it turns out, is as much about subtraction as addition. With matchless wit, Jeff Byles explores the American obsession with demolishing our architectural past. He's the poet laureate of those unsung heroes: the 'unbuilders.'" —Mike Davis, author of Dead Cities
Advertisement