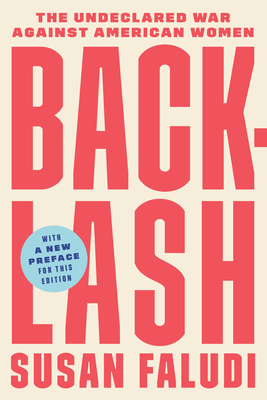 Backlash
The Undeclared War Against American Women
Paperback

* Individual store prices may vary.
Other Editions of This Title:
Digital Audiobook (4/6/2020)
Description
A new edition of the feminist classic, with an all-new introduction exploring the role of backlash in the 2016 election and laying out a path forward for 2020 and beyond

Winner of the National Book Critics Circle Award • "Enraging, enlightening, and invigorating, Backlash is, most of all, true."—Newsday

First published in 1991, Backlash made headlines and became a bestselling classic for its thoroughgoing debunking of a decadelong antifeminist backlash against women's advances. A Pulitzer Prize–winning journalist, Susan Faludi brilliantly deconstructed the reigning myths about the "costs" of women's independence—from the supposed "man shortage" to the "infertility epidemic" to "career burnout" to "toxic day care"—and traced their circulation from Reagan-era politics through the echo chambers of mass media, advertising, and popular culture. 
 
As Faludi writes in a new preface for this edition, much has changed in the intervening years: The Internet has given voice to a new generation of feminists. Corporations list "gender equality" among their core values. In 2019, a record number of women entered Congress. Yet the glass ceiling is still unshattered, women are still punished for wanting to succeed, and reproductive rights are hanging by a thread. This startling and essential book helps explain why women's freedoms are still so demonized and threatened—and urges us to choose a different future.
Praise For Backlash: The Undeclared War Against American Women…
"Faludi uses her dazzling investigative powers to zap the smug detractors of feminism, the hypocrites, backsliders, and antifeminists. The result is a rich and juicy read, informed by powerful logic and moral clarity."
—Barbara Ehrenreich, author of Nickel and Dimed

"The backlash against women is real. This is the book we need to help us understand it, to struggle through the battle fatigue, and to keep going."
—Alice Walker

"As groundbreaking . . . as its two important predecessors, Simone de Beauvoir's The Second Sex and Betty Friedan's The Feminine Mystique . . . gripping."
—Laura Shapiro, Newsweek

"Faludi argues with great passion and impressive research . . . Backlash may even be the catalyst for a new wave of activism."
—Vanity Fair

"[Backlash is] wholly convincing and more than a little alarming."
—The New Yorker 

"If you believe . . . that equality if good for women, and that traditional gender roles are mandated unfairly by culture, not nature, you'll find this book a valuable resource."
—Wendy Kaminer, The Atlantic

"Faludi gives so many examples of reporting skewed to emphasize the adverse effects if independence and nontraditional roles for women, when ample evidence exists that such effects are often transitory, that one is left with no doubt that she is right."
—Diane Johnson, The New York Review of Books 

 "Backlash is a crucial book on a crucial subject. With great insight and wit, Faludi identifies the obstacles to women's equality and directs us toward more promising responses."
—Deborah L. Rhode, Professor of Law, Stanford Law School, and former Director, Institute on Women and Gender, Stanford

"Thought-provoking, inspiring, and truly groundbreaking, Backlash is a must-read for women across the nation."
—Eleanor Smeal, President, The Fund for the Feminist Majority

"Spellbinding and frightening, this book is a wake-up call to the men as well as the women who are struggling to build a gender-respectful society."
—Robert Reich, author of The Work of Nations

"Smartly written, extraordinarily reported."
—M Magazine

"Thorough, carefully documented and persuasive."
—Chicago Tribune

"Withering commentary . . . This eloquent, brilliantly argued book should be read by everyone concerned about gender equality."
—Publishers Weekly

"Powerful and long-overdue myth-buster—an instant classic . . . Brilliant reportage . . . a stunning debut."
—Kirkus Reviews

"Fiery, scintillating . . . deserves the largest possible readership."
—Booklist 
Crown, 9780307345424, 608pp.
Publication Date: August 15, 2006
About the Author
Susan Faludi won the Pulitzer Prize in 1991 for excellence in journalism and won the National Book Critics Circle's nonfiction award for Backlash upon its original publication. She is also the author of The Terror Dream, Stiffed, and In the Darkroom, a finalist for the 2017 Pulitzer Prize in biography. A former reporter for The Wall Street Journal, she has written for The New Yorker, The New York Times, Harper's, and The Baffler, among other publications.