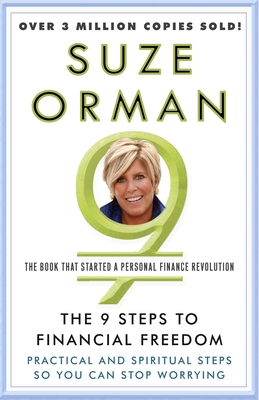 The 9 Steps to Financial Freedom (Paperback)
Practical and Spiritual Steps So You Can Stop Worrying
Currency, 9780307345844, 352pp.
Publication Date: August 15, 2006
* Individual store prices may vary.
Description
With a new preface that reflects personal finance today, New York Times bestselling author and leading financial expert Suze Orman shares a refreshed version of The 9 Steps to Financial Freedom, the revolutionary, groundbreaking classic that changed the way we think, feel, and act about money. Unlike traditional money management books, 9 Steps approaches money from an emotional and spiritual point of view, emphasizing that fear, shame, and anger are the main obstacles to wealth. 
 
Now, in these turbulent economic times, Suze's life-changing message from fifteen years ago is more important than ever. This reissued version of shows you:
·         That debt is bondage and how best to break free of it
·         Why the less you have, the more you need a revocable living trust
·         How to find the best financial adviser (look in the mirror!)
·         How to avoid being taken advantage of when buying life insurance
·         Which retirement accounts make sense and which do not

In nine simple steps, you'll learn all you need to know to be responsible with and respectful of the money you have and the money you don't have. Embrace Suze's groundbreaking philosophy—that you are worth more than your money—and understand the true meaning of wealth so you can live a life without regrets.
If you do not have control over the money in your life right now, Suze's nine steps to financial freedom are for you.
About the Author
SUZE ORMAN is a two-time Emmy Award-winning television host and the author of nine consecutive New York Times bestsellers. Orman was named by Time Magazine as one of the most influential people in the world today.  A powerful motivational speaker, Suze hosts the award winning Suze Orman Show on CNBC, America's Money Class on OWN and Financial Essentials on QVC. A contributor to O the Oprah Magazine and the Costco Connection, Suze Orman is a force of nature and a one woman financial advice powerhouse.