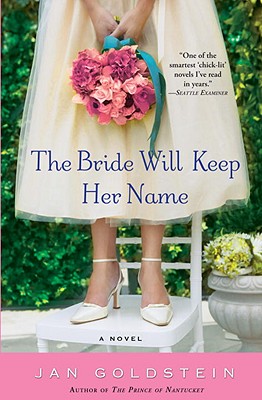 The Bride Will Keep Her Name
Paperback

* Individual store prices may vary.
Description
Something borrowed. Something blue. Do you really know the man to whom you re saying I do?

Madison Mandelbaum is on top of the world. She's got a loving though totally neurotic family, two fabulous girlfriends, and best of all, she's head-over-heels in love with Colin Darcy, an investigative reporter for NBC, a distant relation to the Queen, and most importantly Maddie's fiance.
Be careful what you wish for
her mother's always fond of saying, but with Colin on her arm, Maddie is certain that everything will finally go right.
With one week to go before the wedding, Maddie receives an anonymous email that suggests that her fiance may not be the man she thinks he is. Is this someone's idea of a pre-wedding joke? Yet as sinister phone calls, text messages, and disturbing clues turn up, all linking Colin to the murder of a sexy callgirl, Maddie realizes that she must get to the bottom of this.
Fast.
As the clock counts down towards what was to be the ceremony of her dreams, Maddie's life is turned into a wild race to find the truth. Between frantic dress fittings, entertaining future in-laws, and putting on a brave face, she and her best friends are propelled into an undercover investigation that plunges them into a seedy underworld of anonymous sex and backroom politics.
As her search brings her ever closer to the knowledge she desperately seeks, Maddie finds her heart being tested in ways she's never dreamed. Determined to take back her life, she discovers just how far someone in love will go to cover up the truth. And along the way, she stumbles upon a shocking secret she
never
saw coming.
From the Hardcover edition.
Praise For The Bride Will Keep Her Name…
"In his third novel, Jan Goldstein manages to pull off a hip, zany, shivery combination of The Thin Man and Sex and the City. Don't ask how he does it. Just hold on to the edge of your seat and read The Bride Will Keep Her Name."
—Jacquelyn Mitchard, author of The Deep End of the Ocean

"A fun thrill ride with lots of New York City flavor, Goldstein's third offering contains a great mix of humor, mystery and intrigue, with a healthy dose of girl power thrown in."
—Romantic Times

"[A]...smooth-sailing novel of art, murder and politics. The backdrop of the final frenzy before a wedding makes this madcap romp zippy and fun."
—Publishers Weekly

Praise for National Bestseller The Prince of Nantucket

"Goldstein unabashedly, effectively yanks readers' heartstrings. If you think you won't cry a little, you're wrong."
—Publishers Weekly

"Goldstein delivers."
—Kirkus Reviews

Praise for National Bestseller All That Matters

"A novel as moving as Tuesdays with Morrie . . . Jan Goldstein's All That Matters will tug at the heart and renew the soul. Just one warning: It's almost impossible to put down before the last page."
—The Oklahoman

"If you loved The Notebook, then you'll want to lose yourself reading All That Matters."
–Doubleday Book Club



Three Rivers Press (CA), 9780307345936, 259pp.
Publication Date: June 1, 2010
About the Author
JAN GOLDSTEIN is the author of two bestselling novels, All That Matters and The Prince of Nantucket. He lives with his wife, Bonnie, and their family in Los Angeles. From the Hardcover edition.
or
Not Currently Available for Direct Purchase