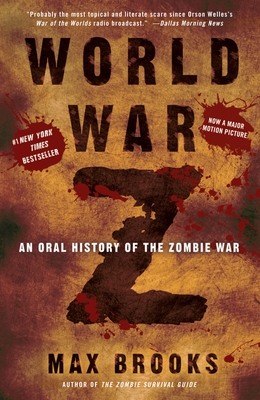 World War Z (Paperback)
An Oral History of the Zombie War
Broadway Books, 9780307346612, 352pp.
Publication Date: October 16, 2007
* Individual store prices may vary.
Description
We survived the zombie apocalypse, but how many of us are still haunted by that terrible time? We have (temporarily?) defeated the living dead, but at what cost? Told in the haunting and riveting voices of the men and women who witnessed the horror firsthand, World War Z, a #1 New York Times bestseller and the basis for the blockbuster movie, is the only record of the plague years.
About the Author
 "The Stud Terkel of zombie journalism," MAX BROOKS is also the author of the New York Times bestsellers The Zombie Survival Guide and The Zombie Survival Guide: Recorded Attacks. formed the core of the world's civilian survival manuals during the Zombie War.
Praise For World War Z: An Oral History of the Zombie War…
#1 NEW YORK TIMES BESTSELLER
USA TODAY BESTSELLER
WALL STREET JOURNAL BESTSELLER

"An 'oral history' of the global war the evil brain-chewers came within a hair of winning. Zombies are among us—turn on your television if you don't believe it. But, Brooks reassures us, even today, human fighters are hunting down the leftovers, and we're winning. [His] iron-jaw narrative is studded with practical advice on what to do when the zombies come, as they surely will. A literate, ironic, strangely tasty treat."
—Kirkus Reviews (starred review)

"Max Brooks has charted the folly of a disaster response based solely on advanced technologies and brute force in this step-by-step guide to what happened in the Zombie War. He details with extraordinary insight how in the face of institutional missteps and greed, people in unexpected ways achieve unique, creative, and effective strategies to survive and fight back. Brooks's account of the path to recovery and reconstruction after the war is fascinating, too. World War Z provides us with a starting point, at least, a basic blueprint from which to build a popular understanding of how, when, and why such a disaster came to be, and how small groups and individuals survived."
—Jeb Weisman, Ph.D.,Director of Strategic Technologies, National Center for Disaster Preparedness

"Possesses more creativity and zip than entire crates of other new fiction titles. Think Mad Max meets The Hot Zone . . . It's Apocalypse Now, pandemic-style. Creepy but fascinating."
—USA TODAY

"Prepare to be entranced by this addictively readable oral history of the great war between humans and zombies. . . . Will grab you as tightly as a dead man's fist. A."
—Entertainment Weekly, EW Pick

"Probably the most topical and literate scare since Orson Welles' War of the Worlds radio broadcast. . . . This is action-packed social-political satire with a global view."
—Dallas Morning News

"Brooks [is] America's most prominent maven on the living dead. . . . Chilling. . . . It is gripping reading and a scathing indictment of weak responses to crises real and over-hyped."
—Hartford Courant

"A sober, frequently horrifying and even moving account. . . . Brooks has delivered a full-blown horror novel, laced with sharp social and political observations and loads of macabre, gruesome imagery. . . . The real horror of World War Z comes from the all-too-plausible responses of human beings and governments to the menace."
—Fangoria

"A horror fan's version of Studs Terkel's The Good War. . . . Like George Romero's Dead trilogy, World War Z is another milestone in the zombie mythology."
—Booklist

"Brooks commits to detail in a way that makes his nightmare world creepily plausible. . . . Far more affecting than anything involving zombies really has any right to be. . . . The book . . . opens in blood and guts, turns the world into an oversized version of hell, then ends with and affirmation of humanity's ability to survive the worst the world has to offer. It feels like the right book for the right times, and that's the eeriest detail of all."
—A.V. Club, The Onion

"The best science fiction has traditionally been steeped in social commentary. World War Z continues that legacy. . . . We haven't been this excited about a book without pictures since–well, since ever."
—Metro

"Each story locks together perfectly to create a wonderful, giddy suspense. Brooks also has the political savvy to take advantage of any paranoia a modern reader might feel. . . . The perfect book for all us zombie junkies."
—Paste

"This infectious and compelling book will have nervous readers watching the streets for zombies. Recommended."
—Library Journal

Coverage from NPR