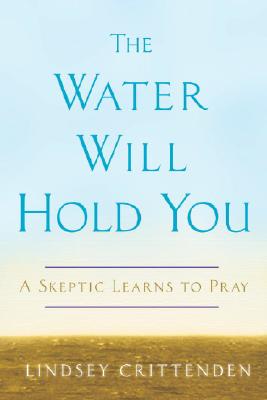 The Water Will Hold You
A Skeptic Learns to Pray
Hardcover

* Individual store prices may vary.
Description
The first time she said those words, suggested to her by an Episcopal priest, Lindsey Crittenden was riddled with misgivings. She didn t pray or attend church services she wasn t even sure she believed in God but the simple phrase held a soothing power she couldn t deny. Unlike the prayers of her childhood with their vague references to forgiving trespasses and dying before you wake, this felt solid. I am here was incontestable, certain. You are here confirmed the existence of a world outside herself and eased the knot of isolation Lindsey had been carrying with her since the day her brother died.
She soon found that she couldn t pray enough. She spoke to God; she questioned God; and as a result, she came to a deeper understanding of herself and the world around her. Prayer opened Crittenden up to the present and to those around her. It gave her strength when her mother, and then her father, became ill, and when her late brother's young son became increasingly hers to care for. But when a relationship went sour, prayer abandoned her. Or so it seemed, until she learned the most important lesson of all.
Poignant, personal, and surprisingly honest, "The Water Will Hold You" is a skeptic's story as much as it is a believer's story. It explores the power of the ineffable through a compelling narrative of family, loss, and love. Lindsey Crittenden has emerged as a fresh new voice with a message to cross spiritual and religious lines: Faith is constant discovery.
Praise For The Water Will Hold You: A Skeptic Learns to Pray…
"Prayer, as Lindsey Crittenden lives it, is not some pious mental exercise, but
a state of receptiveness. This is a thinking person's spiritual book: rich, gutsy, and written with poetic grace that powers a touching family saga. The Water Will
Hold You is absolutely exquisite."
—Rachel Howard, author of The Lost Night
Harmony, 9780307347350, 232pp.
Publication Date: March 13, 2007
About the Author
LINDSEY CRITTENDEN has received degrees from the University of California in Berkeley and in Davis, and she now teaches writing in the extension program of UC Berkeley. She is the author of an award-winning short story collection as well as essays and articles that have appeared in many national publications. She lives in San Francisco, California.

Visit the author at www.lindseycrittenden.com.
or
Not Currently Available for Direct Purchase