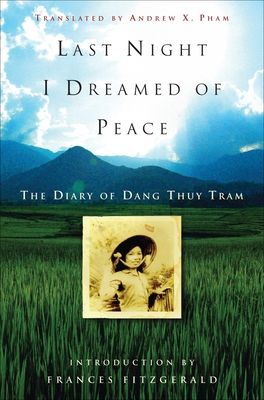 Last Night I Dreamed of Peace (Paperback)
The Diary of Dang Thuy Tram
Broadway Books, 9780307347381, 272pp.
Publication Date: October 7, 2008
Other Editions of This Title:
Digital Audiobook (9/10/2007)
* Individual store prices may vary.
Description
"Remarkable. . . . A gift from a heroine who was killed at twenty-seven but whose voice has survived to remind us of the humanity and decency that endure amid—and despite—the horror and chaos of war."
—Francine Prose, O, The Oprah Magazine

Brutally honest and rich in detail, this posthumously published diary of a twenty-seven-year-old Vietcong woman doctor, saved from destruction by an American soldier, gives us fresh insight into the lives of those fighting on the other side of the Vietnam War. It is a story of the struggle for one's ideals amid the despair and grief of war, but most of all, it is a story of hope in the most dire circumstances.

"As much a drama of feelings as a drama of war."
—Seth Mydans, New York Times

"A book to be read by and included in any course on the literature of the war. . . . A major contribution."
—Chicago Tribune

"An illuminating picture of what life was like among the enemy guerrillas, especially in the medical community."
—The VVA Veteran, official publication of Vietnam Veterans of America
About the Author
DANG THUY TRAM was a Vietnamese doctor who volunteered at the age of twenty-four to work in a Vietcong battlefield hospital in the Quan Ngai province. In the two years she worked in the hospital before her death in 1970, she recorded all she saw and felt in the pages of her diary.

FRANCES FITZGERALD covered the Vietnam War for The New Yorker. Her resulting book, Fire in the Lake, received the Pulitzer Prize.

ANDREW X. PHAM is the author of the award-winning memoir Catfish and Mandala and The Eaves of Heaven.
Praise For Last Night I Dreamed of Peace: The Diary of Dang Thuy Tram…
"Now available for the first time in English – faithfully translated by Pulitzer Prize-winning Vietnamese American journalist Pham – [LAST NIGHT I DREAMED OF PEACE] is witness to the unjust horrors and countless tragedies of war, a reminder made more pertinent every day."
—The Bloomsbury Review

"Last Night I Dreamed of Peace is a book to be read by all and included in any course on the literature of war."
—Chicago Tribune

"Remarkable. . . . A gift from a heroine who was killed at twenty-seven but whose voice has survived to remind us of the humanity and decency that endure amid—and despite—the horror and chaos of war."
—Francine Prose, O, The Oprah Magazine

"As much a drama of feelings as a drama of war."
—Seth Mydans, New York Times

"An illuminating picture of what life was like among the enemy guerrillas, especially in the medical community."
—The VVA Veteran, official publication of Vietnam Veterans of America

"Idealistic young North Vietnamese doctor describes her labors in makeshift clinics and hidden hospitals during the escalation of the Vietnam War.
Tram did not survive the war. On June 22, 1970, an American soldier shot her in the head while she was walking down a jungle pathway dressed in the conventional black pajamas of her compatriots. Judging by her diary, rescued from the flames by another American soldier and first published in Vietnam in 2005, she died with a firm commitment to the Communist Party, the reunion of Vietnam, her profession and her patients, many of whom she saved in surgeries conducted under the most primitive and dangerous conditions imaginable. In one of her first entries, on April 12, 1968, she characterizes herself as having 'the heart of a lonely girl filled with unanswered hopes and dreams.' This longing and yearning—especially for the lover she rarely sees, a man she names only as 'M' — fills these pages and gives them a poignancy that is at times almost unbearable. Early on, Tram records her concerns about being accepted into the Party. She eventually—and gleefully—is, but one of her last entries reveals the results of an evaluation by her political mentors, who say she must battle her 'bourgeois' tendencies. It's a laughable adjective to apply to a young woman dedicating her life to the communists' political and military cause. Tram blasts the despised Americans over and over, calling them 'imperialist,' 'invaders,' 'bloodthirsty.' She notes with outrage the devastation wrought by bombs, artillery and defoliation. Describing her efforts to treat a young man burned by a phosphorous bomb, she writes, 'He looks as if he has been roasted in an oven.'
Urgent, simple prose that pierces the heart."
—Kirkus Reviews