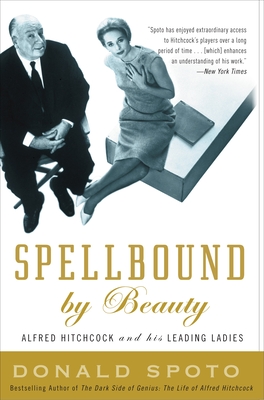 Spellbound by Beauty: Alfred Hitchcock and His Leading Ladies (Paperback)
Alfred Hitchcock and His Leading Ladies
Three Rivers Press (CA), 9780307351319, 324pp.
Publication Date: October 27, 2009
Description
"Fascinating . . . probes an even darker side of Hitchcock." -"Newsday"
It is remarkable how infrequently, over a period of more than fifty years, Alfred Hitchcock spoke about the legendary actresses he directed-including Ingrid Bergman, Kim Novak, and Grace Kelly. But his leading ladies greatly enriched his films, and many of them achieved international stardom precisely because of their work for Hitchcock.
Rich with new material, anecdotes, and never-before-told personal observations, this explosive portrait details Hitchcock's outbursts of cruelty, the shocking humor, and the odd amalgam of adoration and contempt that characterized Hitchcock's obsessive relationships with women-and that also, paradoxically, fed his genius.
"Spellbound by Beauty" offers important insights into the life of a brilliant and tortured artist, and pays tribute to the memorable actresses who gave so much to his films.
" Spoto] informs "Spellbound by Beauty" with his profound knowledge of his subject, years of sound reporting, highly polished prose, and sensible analysis."
--"Richmond Times-Dispatch"
"Expert insights into Hitchcock's films."
--"Oregonian" (Portland)
"You will never look at a Hitchcock movie the same."
--"Tampa Tribune

About the Author
DONALD SPOTO is the author of "The Art of Alfred Hitchcock" and "The Dark Side of Genius: The Life of Alfred Hitchcock." His other bestselling biographies include the lives of Audrey Hepburn, Ingrid Bergman, Marlene Dietrich, and most recently Grace Kelly."

" "From the Hardcover edition."
Praise For Spellbound by Beauty: Alfred Hitchcock and His Leading Ladies…
"Mr. Spoto has enjoyed extraordinary access to Hitchcock's players over a long period of time, and he has assembled a cavalcade of chatty firsthand impressions."
—The New York Times

"What was behind [Hitchcock's] talent for turning perverse thematic elements such as voyeurism, bondage and murder fantasies into mainstream entertainment? According to Spellbound by Beauty…it was partly derived from a sexually repressed outcast's Svengali-like compulsion to manipulate and mistreat a long line of unattainable icy blondes."
—USA Today

"Fascinating . . . probes an even darker side of Hitchcock."
—Newsday

"[Spoto] informs Spellbound by Beauty with his profound knowledge of his subject, years of sound reporting, highly polished prose, and sensible analysis."
—Richmond Times-Dispatch

"Expert insights into Hitchcock's films."
—Oregonian (Portland)

"You will never look at a Hitchcock movie the same."
—Tampa Tribune

"[F]ocuses on Hitchcock's sometimes troubled, sometimes perverse, always manipulative relationships with his leading ladies….The chapters on his behavior during the filming of The Birds and Marnie are riveting and deeply troubling, revealing an artist at once losing his touch and losing touch with reality."
—Booklist, starred review

Praise for Donald Spoto
THE ART OF ALFRED HITCHCOCK
"I am gratified by what Donald Spoto says about my work, and I am impressed by the wit and grace of his writing."
—Alfred Hitchcock

"Exceptionally thoughtful. Spoto's total familiarity with the films is manifest throughout. He ably demonstrates that Hitchcock was not only a master of
suspense but an artist of the first rank as well."
—Library Journal

"Combines engaging analysis with wit and scholarship."
—Chicago Sun-Times


THE DARK SIDE OF GENIUS: THE LIFE OF ALFRED HITCHCOCK
"Absolutely compulsory reading. A serious and intelligent account, both credible and reasonable."
—New York Times

"A vivid and perceptive portrait. Hitchcock has been well served by
a knowledgeable and revealing biography."
—Time

"With unblinking objectivity and insight, Spoto gives a balanced account of a man who shaped his fears and repressions into a powerful and popular art."
—Newsweek

"Sensational in its revelations—but at the same time, a biography of unassailable integrity. I could not put it down."
—Gregory Peck
Advertisement