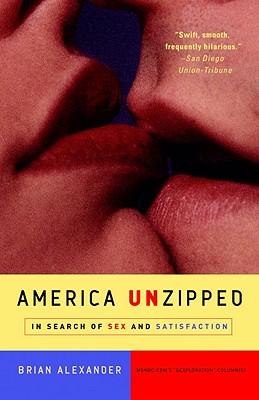 America Unzipped (Paperback)
In Search of Sex and Satisfaction
Three Rivers Press (CA), 9780307351333, 304pp.
Publication Date: December 30, 2008
Other Editions of This Title:
Hardcover (1/15/2008)
* Individual store prices may vary.
Description
Welcome to the America we don t usually talk about, a place where that nice couple down the street could be saddling up for pony play, making and selling their own porn DVDs, or hosting other couples for a little flogging. As award-winning journalist Brian Alexander uncovers, fringe experimentation has gone suburban. Soccer moms, your accountant, even your own parents could be turning kinky.
Stunned by the uninhibited questions from ordinary people on his msnbc.com column, Sexploration ( My wife and I have heard that a lot of couples in their thirties are playing strip poker . . . as well as skinny-dipping with other couples/friends. Any idea if this is a fashionable trend or has it been going on for some time and we never knew it? or I am interested in bondage and hear that there are secret bondage clubs someplace. Can you help me find them? ), Brian Alexander was driven to understand Americans desire to get down and dirty especially in an era where conservative family values dominate.
To find out what people are really doing and why a country that suffered a national freak- out over Janet Jackson's breast was enthusiastically getting in touch with its inner perv Alexander set out on a sexual safari in modern America. Whether mixing it up at a convention of fetishists, struggling into his own pair of PVC pants for a wild night at a sex club, being tutored on dildos by a nineteen-year-old supervisor while working in an adult store, or learning the surprising ways of Biblical sex from an evangelical preacher, Alexander uses humor and insight to reveal a sexual world that is quickly redefining the phrase polite society.
Gonzo journalism at its funniest and kinkiest,
America Unzipped
is a fascinating cultural study and an eye-popping peek into the lives of people you d least expect to find tied up and wearing latex.
One Dozen Things to Avoid When Exploring American Sex
1. Asking an enthusiastic devotee to explain cock-and-ball torture while standing within arm's length.
2. Assuming an evangelical Christian will not be familiar with the term 69.
3. Incredibly tight PVC pants.
4. Trying to become the first male sex toy home party salesman in Missouri.
5. Standing too close to bondage models without wearing overalls and safety goggles.
6. Insisting that Dan Quayle would never invest in porn.
7. Displaying a look of surprise when a grandmother discusses the risk of removing a dildo from a microwave oven.
8. Admitting your sex vocabulary is smaller than an eighth grader's.
9. Explaining the difference between cream pie and gonzo to a suburban mom shopping for her son's birthday sex DVDs.
10. Trying to interview a naked submissive locked on a cage.
11. Expecting answers about sex from a six-foot-tall pink rabbit.
12. Thinking that porn kings could not possibly have Ivy League degrees and run charitable foundations.
From the Hardcover edition.
About the Author
BRIAN ALEXANDER is an award-winning contributing editor at Glamour magazine and writes the Sexploration column for msnbc.com. His six-part online series, America Unzipped, received more than one million viewers per month. He lives in San Diego, California. From the Hardcover edition."
Praise For America Unzipped: In Search of Sex and Satisfaction…
"Part Andy Rooney, part Kerouac, part de Tocqueville, Alexander has traveled America from end to end, reporting on what our sexuality is really like: the lust, the embarrassment, the fear of God, the unending question of what's 'normal.' If you want to know what's really going on these days, read America Unzipped."
—Marty Klein, Ph.D., sex therapist and author of America's War on Sex


"Eye-openingly smart . . . Picking up where Sallie Tisdale's Talk Dirty to Me left off in the '90s, Brian Alexander's America Unzipped appreciatively unpacks our culture's last remaining sexual taboos. (Apparently, we've still got a few!)"
—Genevieve Field, cofounder of Nerve.com


"Alexander has written a book that reflects our next sexual revolution and goes behind the scenes to put a human face on this most recent development in our journey toward sexual enlightenment."
—Barbara Keesling, Ph.D., author of The Good Girls' Guide to Bad Girl Sex and Sexual Healing


"Entertaining, funny, shocking, smart, provocative, and extremely thoughtful . . . Alexander gains entry into some of the most bizarre worlds—think Alice in Wonderland meets Dante's 'Inferno'—and takes us along for the ride."
—Candida Royalle, erotic film director and author of How to Tell a Naked Man What to Do


"With humor and curiosity, Alexander creates a powerful and entertaining look at what is really going on in the American bedroom—and sex club and adult store and even church—and demands we think about how to move ahead to create a sexually healthier society."
—Eli Coleman, Ph.D., editor of the International Journal of Sexual Health


"A clearheaded and open-minded look at the sexual revolution's final stage."
—Kirkus Reviews 

"A swift, smooth, contemplative and frequently hilarious travelogue through America's surprisingly mainstream nether regions."
—Arthur Salm, Books Editor, San Diego Union-Tribune

"[Alexander's] voice is sensible, humorous and largely unbiased, even when he is aghast."
—Bookgasm.com

"Navigating each episode with both humor and reflection, Alexander see exhilarating liberation but also a kind of 'kitschy banality': Where's the excitement when our thrills are no longer taboo?"
—Psychology Today

"Scintillating…The author's thoughtful observations on the need for contact at all costs in an increasingly virtual society ring true." —The Washington Post

"For anyone curious about the state of sexuality in America, this smart, intriguing tour will scratch your (intellectual) itch." —Publishers Weekly

"Engaging….The point Alexander…drive[s] home is that sexual repression and explosions of sexual 'deviance' need each other to exist, and tend to flourish in society simultaneously. While adult sex shops are undergoing a Costco-style corporate homogenization in order to better seduce mainstream suburbia, right-wing social policies are ostensibly trying to stuff the post-Goldwater sexual revolution back into its girdle." —San Diego Union-Tribune

"Alexander himself is at least as interesting as the people he observed and interviewed...America Unzipped is entertaining. Alexander has a gift for narrative, and he' s not afraid to put himself in the story."
—Houston Press
or
Not Currently Available for Direct Purchase