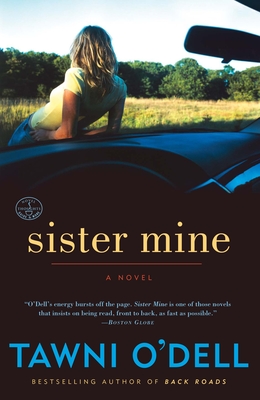 Sister Mine (Paperback)
A Novel
Broadway Books, 9780307351678, 432pp.
Publication Date: May 6, 2008
Other Editions of This Title:
Digital Audiobook (3/12/2007)
Digital Audiobook (3/12/2007)
Hardcover (3/13/2007)
* Individual store prices may vary.
Description
Shae-Lynn Penrose drives a cab in a town where no one needs a cab—but plenty of people need rides. A former police officer with a closet full of miniskirts, a recklessly sharp tongue, and a tendency to deal with men by either beating them up or taking them to bed, she has spent years carving out a life for herself and her son in Jolly Mount, Pennsylvania, the tiny coal-mining town where she grew up.

Two years ago, five of Shae-Lynn's miner friends were catapulted to media stardom when they were rescued after surviving four days trapped in a mine. As the men struggle to come to terms with the nightmarish memories of their ordeal, along with the fallout of their short- lived celebrity, Shae-Lynn finds herself facing harsh realities and reliving bad dreams of her own, including her relationship with her brutal father, her conflicted passion for one of the miners, and the hidden identity of the man who fathered her son.

When the younger sister she thought was dead arrives on her doorstep, followed closely by a gun-wielding Russian gangster, a shady New York lawyer, and a desperate Connecticut housewife, Shae-Lynn is forced to grapple with the horrible truth she discovers about the life her sister's been living, and with one ominous question: Will her return result in a monstrous act of greed or one of sacrifice?

Tawni O'Dell's trademark blend of black humor, tenderness, and a keen sense of place is evident once again as Shae-Lynn takes on past demons and all-too-present dangers.
About the Author
Tawni O'Dell is the New York Times bestselling author of Coal Run and Back Roads, which was also an Oprah's Book Club selection. She lives in Pennsylvania with her two children and her husband, literary translator Bernard Cohen.

For more information about the author, visit www.tawniodell.com.
Praise For Sister Mine: A Novel…
"Tawni O'Dell's energy bursts off the page. Sister Mine is one of those novels that insist on being read, front to back, as fast as possible."
— Boston Globe

"Bitterly poignant in places, it's also a rollicking good read — and Shae-Lynn's richly drawn character resonates long after her final wisecrack."
— People

"Sister Mine delivers a luxurious read, a novel worthy of the literary equivalent of a Grammy or an Oscar. This is a novel for people who devour good writing and craft-intensive storytelling, who savor the haven, both safe and fraught with danger, of a world in which fiction becomes the kind of truth that sets you free. Or, at the very least, makes you laugh and think and wish you'd discovered Tawni O'Dell before now."
— Portland Oregonian

"The strength of O'Dell's narrative is that she lets her characters tell the story. There is much to recommend. Shae-Lynn's voice is entrancing in its honesty, and O'Dell's ability to continue to freshly capture her mining communities is impressive… a worthy read."
— Denver Post

"Sister Mine is packed with flawed characters formed by violence and neglect who quickly become embedded in the reader's heart. O'Dell sketches her characters with telling details and cop-shop crackling dialogue..Amid chick lit and knit lit and Brit lit, Sister Mine rates as true-grit lit."
— USA Today

"O'Dell hits her stride here; one hopes this is not the last we'll hear from her punch packing, pink Stetson-wearing heroine."
— Entertainment Weekly

"Sister Mine is a page turner for lots of reasons that take you turn by turn. You become mesmerized by the characters, the crackling dialogue, the description of the skin of a miner looking as if pencil point have lodged beneath it, the pathos of good people facing futures that are cetain to be hard and cheap and yet doing so with grace and optimism and whip smart banter. And it's spot-on for in its depiction of a coal mining town."
— Lexington Herald Leader

"Dark, funny, and very Elmore Leonard in its way."
— Cincinnati Enquirer

"This is a masterfully unfolded, absolutely engrossing story as smart and sassy as it is wise…A knockout."
— Booklist, starred review

"With genuine, fully developed characters and abundant humor, it's easy to fall into this exceptional story and never want to leave."
— Publishers Weekly, galley talk column

"Family saga O'Dell-style crackles with conflict and a deep understanding of the complications and burdens that follow attachment, sex, love and kinship."
— Publishers Weekly, starred review

"Tawni O'Dell is a great American storyteller. Sister Mine is hilarious and poignant; the details glitter like King Coal from a writer who knows it well."
—Adriana Trigiani, author of Home to Big Stone Gap