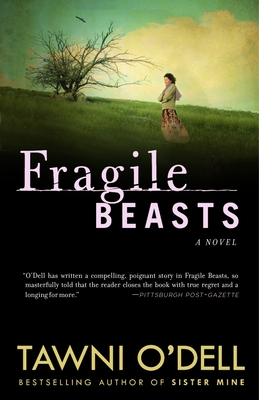 Fragile Beasts
A Novel
Paperback

* Individual store prices may vary.
Other Editions of This Title:
Digital Audiobook (5/16/2010)
MP3 CD (5/17/2010)
Compact Disc (5/17/2010)
Description
When their hard-drinking, but loving, father dies in a car accident, teenage brothers Kyle and Klint Hayes face a bleak prospect: leaving their Pennsylvania hometown for an uncertain life in Arizona with the mother who ran out on them years ago. But in a strange twist of fate, their town's matriarch, an eccentric, wealthy old woman whose family once owned the county coal mines, hears the boys' story. Candace Jack doesn't have an ounce of maternal instinct, yet for reasons she does not even understand herself, she is compelled to offer them a home.

Suddenly, the two boys go from living in a small, run-down house on a gravel road to a stately mansion filled with sumptuous furnishings and beautiful artwork—artwork that's predominantly centered, oddly, on bullfighting. And then there's Miss Jack's real-life bull: Ventisco—a regal, hulking, jet-black beast who roams the land she owns with fiery impudence.

Kyle adjusts more easily to the transition. A budding artist, he finds a kindred spirit in Miss Jack. But local baseball hero Klint refuses to warm up to his new benefactress and instead throws himself into his game with a fierceness that troubles his little brother. Klint is not just grieving his father's death; he's carrying a terrible secret that he has never revealed to anyone. Unbeknownst to the world, Candace Jack has a secret too—a tragic, passionate past in Spain that the boys' presence threatens to reveal as she finds herself caring more for them than she ever believed possible.

From the muted, bruised hills of Pennsylvania coal country to the colorful, flamboyant bull rings of southern Spain, Tawni O'Dell takes us on a riveting journey not only between two completely different lands, but also between seemingly incompatible souls, casting us under her narrative spell in which characters and places are rendered with fragile tenderness.
Praise For Fragile Beasts: A Novel…
 "O'Dell's love for the fallen-on-hard-times coal country shines through in her fourth novel.  A unique blend of such disparate elements as baseball, bullfighting, and fine art along with O'Dell's multifaceted major and minor characters combine for intriguing vision.  Her hard-hitting, well-crafted story packs a wallop."
—Library Journal
 
"In this tough and tender tale, O'Dell's triumphant portrait of loss and rejection, sanctuary and redemption, shines with poignancy, dignity, and transcendent joy."
–Booklist
 
"O'Dell crafts a strong, moving story about a rich old lady and two poor boys who help each other overcome shattering losses…Sensitive, observant Kyle, sophisticated, salt-of-the-earth Luis and cantankerous Candace rotate as narrators, showing the grief-stricken boys and the walled-off woman tentatively forging a healing connection until the return of monstrous Rhonda provokes a crisis.  O'Dell's eye for class conflict remains as sharp as ever, but she's broadened the reach of her sympathies…found new depths in her subject matter and her human understanding…Her most mature [novel], opening new paths for this talented writer."
—Kirkus

[O'Dell] is a pro at capturing dialogue, and some characters' wisecracks are laugh-out-loud funny...this gritty novel is a memorable read."
—Publishers Weekly


Praise for Tawni O'Dell
 
"Rich, compassionate storytelling."
—Entertainment Weekly
 
"With deft prose, authenticity of character, and sheer tenderness, O'Dell  . . . is the absolute master of her craft."
—Denver Post
 
"Poignant . . . achingly beautiful prose . . . remarkable."
—San Diego Union
 
 "O'Dell sketches her characters with telling details and cop-shop crackling dialogue."
—USA Today
 
"It's a pleasure to see such a gifted, ambitious writer reinvigorating the tradition of social conscience combined with personal passion that has illuminated some of the finest, most moving works in American literature."
—Los Angeles Times
 
"Scorching . . . O'Dell's characters fight free of stereotypes, taking on an angry, authentic glow."
—Publishers Weekly
 
"O'Dell displays a marvelous gift for serving up eccentric, believable characters and vividly captures the bleakness and harshness of coal-mining country."
—Library Journal
 
"Explosive drama … remarkable detail."
—Philadelphia Inquirer
 
"O'Dell is an accomplished writer; assured and perceptive, she is especially good with quick dialogue that captures the anger and disappointment these characters carry."
—Pittsburgh Post-Gazette
Crown, 9780307351692, 416pp.
Publication Date: March 1, 2011
About the Author
TAWNI O'DELL is the New York Times bestselling author of Sister Mine, Coal Run, and Back Roads, which was an Oprah Book Club selection and a Book-of-the-Month Club Main Selection. Visit her at www.TawniODell.com
or
Not Currently Available for Direct Purchase