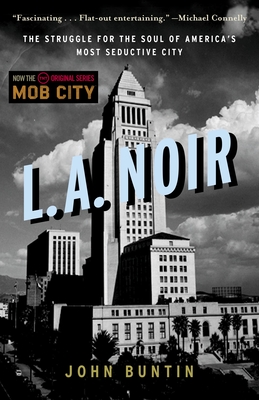 L.A. Noir
The Struggle for the Soul of America's Most Seductive City
Paperback

* Individual store prices may vary.
Other Editions of This Title:
Compact Disc (6/25/2012)
MP3 CD (6/25/2012)
Compact Disc (6/25/2012)
Hardcover (8/25/2009)
MP3 CD (6/25/2012)
Compact Disc (6/25/2012)
Description
Now the TNT Original Series MOB CITY

Midcentury Los Angeles. A city sold to the world as "the white spot of America," a land of sunshine and orange groves, wholesome Midwestern values and Hollywood stars, protected by the world's most famous police force, the Dragnet-era LAPD. Behind this public image lies a hidden world of "pleasure girls" and crooked cops, ruthless newspaper tycoons, corrupt politicians, and East Coast gangsters on the make. Into this underworld came two men—one L.A.' s most notorious gangster, the other its most famous police chief—each prepared to battle the other for the soul of the city.
Praise For L.A. Noir: The Struggle for the Soul of America's Most Seductive City…
Named One of Daily Beast's "Favorite Books of 2009"

"The best non-fiction treatment of this era and this subject matter that I've ever read. I couldn't put it down for like two days." —Academy Award nominated producer of MOB CITY

"Important and wonderfully enjoyable….A highly original and altogether splendid history that can be read for sheer pleasure and belongs on the shelf of indispensable books about America's most debated and least understood cities…..Utterly compelling reading."
—Los Angeles Times

"Completely entertaining….a colorful and entirely different take on the vices of Tinseltown."
—Daily Beast

"Echoes crime stylists Raymond Chandler and James Ellroy."
—American History

"L.A. NOIR is a fascinating look at the likes of Mickey Cohen and Bill Parker, the two kingpins of Los Angeles crime and police lore. John Buntin's work here is detailed and intuitive. Most of all, it's flat out entertaining."
—Michael Connelly

"A roller coaster ride....Gripping social history and a feast for aficionados of cops-and-robbers stories, both real and imagined."
—Kirkus Reviews

"Packed with Hollywood personalities, Beltway types and felons, Buntin's riveting tale of two ambitious souls on hell-bent opposing missions in the land of sun and make-believe is an entertaining and surprising diversion."
—Publishers Weekly

"Reads like a novel....almost impossible to put down. Buntin has written an important and entertaining book about one of America's greatest cities in the 20th century that echoes down to the world we live in today."
—Bookreporter.com

"In this breathtaking dual biography of mobster Mickey Cohen and police chief William Parker, John Buntin confronts America's most enigmatic city.  For a half century and more, the chiaroscuro of Los Angeles, its interplay of sunshine and shadow, has inspired novelists and filmmakers alike to explore what Buntin has now explored in a tour de force of non-fiction narrative."
—Kevin Starr, University Professor and Professor of History, USC

"John Buntin's nonfiction cops and robbers narrative about mid-20th century Los Angeles is not only compelling reading, but a heretofore unexplored look into the LAPD and the city it tried "To Protect and Serve" during one of the most colorful and tumultuous eras in the always provocative history of the City of Angels (and badmen). Dragnet, One Adam Twelve, Police Story, LA Confidential all rolled into one captivating book. Buntin nails it in this great read.'"
—William Bratton, Chief of Police, LAPD

Crown, 9780307352088, 448pp.
Publication Date: April 6, 2010
About the Author
JOHN BUNTIN is a staff writer at Governing magazine, where he covers crime and urban affairs. A native of Mississippi, Buntin graduated from Princeton University's Woodrow Wilson School of Public and International Affairs and has worked as a case writer for Harvard University's John F. Kennedy School of Government. A former resident of Southern California, he now lives in Washington, D.C., with his family.