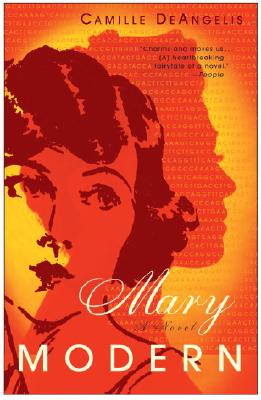 Mary Modern
Paperback

* Individual store prices may vary.
Other Editions of This Title:
Digital Audiobook (7/9/2007)
Hardcover (7/10/2007)
CD-Audio (7/10/2007)
Description
Lucy Morrigan, a young genetic researcher, lives with her boyfriend, Gray, and an odd collection of tenants in her crumbling family mansion. Surrounded by four generations of clothes, photographs, furniture, and other remnants of past lives, Lucy and Gray's home life is strangely out of touch with the modern world except for Lucy's high-tech lab in the basement.
Frustrated by her unsuccessful attempts to attain motherhood or tenure, Lucy takes drastic measures to achieve both. Using a bloodstained scrap of an apron found in the attic, Lucy successfully clones her grandmother Mary. But rather than conjuring a new baby, Lucy brings to life a twenty-two-year-old Mary, who is confused and disoriented when she finds herself trapped in the strangest sort of deja vu: alive in a home that is no longer her own, surrounded by reminders of a life she has already lived but doesn t remember.
A remarkable debut novel,
Mary Modern
turns an unflinching eye on the joyous, heartbreaking, and utterly unexpected consequences of human desire.
From the Hardcover edition.
Praise For Mary Modern…
"I've often wondered what it must have been like to be a book critic when Stephen King's Carrie appeared, to be in at the beginning of something so superbly creepy, original and well-executed. Now, after reading Camille DeAngelis' Mary Modern, I think I know. Ms. DeAngelis joins Mr. King as an author possessing both a nightmarish imagination and a writing style that's equal-parts literate and dripping with populist appeal. . . . A spellbinding, surprisingly poignant page-turner, at times reading as a remarkably effective hybrid of Jane Austen and Mary Shelley. . . . DeAngelis gifts her readers with not one, but two, stunning denouements, one of which will give readers that splendid moment of "Ohhhh. Of course," and one of which sets up what we most crave at the end of such a grandly successful experiment in fiction: the hint of a possible sequel."
—Dallas Morning News

"Swift, witty and endlessly amusing. . . . Partly because of the pacing, partly because of the story, but mostly because DeAngelis makes the reader care terribly about Mary, and what happens to her, the novel turns out to be difficult, if not impossible, to put down."
—Hartford Courant

"If Mary Shelley were writing today she might have penned this darkly romantic monster story. . . . DeAngelis ultimately charms and moves us with this heartbreaking fairytale of a novel."
—People

"What tugs a reader into this story is the time-travel setting . . . and the relationships are fascinating. . . . [An] intriguing, unusual novel."
—USA Today

"Author reminds me of: Alice Hoffman and Mary Shelley, as she pushes the envelope beyond the usual range of perceived reality. . . . This is a quirky novel, so well-crafted that the lighter moments easily balance the more serious issues raised."
—Rocky Mountain News

"Entertaining and skillfully written. . . . This is a love story that raises some interesting questions about love's limits, and its possibilities."
—Boston Globe

"DeAngelis has penned a modern-day Frankenstein with some unforgettable characters. . . . Mary Modern will keep readers awake with wonder."
—Nashville Tennessean

"DeAngelis is wonderfully inventive. She is thoughtful in her slant on Shelley and Frankenstein, as well as the dilemma of a capability in science that surpasses the ability to foresee ethical consequences. She is gifted in description and pleasingly unpredictable in her plot. Readers comfortable with a genre won't be able to pigeonhole Mary Modern as romance, sci fi, gothic or horror. While not a match to the classic, the novel (and its challenges and wrap-up surprises) will haunt just as thoroughly. It's delightfully strange."
—The State (Columbia, South Carolina)

"The novel adroitly straddles the line between science fiction, horror and romance."
—Sarasota Herald-Tribune

"Compelling . . . Lucy's story of love and ambition will appeal not only to fans of gothic romance but also to book groups, whose discussions of bioethics, social responsibility, personal freedom, and the biological nature of memory will last into the wee hours."
—Booklist (starred review)

"A literary mix of love story, sf, and thriller. . . This elegantly written work touches on issues that plague modern life, and though it gives you ample opportunity to suspend your disbelief, it ultimately provides an unexpected and satisfying payoff."
—Library Journal

"Imaginative . . . DeAngelis combines a neogothic exploration of a moral-ethical morass with a quirky clone love story. . . . Titillating."
—Publishers Weekly

"Mary Modern has everything you look for in a book: smarts, style, and suspense. How often is it that you marvel at an author's literary skill while you feel that mad scramble to find out how it ends? It's a thrilling debut."
—Darin Strauss, author of Chang and Eng and The Real McCoy

"A strange, strangely beautiful, and beautifully accomplished novel. Science, history, personal identity, and literature go into the blender, and what comes out is a nearly perfect mix."
—Ben Greenman, author of Superbad and A Circle Is a Balloon and Compass Both

"What an inventive and testing book: Mary Modern may be the strangest package of fictional illusions that I've encountered for a long time, but Camille DeAngelis has pulled off every trick with a confident extravagant flourish. She is a writer/magician whose debut novel is learned, engrossing, incessantly surprising, and extraordinarily touching."
—Jim Crace, author of The Pesthouse and Being Dead


Three Rivers Press (CA), 9780307352590, 359pp.
Publication Date: June 24, 2008
About the Author
Camille DeAngelis received an M.A. from the National University of Ireland, Galway. She lives in New Jersey. From the Hardcover edition.
or
Not Currently Available for Direct Purchase