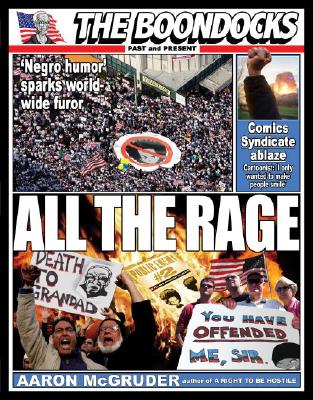 All the Rage (Paperback)
The Boondocks Past and Present
Three Rivers Press (CA), 9780307352668, 267pp.
Publication Date: December 3, 2007
* Individual store prices may vary.
Description
Here are the latest, greatest, and last of the daily and Sunday strips; banned comics that have never been seen before, with Aaron McGruder's commentary on them; and interviews and profiles of the man behind the rage. "All the Rage" is a must for any true Boondocks fan.
About the Author
AARON MCGRUDER is the creator of "The Boondocks," a nationally syndicated comic strip, which appeared daily in more than 350 newspapers around the country. Now a smash hit as a Peabody Award-winning animated series on Cartoon Network's Adult Swim, the second season of "The Boondocks" promises even more controversial events. Aaron is the author of the bestselling "A Right to be Hostile," "Public Enemy #2," and "Birth of a Nation." He lives in Los Angeles and has been banned from more newspapers than you've ever read.