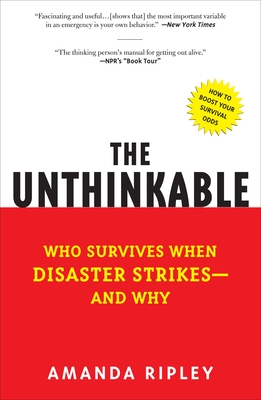 The Unthinkable (Paperback)
Who Survives When Disaster Strikes - and Why
Harmony, 9780307352903, 288pp.
Publication Date: June 16, 2009
Other Editions of This Title:
Digital Audiobook (6/9/2008)
Hardcover (6/10/2008)
Compact Disc (6/1/2008)
Paperback (4/1/2009)
Compact Disc (6/10/2008)
* Individual store prices may vary.
Description
Discover how human beings react to danger–and what makes the difference between life and death

Today, nine out of ten Americans live in places at significant risk of earthquakes, hurricanes, tornadoes, terrorism, or other disasters. Tomorrow, some of us will have to make split-second choices to save ourselves and our families. How will we react? What will it feel like? Will we be heroes or victims?

In her quest to answer these questions, award-winning journalist Amanda Ripley traces human responses to some of recent history's epic disasters, from the explosion of the Mont Blanc munitions ship in 1917–one of the biggest explosions before the invention of the atomic bomb–to the journeys of the 15,000 people who found their way out of the World Trade Center on September 11, 2001. To understand the science behind the stories, Ripley turns to leading brain scientists, trauma psychologists, and other disaster experts. She even has her own brain examined by military researchers and experiences, through realistic simulations, what it might be like to survive a plane crash into the ocean or to escape a raging fire.

Ripley comes back with precious wisdom about the surprising humanity of crowds, the elegance of the brain's fear circuits, and the stunning inadequacy of many of our evolutionary responses. Most unexpectedly, she discovers the brain's ability to do much, much better–with just a little help.
About the Author
AMANDA RIPLEY is a senior writer for Time magazine.
Praise For The Unthinkable: Who Survives When Disaster Strikes - and Why…
"A fascinating and useful new book."
—The New York Times
 
"The thinking person's manual for getting out alive."
—NPR
 
"Ripley is a voyeur on a mission...Her conviction: We'd all stand a better chance of surviving a disaster if we understood what happens to our little gray cells when things get ugly....Spiced with surprising factoids, this book might save your life one day."
—Bloomberg News
 
"The Unthinkable is part study of the science of reaction to extreme fear, part indictment of the US government's response to the terrorist threat, part call to arms....The end result is a fascinating book....Despite its title and its subject matter, The Unthinkable is an optimistic…
—The Times of London
 
"Engrossing and lucid...An absorbing study of the psychology and physiology of panic, heroism, and trauma...Facing the truth about the human capacity for risk and disaster turns out to be a lot less scary than staying in the dark."
—O, The Oprah Magazine

"This is a book with a purpose, meant to change things."
—Rob Hardy, The Commercial Dispatch

"Amanda Ripley takes us on a sometimes stunning, sometimes sobering journey through disaster, using great stories and respected science to show why some prevail and others do not.  The Unthinkable isn't merely a book about disaster; it's a book about survival — maybe yours."  
——Gavin de Becker, author of the New York Times bestseller The Gift of Fear

"With The Unthinkable, Amanda Ripley succeeds in two different ways. First, she covers, with great clarity and accuracy, the science of how the body and mind respond to crisis. In the process, she prescribes certain actions that will increase the chances of surviving a disaster. But it's the second aspect, the stories, that makes the book so compelling. These tales leave your viscera enflamed because they compel two questions: 'What would it feel like to go through that?' and 'Would I do the right thing and survive?' This is an irresistible book."
—Robert M. Sapolsky, John A. and Cynthia Fry Gunn Professor of Biological Sciences and Professor of Neurology and Neurological Sciences at Stanford University

"The Unthinkable is the most magnificent account of a survivor's mind that I have ever read. It has helped me know and accept some of my reactions during my 72 day ordeal in the Andes. I can now understand how fear motivated me, and how denial also played a part. This book will help those who've never faced disaster to understand their own behavior and be prepared should their luck run out one day."
—Nando Parrado, New York Times bestselling author of Miracle in the Andes

"The Unthinkable reveals why, under the same circumstances, some people caught up in a disaster survive and others do not. Why some are hopelessly immobilized by fear and crippled by panic, and others are filled with strength, endurance, reactions and the other intrinsic stuff of which Homeric heroes are made. How can we ensure which we will be? In her well-crafted prose, Amanda Ripley shows us all how to prepare to meet danger and increase our chances of surviving the unthinkable."
—Bruce Henderson, New York Times bestselling author of Down to the Sea and True North

"When a disaster occurs we invariably learn the "what" of the event -- how many died, how many survived. Amanda Ripley's riveting The Unthinkable provides genuine insight into the "why" behind the numbers. This remarkable book will not only change your life, it could very well save it."
—Gregg Olsen, New York Times bestselling author of The Deep Dark: Disaster and Redemption in America's Richest Silver Mine

"Ever fantasize about what you would do in a disaster? How would you survive? How would you behave? After interviewing survivors of the World Trade Center attack, Amanda Ripley sifted through amazing tales of survivors from other disasters and mined various sociological, psychological, and neurological studies. Her insights are absolutely fascinating, and they could come in handy one day."
——Walter Isaacson, author of the New York Times bestsellers Einstein: His Life and Universe and Benjamin Franklin: A Life, and Vice-Chairman of the Louisiana Recovery Authority

"Rich in information about the subconscious ways we face danger. In the event that someday you face a sudden life or death situation, reading this book will increase the odds that the outcome will be life."
——David Ropeik, author of Risk!: A Practical Guide for Deciding What's Really Safe and What's Really Dangerous in the World Around You

"Reading The Unthinkable will be life-changing.  We live in an age of anxiety that has too many of us rocked back on our heels.  Once you've feasted on the rich insights and wisdom of this remarkable book, you'll be standing tall again.  While our politicians and media have been keen to exploit and fan our worst fears, Amanda Ripley makes clear that individually and collectively we can meet head-on the hazards that periodically befall us.  We need not be afraid!"
——Stephen Flynn, Senior Fellow for National Security Studies, Council on Foreign Relations, and author of The Edge of Disaster: Rebuilding a Resilient Nation

"The Unthinkable is a fascinating, in-depth look at human behavior under extreme pressure. Its gut-wrenching stories span the full spectrum of action under duress, from panic to heroism. Not only is this book fast-paced and engrossing, it's illuminating."
——Michael Tougias, author of Fatal Forecast: An Icredible True Tale of Disaster and Survival at Sea

"Amanda Ripley has written a smart, poignant account about the dramas of the existential moment in this new century. She is a provocative voice of a new generation of writers and thinkers whose grasp of daily events and global disaster is piquant, engrossing, and syncretic. Above all, she makes sense of life today in an entirely entertaining and accessible way-- all with a brimming dollop of optimism. If you ever wondered, 'What would I do if the unthinkable happened to me,' you hold the answer in your hands."
—Doug Stanton, author of the New York Times bestseller In Harm's Way: The Sinking of the USS Indianapolis and the Extraordinary Story of Its Survivors

"A must read. We need books like this to help us understand the world in which we live."
—Nassim Nicholas Taleb, author The Black Swan and Fooled By Randomness