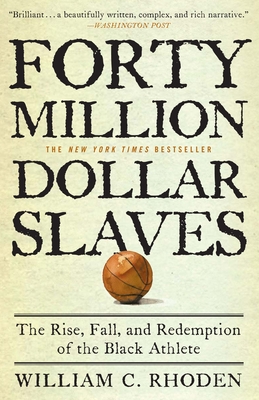 Forty Million Dollar Slaves
The Rise, Fall, and Redemption of the Black Athlete
Paperback

* Individual store prices may vary.
Other Editions of This Title:
Digital Audiobook (10/2/2017)
Compact Disc (10/3/2017)
MP3 CD (10/3/2017)
MP3 CD (10/3/2017)
Compact Disc (10/3/2017)
Compact Disc (10/3/2017)
Description
NEW YORK TIMES BESTSELLER • "An explosive and absorbing discussion of race, politics, and the history of American sports."—Ebony
 
From Jackie Robinson to Muhammad Ali and Arthur Ashe, African American athletes have been at the center of modern culture, their on-the-field heroics admired and stratospheric earnings envied. But for all their money, fame, and achievement, says New York Times columnist William C. Rhoden, black athletes still find themselves on the periphery of true power in the multibillion-dollar industry their talent built.

Provocative and controversial, Rhoden's $40 Million Slaves weaves a compelling narrative of black athletes in the United States, from the plantation to their beginnings in nineteenth-century boxing rings to the history-making accomplishments of notable figures such as Jesse Owens, Althea Gibson, and Willie Mays. Rhoden reveals that black athletes' "evolution" has merely been a journey from literal plantations—where sports were introduced as diversions to quell revolutionary stirrings—to today's figurative ones, in the form of collegiate and professional sports programs. He details the "conveyor belt" that brings kids from inner cities and small towns to big-time programs, where they're cut off from their roots and exploited by team owners, sports agents, and the media. He also sets his sights on athletes like Michael Jordan, who he says have abdicated their responsibility to the community with an apathy that borders on treason.

The power black athletes have today is as limited as when masters forced their slaves to race and fight. The primary difference is, today's shackles are invisible.

Praise for Forty Million Dollar Slaves
 
"A provocative, passionate, important, and disturbing book."—The New York Times Book Review
 
"Brilliant . . . a beautifully written, complex, and rich narrative."—Washington Post Book World
 
"A powerful call for more black athletes to give back to their communities."—Los Angeles Times
Praise For Forty Million Dollar Slaves: The Rise, Fall, and Redemption of the Black Athlete…
"Rhoden scores heavily with this Muhammad Ali of a book, one that blends autobiography with history, clarity of insight with passion. . . . A series of invaluable and irrefutable history lessons and contemporary cameos to illustrate Rhoden's thesis that even the best paid of black American athletes live a double life—highly compensated, but in a state not unlike bondage."—Arnold Rampersad, author of Jackie Robinson: A Biography and Days of Grace: A Memoir (with Arthur Ashe)

"Powerful and prophetic . . . Rhoden courageously lays bare painful truths about a fundamental reality in American life: the centrality of the excellence and exploitation of black athletes."—Cornel West, author of Race Matters

"A book that touches the soul . . . Cuts to the heart of the matter, delivering a penetrating slice of the long and often painful journey to success taken by black athletes."—Neil Amdur, former sports editor, New York Times

"Reading this work is an emotional experience. . . . Once I started I couldn' t stop. Informative, engaging, and extremely provocative, $40 Million Slaves caused me to alternately shake my head in violent disagreement one moment only to find myself nodding the next."—Calvin Hill, former NFL All-Star and father of NBA All-Star Grant Hill

"A provocative contribution to the literature on race and sports . . . For anyone who cares about America's future and sport in America, it's well worth reading."—Paul Tagliabue, commissioner, National Football League

"Breathtaking in scope . . . If you want to honestly view race in America, $40 Million Slaves will give you the prism of sports as a vehicle to see how far we still have to go to really achieve equality in America. It's a must read."—Richard Lapchick, director emeritus, Center for the Study of Sport in Society; columnist, ESPN; and author of Smashing Barriers

"This is the best contemporary writing—and best fuel for debate—on the large role black athletes hold in American culture. Bill Rhoden is playing hardball with stars from Michael Jordan to Mike Tyson on the issue of blacks and sports by bringing history, politics, and race on the field."—Juan Williams, author of Eyes on the Prize

"Provocative and distressing—just the right combination for beginning an important conversation."—Kirkus Reviews

Crown, 9780307353146, 304pp.
Publication Date: July 24, 2007
About the Author
WILLIAM C. RHODEN has been a sportswriter for the New York Times since 1983, and has written the "Sports of the Times" column for more than a decade. He also serves as a consultant for ESPN's SportsCentury series, and occasionally appears as a guest on their show The Sports Reporters. In 1996, Rhoden won a Peabody Award for Broadcasting as writer of the HBO documentary Journey of the African-American Athlete. A graduate of Morgan State University in Baltimore, he lives in New York City's Harlem with his wife and daughter.