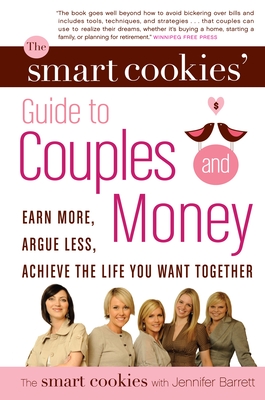 The Smart Cookies' Guide to Couples and Money: Earn More, Argue Less, Achieve the Life You Want Together (Paperback)
Earn More, Argue Less, Achieve the Life You Want Together
Vintage Books Canada, 9780307357991, 220pp.
Publication Date: December 28, 2010
* Individual store prices may vary.
or
Not Currently Available for Direct Purchase
Description
This hip and accessible guide addresses all of the nagging money questions and thorny situations that come up when you're in a relationship, whether you're just starting to get serious or you're already married.
This book gives couples the perfect excuse to break the silence and start talking about... money Staying on top of your finances when you're single can be tough enough - add another person to the mix and it can seem downright daunting. Even if you've got your own finances in order, there are inevitable money issues that come up when you're part of a couple, not just because one of you may be in better shape financially than the other, but because you may each have very different perspectives on money and how to manage it.
The principles the Cookies set out in their first book about the basics of life planning and investing can work for couples, too, and this guide offers simple techniques that will help readers with everything from dealing with "money baggage" to getting out of debt to planning for retirement. Again they draw practical advice and meaty anecdotes from their own financial escapades, as well as readers' queries and the personal experiences of five focus couples.
"From the Hardcover edition.
About the Author
ANDREA BAXTER is the Debt Buster, ANGELA SELF is the Money Magnet, KATIE DUNSWORTH is the Number Cruncher, ROBYN GUNN is the cash counselor and SANDRA HANNA is the Savvy Spender. Just a few years ago, they were all drowning in consumer debt. Inspired by an episode of "The Oprah Winfrey Show "on personal finance, they formed a money group to developed strategies for turning their finances around. Just one year later, they had dramatically improved their financial situations -- and had made major advances in their careers, relationships, and life goals. This is their second book. JENNIFER BARRETT also co-wrote The Smart Cookies' Guide to Making More Dough and Getting Out of Debt."" "From the Hardcover edition."
Praise For The Smart Cookies' Guide to Couples and Money: Earn More, Argue Less, Achieve the Life You Want Together…
"The book goes well beyond how to avoid bickering over bills and also includes tools, techniques and strategies — such as the Perfect Day exercise — that couples can use to realize their dreams, whether it's buying a home, starting a family or planning for retirement."
— Winnipeg Free Press
Advertisement