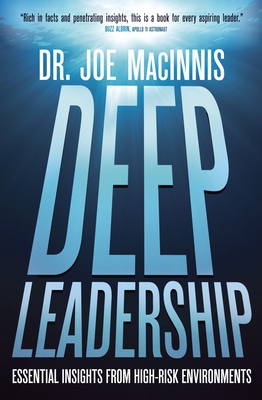 Deep Leadership
Essential Insights from High-Risk Environments
Hardcover

* Individual store prices may vary.
Description
In this new twist on a topic of perennial interest, Joe MacInnis shows how the leadership traits forged in extraordinary circumstances are transferrable to our everyday lives. Simply put, this is a handbook for building character.
 
Some people are born leaders. The rest of us find ourselves in positions where leadership is required. Self-described "accidental leader" Dr. Joe MacInnis found himself in such a situation: deep beneath the ice of the Arctic Ocean. Starting with his undersea explorations, this physician, scientist, author and motivational speaker shares an accessible--and obtainable--list of leadership traits inspired by his own journey and the icons he's learned from over the years. Deep Leadership is an eminently digestible book with short lessons and anecdotes. Think Rework meets Iacocca. Its centre is the author's 12 "Essential Traits of Leadership": Cool Competence, Powerful Presentations, Physical Toughness, Hot-Zone Humour, Mental Resilience, Strategic Imagination, High-Empathy Communication, Enduring Trust, Fierce Ingenuity, Team Genius, Resolute Courage and Warrior's Honour.
 
Each trait is communicated with an anecdote from MacInnis's experience, making it totally memorable. MacInnis also gives the reader a primer to navigate his or her own path toward leadership, including such practices as keeping a journal, building a library, and finding mentors.
Praise For Deep Leadership: Essential Insights from High-Risk Environments…
"This is a fast-paced, lyrical blueprint of leadership from a man who's been inside the fire. If you're young or young at heart and want to save the world, you'll want to read this book."
—Robert F. Kennedy, Jr., President, Waterkeeper Alliance
 
 "Whether under fire or underwater, leadership is like a muscle. In this action-packed account from the front lines of exploration and armed conflict, Joe MacInnis shows us how it works and how to exercise it."
—James Cameron, Academy Award-winning director of Titanic and Avatar

"Dr. Joe MacInnis personifies the marrow of true leadership: when he believes in you . . . you believe in yourself. Here is an invaluable guide on how to exercise command and achieve results—from the depth of the high Arctic to the summits of the office towers piercing the urban skies."
—Peter C. Newman, bestselling author
 
"Dr. Joe MacInnis brings a unique perspective to the subject of leadership. He's lived inside its fire with men and women who perform dangerous, meaningful tasks on behalf of science or their country. This is an insider's view of a critically important area of human performance."
—Col. Bill Bentley, Director, Canadian Forces Leadership Institute
 
"Decades ago I dove under the ice at the North Pole with Dr. Joe and witnessed his unique style of leadership. In this riveting and informative book he takes you from the abyssal ocean to the moon and back—and reveals essential leadership qualities from the likes of Pierre Trudeau, Kathy Sullivan, James Cameron and Buzz Aldrin."
—Gilbert M. Grosvenor, fourth president of the National Geographic Society
 
"From the first science dives at the North Pole to the exploration of RMS Titanic at the bottom of the Atlantic Ocean, few humans have had Joe MacInnis's range of high-risk experiences. His insights, tested in the fire of real-life challenges, are invaluable to every aspiring leader."
—David Peterson, twentieth premier of Ontario
 
"A highly personal look at that special breed, from president John F. Kennedy to filmmaker James Cameron to journalist Walter Cronkite, who live by the code of leadership. This is an inspired read."
—Sven-Olof Lindblad, CEO, Lindblad Expeditions
 
"Dr. Joe MacInnis is a leader among leaders, a man who's participated in events that have shaped history above and below the sea. In these lyrical pages, he shares frontline insights on the structure and dynamics of leadership."
—Sylvia A. Earle, Explorer-in-Residence, National Geographic Society 
 
"In this masterful account of the complex essence of true leadership, Joe MacInnis introduces us to some of the remarkable people he has met and worked with during his extraordinary life. Through their words and deeds he shows how real leadership—not the kind trumpeted by Hollywood action flicks or business bestsellers—is a subtle alchemy of bravery, mental agility, integrity and interpersonal genius. His stories will give you goosebumps—and lessons in leadership you'll never forget."
—Thomas Homer-Dixon, professor and author of The Upside of Down
 
"The poet laureate of the deep ocean has captured the essence of leadership in lethal environments. Here are compelling stories about its essential traits and the pathways to achieve them. Five stars!"
—Scott Carpenter, Mercury 7 astronaut
 
"A celebrated Canadian explorer has written a book about the straight, stark reality of influencing others while pushing the limits of human performance. Here are important messages to help each of us on our lifelong leadership journey."
—Dave Williams, shuttle astronaut STS-90 and STS-118
 
"A riveting and inspiring book. Joe MacInnis offers compelling insights into the attributes of great leaders and practical steps to help you become a better leader and, coincidentally, a better person."
—David Naylor, President, University of Toronto
 
"Part biography, part instruction manual, this is a unique introduction to a vital subject. A must-read book!"
—Lt. Gen. Hal Moore (USA Ret'd.), author of We Were Soldiers Once and Young
 
"For my entire life, I've been lucky enough to have Dr. Joe for a thoughtful counsellor, wise teacher, inspiring mentor and dear friend. If you want to become the leader your community and the world so desperately needs, this book is for you."
—Justin Trudeau, Member of Parliament, District of Papineau
 
Knopf Canada, 9780307361103, 256pp.
Publication Date: September 4, 2012
About the Author
JOE MacINNIS is a physician, scientist, author and motivational speaker who led the teams that made the first science dives at the North Pole and built the world's first polar undersea station. He was among the first to dive to the Titanic and has worked with the US Navy, the Canadian government, the Russian Academy of Sciences and NASA. He has given keynote presentations on leadership to IBM, Microsoft, GE, National Geographic and the US Naval Academy. The author of 10 books, his research has earned him 6 honorary degrees and his nation's highest honour, the Order of Canada.
or
Not Currently Available for Direct Purchase