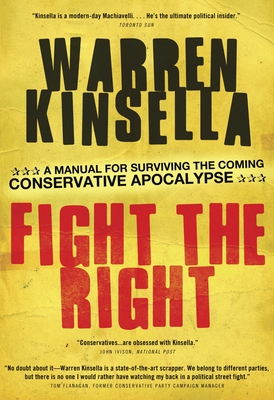 Fight the Right: A Manual for Surviving the Coming Conservative Apocalypse (Paperback)
A Manual for Surviving the Coming Conservative Apocalypse
Random House Canada, 9780307361653, 277pp.
Publication Date: October 2, 2012
* Individual store prices may vary.
or
Not Currently Available for Direct Purchase
Description
Everywhere you look, these days, Conservatives are winning elections. No matter where you look, the story is the same: white, angry men on the Right are winning power. The Left, meanwhile, is divided and dispirited, and rapidly losing ground. "Fight the Right "is a handbook on how to survive the nasty, brutish and short-sighted era in which we find ourselves and is designed to help progressives better understand their conservative adversary, and ultimately defeat conservatives wherever the battle is taking shape. It's a manual on how conservatives have appropriated language and values, and how progressives can take both back. Written in a fun, accessible, style, "Fight the Right "will appeal to those about to launch an advocacy effort, as well as those who are simply curious about how (and if) the Right thinks. It is chock full of war stories and not-so-tall tales about winning progressive campaigns, from everyone from Jean Chretien to Bobby Kennedy, Jr., and it will argue--forcefully--that a United Right can't be defeated until a United Left emerges. Wherever conservative power-brokers are hurting average citizens and hard-working families, "Fight the Right" will provide a tested road map on how to beat the bullies.
About the Author
WARREN KINSELLA is a lawyer, pundit, political consultant, and a newspaper and magazine columnist. He is the author of "The War Room" and the bestselling "Web of Hate." He lives in Toronto, is a dad to four amazing kids, still plays in a punk band and is the president and founder of the Daisy Group, a political consulting group.
Praise For Fight the Right: A Manual for Surviving the Coming Conservative Apocalypse…
"Kinsella is a modern-day Machiavelli.... He's the ultimate political insider."
—The Toronto Sun

"Kinsella writes in a quick-paced, animated, highly accessible style."
—The Globe and Mail

"Kinsella doesn't pull any punches…. Fight the Right…provide[s] readers with a glimpse into the kinds of strategies that have made Conservatives successful and lay out a credible roadmap for progressive forces to regain power."
—iPolitics
 
"First, he deserves credit for writing this book, period…. We need to air ideas and strategies, to nominate, debate, discard and to choose. And, we'll not get there without more public efforts like Kinsella's…. Second, he is absolutely on the money regarding the need for the Liberals and the NDP to embrace math and to realize that as long as they divide the progressive vote, the Conservatives will build a dynasty…. Finally, Kinsella's book is at its best when it does what he does best—giving specific election advice…. Progressive politicians should take Kinsella's advice about authenticity, simplicity and speaking to the heart."
—The Huffington Post Canada

Advertisement