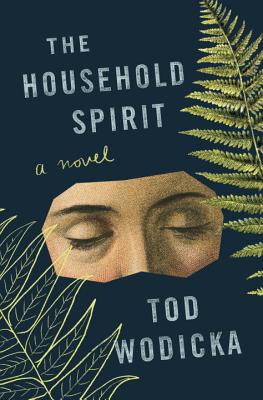 The Household Spirit
A Novel
Hardcover

* Individual store prices may vary.
Other Editions of This Title:
Digital Audiobook (11/4/2015)
MP3 CD (6/16/2015)
Paperback (9/6/2016)
Compact Disc (6/16/2015)
Description
In this remarkable novel, Tod Wodicka, author of All Shall Be Well; and All Shall Be Well; and All Manner of Things Shall Be Well, has crafted a luminous story of a most curious friendship.
 
There's something wrong next door. At least that's what neighbors Howie Jeffries and Emily Phane both think. Since his daughter and wife moved out, Howie has been alone, an accidental recluse content with his fishing and his dreams of someday sailing away from himself on a boat. Emily couldn't be more different: she's irreverent, outgoing, and seemingly well adjusted. But when she returns from college to care for her dying grandfather, Howie can't help but notice her increasingly erratic behavior—not to mention her newfound love of nocturnal gardening.
 
The thing is, although they've lived side by side in the only two houses on Route 29 in rural upstate New York since Emily was born, Howie and Emily have never so much as spoken to each other. Both have their reasons: Howie is debilitatingly shy, and Emily has been hiding the fact that she suffers from a nighttime affliction that makes her terrified to go to sleep and makes her question the very reality of her waking life. It is only when tragedy strikes that their worlds finally intersect in ways neither of them could have ever imagined.
 
A poignant, big-hearted, and often humorous novel about two unique individuals unceremoniously thrown together, The Household Spirit is a story about how little we know the people we see every day—and the unexpected capabilities of the human heart.
Praise For The Household Spirit: A Novel…
"Wry and touching. . . . Perfectly formed. . . . The author ensures that we are affected by [his characters'] separate plights and cheered by their shared camaraderie. Wodicka keeps the proceedings light." —Minneapolis Star Tribune

"Wodicka's troubled characters are sympathetic, and his sentences are funny and surprising." —The New Yorker 

"Presented through Wodicka's irreverently funny writing, the relationship between [his] two oddball characters is amusing and touching. . . . The Household Spirit is a heartwarming story of loneliness and connection." —Financial Times
 
"An affecting portrait of lonely misfits." —The New York Times Book Review

"Wodicka is known to be LOL funny. But when he does sad, it's the best fiction around by miles, full of tender ache and tenderer beauty." —Artforum
 
"An achingly beautiful and unexpectedly hilarious portrait of two deeply sad, deeply sensitive people reaching the breaking point and pulling each other back." —BookPage

"Deeply, refreshingly uncool. [The Household Spirit] is both quiet and sneakily psychedelic: swirling around and burrowing inside the lives of its two characters, the reclusive 50-year-old Howie Jeffries and his irreverent, messed-up 25-year-old neighbour Emily Phane. Both are stuck. Emily suffers from extreme attacks of sleep paralysis; Howie has been more or less haunting his own house since his wife and daughter left him 20 years ago. Their stories reflect and refract each other, eventually coming together in a strange and unexpected way." —Tank Magazine
 
"Finely nuanced details and multi-layered dark comedy are Wodicka's strong suits. Howie's and Emily's alternating viewpoints reveal their vulnerabilities and enrich their well-drawn characterizations. Route 29 may be an insignificant thoroughfare in fictional Queens Falls, but Wodicka elevates its prominence, navigating a poignant, revelatory story on the road to the liberating nature of truth and friendship." —Shelf Awareness
 
"Beautiful. . . . Wodicka amplifies the eccentricities of [his] characters with a style that is a gentle stream of consciousness. . . . Sentences shift, ebb and flow, evoking the confusion and sadness within." —The Gilmore Guide to Books

"For all the book's oddball charm and darkly comic suburban realism, at its foundations lies a tale of a middle-aged man acquiring a surrogate daughter who is the mirror image of his own estranged offspring, and a solitary young woman belatedly blessed with a fatherly protector. Yet Wodicka gives the story a genuinely characterful allure, humorously and poignantly revealing the depth of compassion and understanding in Howie's paternalistic relationship with the disturbed Emily, and painting a tender and intimate portrait of their inner lives that affectingly burrows under the skin. . . . A fable about the mutual comfort of strangers . . . its generosity of spirit is undeniable." —The Sunday Times (UK)
 
"Comic, poignant and wholly convincing. . . . Have you ever read a novel which ended on the exclamation 'Daddy!' and still managed to be both unsentimental and strangely moving? Tod Wodicka's use of the word has the feelgood factor of The Railway Children and the bitter wit of Sylvia Plath. . . . [The Household Spirit] come[s] full circle, attaining perfect integration between start and finish—it connects." —The Independent (UK)
 
"The Household Spirit is singular among novels about depressed people in that it is neither boring nor depressing." —Esquire, "Summer Reading List"

"The Household Spirit is a powerful and quietly compelling novel. Tod Wodicka reveals his characters unflinchingly, in all their strangeness, and never loses sight of their frailties and loves. . . . Unique and surprising, The Household Spirit is beautifully told." —Sadie Jones, author of The Outcast

"Touching. . . . Two identical houses sit on an isolated stretch of Route 29 in Queens Falls, N.Y. In one house lives Howard Jefferies—a divorced, 50-year-old worker at a water-treatment plant who leads a solitary life. He thinks often of fishing, his now-defunct family unit, and his mysterious next-door neighbor. Emily Phane, the same age as his daughter, lives next to Howard and tends to her elderly grandfather. Although they have not spoken, their mutual watching of and interest in each other provides a strange comfort—for Howard, her presence stirs a protective paternal instinct that has been dormant since the departure of his daughter, and for Emily, watching Howard distracts from debilitating sleep troubles, a complicated love life, and her grandfather's mortality. When Emily's desperation comes to a breaking point, her cry for help elicits a response from her shy and awkward neighbor. From there, an unlikely and close friendship develops that changes the direction of both their lives. . . . The accounts of sleep paralysis, grief, and personal demons make for a novel well worth reading." —Publishers Weekly

"[A] bittersweet, deeply sympathetic sophomore effort. . . . On a rural stretch of Route 29 north of Albany, Howie lives alone, 20 years divorced and just turned 50. He's estranged from his daughter, who's 24, the same age as Emily, the woman he watches behaving oddly outside the house next door as the novel opens. He watched years earlier when Emily's young mom came home pregnant, delivered, and soon after died with her own mother in a car crash, leaving the infant with her grandfather, Peppy. He watched when Emily nursed Peppy until he passed away. Then Howie saves her from a fire in her house and she moves in with him. Wodicka slowly, separately creates each of these two strong characters as he draws them together through smooth shifts in time and place. Howie's face has a 'gaunt, arboreal lonesomeness' that goes well with his near-Asperger lack of affect. Emily, who is interested in the neurobiology of flora, transplants him from isolation to a society of two and beyond. Howie thinks it may be skill at fishing that helps him recognize and gently pull her out of the horrific night terrors that have plagued her sleep. . . . Wodicka's fluid, expressive prose—dotted with quotable observations often as odd as his players—serves well his weaving of such a convincing, unexpected story from eccentricity, pain, and need. . . . Strange and rich and precisely pitched." —Kirkus Reviews (starred)

"When I read Tod Wodicka's novel, it was as if somewhere in its core there was a light that glowed out onto me. It was an extraordinary experience. An extraordinary book." —Douglas Coupland, author of Generation X: Tales for an Accelerated Culture
 
"An intimate study of two oddball characters, The Household Spirit is also a profound meditation upon existence, the demons that haunt our subconscious, and the fragile solace to be found in human relationships.  Wodicka writes with a winningly idiosyncratic combination of brio and tenderness, and concludes his story sublimely. The Household Spirit is a book to hold dear." —Clare Wigfall, author of The Loudest Sound and Nothing

"The Household Spirit is very special. There's a pleasing familiarity to it but it's also fresh, funny and unpredictable." —Roddy Doyle, author of Paddy Clarke Ha Ha Ha

"Rarely have I been so captivated by a novel—its compassion, wisdom, warmth. I loved it."  —Nathan Filer, author of The Shock of the Fall (Winner of the Costa Book of the Year and the Betty Trask Prize)
Pantheon, 9780307377050, 336pp.
Publication Date: June 9, 2015
About the Author
TOD WODICKA was born in Glens Falls, New York. He is the author of All Shall Be Well; and All Shall Be Well; and All Manner of Things Shall Be Well. He lives in Berlin.
or
Not Currently Available for Direct Purchase