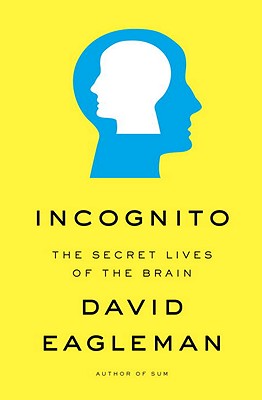 Incognito
The Secret Lives of the Brain
Hardcover

* Individual store prices may vary.
Other Editions of This Title:
Digital Audiobook (5/30/2011)
Paperback (5/15/2012)
Paperback, Spanish (3/6/2018)
Hardcover (4/1/2011)
Hardcover (4/1/2011)
Description
If the conscious mind--the part you consider to be you--is just the tip of the iceberg, what is the rest doing?
In this sparkling and provocative new book, the renowned neuroscientist David Eagleman navigates the depths of the subconscious brain to illuminate surprising mysteries: Why can your foot move halfway to the brake pedal before you become consciously aware of danger ahead? Why do you hear your name being mentioned in a conversation that you didn't think you were listening to? What do Ulysses and the credit crunch have in common? Why did Thomas Edison electrocute an elephant in 1916? Why are people whose names begin with J more likely to marry other people whose names begin with J? Why is it so difficult to keep a secret? And how is it possible to get angry at yourself--who, exactly, is mad at whom? Taking in brain damage, plane spotting, dating, drugs, beauty, infidelity, synesthesia, criminal law, artificial intelligence, and visual illusions,
Incognito
is a thrilling subsurface exploration of the mind and all its contradictions.
Praise For Incognito: The Secret Lives of the Brain…
"A stunning exploration of the 'we' behind the 'I'. Eagleman reveals, with his typical grace and eloquence, all the neural magic tricks behind the cognitive illusion we call reality." –Jonah Lehrer,  author of How We Decide

"Eagleman has a talent for testing the untestable, for taking seemingly sophomoric notions and using them to nail down the slippery stuff of consciousness." –New Yorker

"Your mind is an elaborate trick, and mastermind David Eagleman explains how the trick works with great lucidity and amazement. Your mind will thank you." –Kevin Kelly, Wired Magazine

"A fun read by a smart person for smart people…it will attract a new generation to ponder their inner workings." –New Scientist

"Written in clear, precise language, the book is sure to appeal to readers with an interest in psychology and the human mind, but it will also please people who just want to know, with a little more clarity, what is going on inside their own skulls." –Booklist 

"Original and provocative…Incognito is a smart, captivating book that will give you a prefrontal workout." –Nature 
 
"Incognito is fun to read, full of neat factoids and clever experiments...Eagleman says he's looking to do for neuroscience what Carl Sagan did for astrophysics, and he's already on his way." –Texas Monthly

"Although Incognito is face-paced, mind-bending stuff, it's a book for regular folks. Eagleman does a brilliant job refining heavy science into a compelling read. He is a gifted writer." -Houston Chronicle

"A popularizer of impressive gusto…[Eagleman] aims, grandly, to do for the study of the mind what Copernicus did for the study of the stars." –New York Observer 

"The journey to the heart of neurological darkness is also a kind of safari, and we spend a lot of time taking in the marvelous birds…Incognito proposes a grand new account of the relationship between consciousness and the brain. It is full of dazzling ideas, as it is chockablock with facts and instances." –The New York Observer   
 
"Incognito does the right thing by diving straight into the deep end and trying to swim. Eagleman, by imagining the future so vividly, puts into relief just how challenging neuroscience is, and will be." –Boston Globe 
 
"Appealing and persuasive." –Wall Street Journal

"Eagleman has a nice way with anecdotes and explanations…delightful." –The Observer's Very Short List
 
"Eagleman presents difficult neuroscience concepts in an energetic, casual voice with plenty of analogies and examples to ensure that what could easily be an overwhelming catalog of facts remains engaging and accessible…the ideas in Eagleman's book are well-articulated and entertaining, elucidated with the intelligent, casual tone of an enthusiastic university lecturer." –The Millions
 
"A fascinating, dynamic, faceted look under the hood of the conscious mind...Equal parts entertaining and illuminating, the case studies, examples and insights in Incognito are more than mere talking points to impressed at the next dinner party, poised instead to radically shift your understanding of the world, other people, and your own mind." –Brain Pickings

"Eagleman engagingly sums up recent discoveries about the unconscious processes that dominate our mental life." –The New York Times Book Review 
 
"Fascinating…Eagleman has the ability to turn hard science and jargon into interesting and relatable prose, illuminating the mind's processes with clever analogies and metaphors." –Salt Lake City Weekly
 
"A great beach read." –Philadelphia City Paper
 
"Touches on some of the more intriguing cul-de-sacs of human behavior." –Santa Cruz Sentinel

"Startling…It's a book that will leave you looking at yourself—and the world—differently." –Austin American Statesman
 
"Incognito feels like learning the secrets of a magician. In clear prose, Eagleman condenses complex concepts and reinforces his points through analogies, pop culture, current events, optical illusions, anecdotes, and fun facts." –Frontier Psychiatrist
 
"One of those books that could change everything." –Sam Snyder, blog

"Sparkling and provocative…a thrilling subsurface exploration of the mind and all its contradictions." –Louisville Courier-Journal  
 
"Buy this book. The pithy observations, breezy language and wow-inducing anecdotes provide temporary pleasure, but the book's real strength is in its staying power." –Science News
 
"A whirlwind, high-definition look at the neural underpinnings of our everyday thinking and perception…fascinating." –Brettworks.com

"Eagleman embodies what is fascinating, fun, and hopeful about modern neuroscience." –Brainstorm.com  
 
"After you read Eagleman's breezy treatment of the brain, you will marvel at how much is illusory that we think is real, and how we sometimes function out autopilot without consciously knowing what is happening…This is a fascinating book." –The Advocate
 
"A pleasure to read…If a reader is looking for a fun but illuminating read, Incognito is a good choice. With its nice balance between hard science and entertaining anecdotes, it is a good alternative to the usual brainless summer blockbusters." –Deseret News
 
"Funny, gripping and often shocking…Eagleman writes great sentences of the sort that you might be inclined to read to those in your general vicinity." –bookotron.com

"Incognito reads like a series of fascinating vignettes, offering plenty of pauses for self-reflection. Eagleman's anecdotes are funny and easily tie to the concepts he explains. Moreover, his enthusiasm for the subject is obvious and contagious." –Spectrum Culture

"Incognito is popular science at its best…beautifully synthesized." –Boston Globe Best of 2011
Pantheon Books, 9780307377333, 290pp.
Publication Date: May 31, 2011
About the Author
DAVID EAGLEMAN is a neuroscientist, a Guggenheim Fellow, and a New York Times bestselling author. His books have been translated into 27 languages. Eagleman heads the Laboratory for Perception and Action at Baylor College of Medicine, and is the founding Director of the Initiative on Neuroscience and Law. He is the author and presenter of the PBS series The Brain.
Book Videos
Coverage from NPR
or
Not Currently Available for Direct Purchase