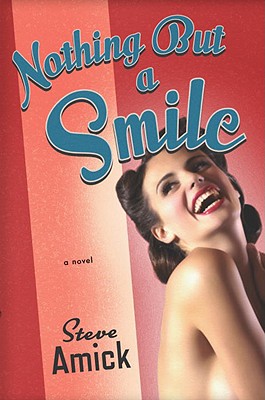 Nothing but a Smile (Hardcover)
Pantheon, 9780307377364, 336pp.
Publication Date: March 10, 2009
Other Editions of This Title:
Paperback (2/9/2010)
* Individual store prices may vary.
Description
From the author of the widely praised The Lake, the River & the Other Lake comes the delightful love story of a man and a woman who choose an unconventional way to redefine themselves during and after World War II.

It's 1944, and Wink Dutton, a former illustrator for Yank and Stars and Stripes, has arrived in Chicago after an injury to his drawing hand gets him an unwanted discharge from the service. Renting a room above the camera shop run by Sal Chesterton–the wife of Wink's buddy, still stationed in the Philippines–Wink is surprised to learn how Sal is making ends meet: producing pinup photos for the soldiers' favorite girlie magazines. In fact, she's using herself as a model. When Wink becomes a partner in her covert enterprise, it's the beginning of a collaboration that is both wonderfully sexy and pure, one that blossoms into a subtle and unexpected romance. Their work leads to Wink's reinvention as a photographer and, as the war ends and the business expands, to a shared understanding of the painful adjustments to be made in the rapidly changing postwar world.

Steve Amick's grasp of Wink and Sal's generation is remarkable, as is his fresh take on the period. The triumph of the war's end is tempered by his deep understanding of its quiet undercurrents–the fear of not knowing what to do next, the loss of more carefree prewar selves, the sorrow of mourning soldiers recently dead when everyone else is parading in the streets. In the surprising story of Wink and Sal, Amick has created a beautifully understated love letter to an America of simpler choices that were nonetheless hard for the people who made them.
About the Author
Steve Amick is the author of "The Lake, the River & the Other Lake. "Born in Ann Arbor, Michigan, he received a BA from""St. Lawrence University and an MFA in creative writing from""George Mason University. His short stories have appeared in" Playboy, The Southern Review, New England Review, Story, McSweeney's, "in the anthology "The Sound of Writing, "and on National""Public Radio. On walks with his wife and young son, he""often passes the original Argus Camera building.
Praise For Nothing but a Smile…
Praise for Nothing But a Smile
"A remarkable portrait of postwar America . . . Captivating in its detail, and bold in scope . . . [A] divine love story."
—Publishers Weekly, starred review

"For readers who've been lamenting that there aren't enough good, smart love stories being written these days, Steve Amick's new novel is a quirky, touching, and at times refreshingly masculine valentine. As he immerses us richly and authentically in an era essential to the formation of our national identity, he offers us something just as rare: a tale that serves as a reminder, when we need it most, of why America remains a country with a vast potential for greatness."
—Julia Glass

Praise for The Lake, The River & the Other Lake
"The last writer to celebrate the charms of rural Michigan with equal panache was probably Ernest Hemingway."
—Los Angeles Times

"Wonderful . . . Like [other] great builders of dream worlds, Amick has fashioned his own parallel universe."
—The Washington Post

"Easygoing, rambunctious . . . Proust isn't the only one who had a madeleine moment."
—The New York Times Book Review

or
Not Currently Available for Direct Purchase