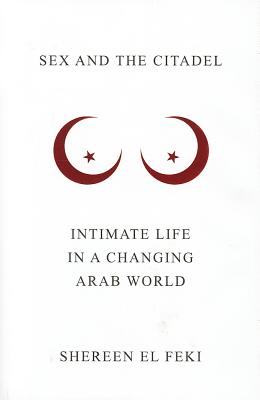 Sex and the Citadel
Intimate Life in a Changing Arab World
Hardcover

* Individual store prices may vary.
Other Editions of This Title:
Paperback (1/21/2014)
Description
**Kirkus Best Books of the Year (2013)**

If you really want to know a people, start by looking inside their bedrooms.
 
As political change sweeps the streets and squares, the parliaments and presidential palaces of the Arab world, Shereen El Feki has been looking at an upheaval a little closer to home—in the sexual lives of men and women in Egypt and across the region. The result is an informative, insightful, and engaging account of a highly sensitive and still largely secret aspect of Arab society.
 
Sex is entwined in religion, tradition, politics, economics, and culture, so it is the perfect lens through which to examine the complex social landscape of the Arab world. From pregnant virgins to desperate housewives, from fearless activists to religious firebrands, from sex work to same-sex relations, Sex and the Citadel takes a fresh look at the sexual history of the region and brings new voices to the debate over its future.
 
This is no peep show or academic treatise but a highly personal and often humorous account of one woman's journey to better understand Arab society at its most intimate and, in the process, to better understand her own origins. Rich with five years of groundbreaking research, Sex and the Citadel gives us a unique and timely understanding of everyday lives in a part of the world that is changing before our eyes.
Praise For Sex and the Citadel: Intimate Life in a Changing Arab World…
**Kirkus Best Books of the Year (2013)**

"El Feki has spent four years investigating an intriguing and potentially explosive subject: changing sexual attitudes and behavior in the Arab world. . . . A thoughtful study not to be treated as titillation." —Library Journal 

"A clear wakeup call."
—Publishers Weekly  

"El Feki, with familial roots deep in Egypt, delves into a sensitive, rarely addressed topic in this tour de force on Arab life. . . . Mandatory reading for anyone seeking to truly know the Middle East, Sex and the Citadel should knock the doors off assumptions held dear by so many Westerners."
—Booklist, starred review

"Shereen El Feki has done something important, brave, and necessary. By investigating what sexual experiences and values are in the Arab world, rather than projecting views on them ideologically, she insists on our taking seriously and urgently major social issues—from cliterodectomy to adultery in a traditional context to passion itself—that are shrouded in myth, taboo, and disinformation. She has done a major service to those who care about feminism in this region, about human rights, about sexuality, and about the human condition."
—Naomi Wolf, author of The Beauty Myth 

"Sex and the Citadel captures the vibrancy of contemporary issues being faced by those living in Muslim societies today. El Feki brings to life the hopes, fears, and challenges of a wide range of individuals as they deal with sex, love, and relationships. There is much here to learn for both Muslims and non-Muslims. This book explores how views on contemporary life vary across different Muslim communities."
—Tewodros Melesse, director-general, International Planned Parenthood Federation 

"A daring new study. El Feki embarks on her subject with healthy doses of humor and irony. She looks at the tensions between what is halal (permitted under Islamic law) and haram (forbidden) or zina (downright debauchery). She also discusses sex education, abortion, pornography, homosexuality, and even lingerie and cross-dressing. A surprisingly open, extremely timely examination of the sexual coming-of-age for Egyptian youth."
—Kirkus Reviews, starred review

"An engrossing book with a powerful interrogation of intimate relationships and politics in Egypt. Sex and the Citadel brilliantly explores the complex conjunction between contemporary history and personal lives."
—Pinar Ilkkaracan, co-founder, Women for Women's Human Rights (WWHR), and the International Coalition for Sexual and Bodily Rights in Muslim Societies  (CSBR)

"Ambitiously broad in its scope…A timely, thought provoking, and highly readable study." –New York Journal of Books  

"Cheekily titled, eminently readable…While her subject is titillating, her treatment of it is not: A former vice chair of the U.N.'s Global Commission on HIV and Law, she is frank, nonjudgmental and unsentimental, eschewing the kind of stagey shockability that might have tempted a lesser writer when dealing with topics as unsavory as female genital mutilation or domestic violence…intriguing." –San Francisco Chronicle
 
"Conversational yet informed, witty without succumbing to frivolity, and buttressed every so often by statistical findings, Sex and the Citadel emerges from a five-year, somewhat desultory investigation of sexual mores in a region undergoing political transformation...She brings to her subject an indignant sensibility recalling in some ways that of the social revolutionaries." –Boston Globe   

"Once inside the book, you'll still find plenty of humor, but it's harnessed to an impressively researched work of sociology. El Feki, a scientist, journalist, and academic, has traveled far and delved deep through the Arab world for half a decade trying to get a handle on the customs, laws, attitudes, hang-ups, and religious dicta that shape the sex lives of the region in general, and Egypt and Cairo in particular. Through this understanding, she intends to shine a broad light on what makes the region tick, politically and socially…It's a serious topic, and El Feki has done a gargantuan and gutsy job of research. She treats her subject with respect but also with a lively irreverence, which is the appropriate tone for a book about sexual customs and foibles. Toward the end, as she becomes increasingly intent on shoring up her thesis, the book grows more serious and loses a bit of the light touch that makes the bulk of it so readable. But she's fearless, calling a spade a spade and wading into neighborhoods, both physical and topical, where angels might well fear to tread." –Santa Fe New Mexican  

 "Will the Arab spring precipitate a sexual as well as a political revolution? It is an intriguing question, which the award-winning Cairo-based journalist Shereen El Feki explores in this account of a highly sensitive and still mainly hidden facet of the Arab world...Dr. El Feki's position as a western-educated female Muslim, both insider and outsider (she grew up in Canada, the daughter of an Egyptian father and Welsh mother), gives the book an invaluable perspective." –Guardian  
 
"A fascinating survey of sex that is rich in detail…Understanding the attitudes and practices of Egyptians when it comes to sex is intriguing in itself. But Ms. El Feki also uses sex as a means to understand better a country and society that has been rocked by revolution." –The Economist

"Fascinating." –The Globe and Mail    
 
"Sex and the Citadel is a bold, meticulously researched mini Kinsey Report, rich in anecdote and statistics." –The Spectator 
 
"The frisky title of Shereen El Feki's book, with its allusion to Candace Bushnell and Sarah Jessica Parker, is a measure of what you get. El Feki is an immunologist turned Economist journalist specialising in health issues. She is also an English-language presenter for Al Jazeera, and a member of the United Nations Global Commission on HIV and the Law...As one would expect from this background, she has broad sympathies. She also has a bold, punchy way of expressing herself." –Telegraph

"This survey of sexual habits across the Arab world is as serious-minded as it is entertaining."—The Independent
 
"A cogent account of sexual liberty in the Arab world."—The Sunday Telegraph
 
"But in talking to ordinary people as well as sex therapists and sociologists, El Feki has been able to produce an original portrait of the region's youth." –Financial Times
 
"Sex and the Citadel is a fascinating exploration of sexual culture, based on a well-balanced mixture of history, statistical information gleaned from the few surveys conducted by various NGOs, and first-hand interviews, which in many cases show that the official studies have barely scratched the surface."—Daily Star Lebanon
 
"This is a principled book, robustly educative and illuminating without consenting to the kind of vacant voyeurism that the intimate life veiled by Islam can provoke in unthinking outsiders."—Times Higher Education Supplement, Book of the Week
 
"Combining thorough reportage and sure-handed critical views, El Feki excels at sketching primary themes in images that stick…a supremely eye-opening book."—The Chronicle of Higher Education
Pantheon Books, 9780307377395, 368pp.
Publication Date: March 12, 2013
About the Author
SHEREEN EL FEKI is a writer, broadcaster, and academic who started her professional life in medical science before going on to become an award-winning journalist for "The Economist" and a presenter at Al Jazeera English. She is former vice-chair of the U.N. s Global Commission on HIV and Law, and a TED Global Fellow. She divides her time between London and Cairo."
or
Not Currently Available for Direct Purchase