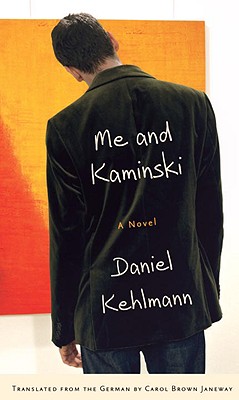 Me and Kaminski (Hardcover)
Pantheon, 9780307377449, 208pp.
Publication Date: November 18, 2008
Other Editions of This Title:
Paperback (10/6/2009)
* Individual store prices may vary.
Description
From the internationally best-selling author Daniel Kehlmann, a provocative and wickedly funny novel about two unpredictable men–one an artist and the other a journalist, who together embark on an unexpected adventure with uproarious results.

Sebastian Zollner's failure as a journalist is matched only by his personal failures: his girlfriend is moving in a new lover before Sebastian even knows he's been dumped. Searching for the break that will redeem him in the eyes of his peers, he heads off on a wild goose chase into the mountains to interview the eccentric, legendary painter Manuel Kaminski, with the hope of writing his biography.

Kaminski is going blind and is living in seclusion with his daughter. He could be working on his next masterpiece or easing into his final days, and his inconsistent career raises the question of whether he has been a fraud or a genius. His artistic reputation hinges on any number of factors but most prominently on a definitive biography. Enter Zollner–who has no intention of writing a puff piece. He's out to dig dirt and to force Kaminski to confront the legacy of his work. But the secrets he uncovers will lead Kaminski, and Zollner himself, to places neither of them ever expected to go.

With edgy wit and intelligence, Daniel Kehlmann dives into the problems of what is "truth" in our celebrity-crazed times and embraces the energy and humanity that lie beneath the pretensions of the art and journalistic worlds. A firecracker of a novel.
Praise For Me and Kaminski…
Praise for MEASURING THE WORLD

"A masterfully realized, wonderfully entertaining and deeply satisfying novel. . . . Addictively readable and genuinely and deeply funny."
—Los Angeles Times

"Kehlmann's lightly surreal style [is] a mixture of comedy, romance and the macabre, with flashes of magical realism that read like Borges in the Black Forest."
—Washington Post Book World

"Elegant and measured in design and expression. . . . What distinguishes Kehlmann are quickness of mind and lightness of touch."
—The New York Times Book Review

Praise from Germany for ME AND KAMINSKI

"Kehlmann is a consummate storyteller, assured in tone, with masterful control over the storyline. . . . Ravishing,"
—Der Spiegel

"I haven't laughed so hard reading a new German novel for a long time. . . . This young author writes fiction with great refinement and sparkling wit. The plot is strong and the dialogue totally hilarious."
—Frankfurter Rundschau

"Kehlmann has never given his satiric temperament such free rein. Me and Kaminski is absolutely his funniest book. And his most adventurous."
—Die Zeit
or
Not Currently Available for Direct Purchase