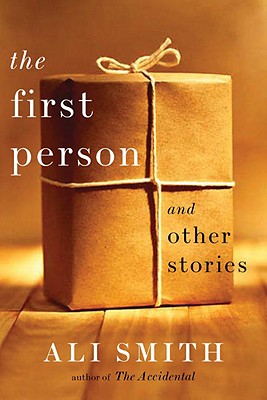 The First Person: and Other Stories (Hardcover)
and Other Stories
Pantheon, 9780307377715, 224pp.
Publication Date: January 6, 2009
* Individual store prices may vary.
or
Not Currently Available for Direct Purchase
Description
In these energetic, exhilarating stories, Ali Smith portrays a world of everyday dislocation, where people nevertheless find connection, mystery, and love. In "Astute Fiery Luxurious," a misdelivered package throws the life of a couple into disarray. A boy's unexplained illness in "I Know Something You Don't Know" drives his mother to seek guidance from homeopathic healers, with inconclusive results. In "The Child," an unnervingly mature young boy voices offensive humor that genteel society would rather not acknowledge. And a confident older woman meets her awkward fourteen-year-old self in "Writ" but can't figure out how to guide her–or even whether she should.

As Smith explores the subtle links between what we know and what we feel, she creates an exuberant, masterly collection that is packed full of ideas, humor, nuance, and compassion. Ali Smith and the short story are made for each other.
Praise For The First Person: and Other Stories…
"Sparkling and zany, fiercely intellectual yet full of humble longing. . . so deft, so beautifully written. . . . Smith's writing presents the constant threat of liftoff from the laws of physics. . . . She's got a paradoxical, original style."
–Maria Russo, The New York Times Book Review

"Intriguing. . . If Smith excels at creating, both in her stories and in her readers, a sense of eerie dislocation, she can also stir up an enchanting sense of whimsy."
–Joanne Wilkinson, Booklist

"[An] unsettling take on contemporary life. . . . Smith's style is terse and edgy. . . Provocative and enigmatic."
–Harvey Freedenberg, BookPage

"Deftly moving . . . brimming with poetic whimsy. . . . These tales are vibrant and poignant, as though deconstructing our compulsion to connect with one another were as easy as writing a story."
–Rachel Rosenblit, Elle magazine

"Smartly constructed. . . . Compellingly quirky demonstrations of how our imaginations react to ordinary people and everyday occurrences. . . . Smith is an original observer of the blessings and curses of living inside one's imagination."
–Kirkus Reviews

"Everyone has their own tale to tell in this bangup collection. . . . At once quirky and compulsively readable, this collection puts a layered and enjoyable spin on the many forms of the short story."
–Publishers Weekly

"Smith is a dazzling talent, fearlessly lassoing different styles and ideas and playfully manipulating them."
—The Washington Post

"[She] is a wonderful ventriloquist, adept at throwing her voice into an astonishing array of characters."
—Michiko Kakutani, The New York Times

"A skilled, majestically confident writer."
—New York Observer

"Original, restless, formally and morally challenging, she remains a writer who resists definition."
—The Times Literary Supplement

"Smith's well-honed prose gives a feeling of eavesdropping on her characters' innermost thoughts."
—The New Yorker

"[She is] a confident writer who's wholly uninterested in impressing her readers, preferring to pay them the ultimated compliment of simply engaging them."
—Newsday

"Joyous… Smith plays dizzying games with her story and language; she bends and buckles her prose, breathes fire into it, lets it cool, swirls it up in unimaginable shapes. This is writing as pure rapture, as giddy delight."
—The Times (London)
Advertisement