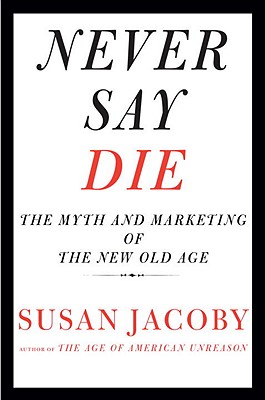 Never Say Die
The Myth and Marketing of the New Old Age
Hardcover

* Individual store prices may vary.
Other Editions of This Title:
Digital Audiobook (2/7/2011)
MP3 CD (2/8/2011)
MP3 CD (2/8/2011)
Compact Disc (2/8/2011)
Paperback (2/14/2012)
Compact Disc (2/8/2011)
Compact Disc (2/8/2011)
Description
Susan Jacoby, an unsparing chronicler of unreason in American culture, now offers an impassioned, tough-minded critique of the myth that a radically new old age—unmarred by physical or mental deterioration, financial problems, or intimate loneliness—awaits the huge baby boom generation. Combining historical, social, and economic analysis with personal experiences of love and loss, Jacoby turns a caustic eye not only on the modern fiction that old age can be "defied" but also on the sentimental image of a past in which Americans supposedly revered their elders. 
 
Never Say Die unmasks the fallacies promoted by twenty-first-century hucksters of longevity—including health gurus claiming that boomers can stay "forever young" if they only live right, self-promoting biomedical businessmen predicting that ninety may soon become the new fifty and that a "cure" for the "disease" of aging is just around the corner, and wishful thinkers asserting that older means wiser.
 
The author offers powerful evidence that America has always been a "youth culture" and that the plight of the neglected old dates from the early years of the republic. Today, as the oldest boomers turn sixty-five, it is imperative for them to distinguish between marketing hype and realistic hope about what lies ahead for the more than 70 million Americans who will be beyond the traditional retirement age by 2030. This wide-ranging reappraisal examines the explosion of Alzheimer's cases, the uncertain economic future of aging boomers, the predicament of women who make up an overwhelming majority of the oldest—and poorest—old, and the illusion that we can control the way we age and die.
 
Jacoby raises the fundamental question of whether living longer is a good thing unless it means living better. Her book speaks to Americans, whatever their age, who draw courage and hope from facing reality instead of embracing that oldest of delusions, the fountain of youth.
Praise For Never Say Die: The Myth and Marketing of the New Old Age…
"If old age isn't for sissies, then neither is Susan Jacoby's tough-minded, painful-to-read and important book, which demolishes popular myths that we can "cure" the "disease" of aging and knocks the "g" right out of the golden years...[Jacoby supports] her arguments eloquently and persuasively with historical, sociological, scientific and economic research." –Washington Post

"Jacoby's tough-minded refusal to buy the rosy image painted by advertisers and the 'anti-aging industry'—a greedy crowd that includes bogus health gurus, pill pushers and other medical hucksters—is empowering." –Time Magazine

"Providing a compelling, convincing account of current reality, Jacoby simultaneously demolishes the overly optimistic scenarios of the baby boomer generation…A cogently argued and well-written corrective to 'the fantasy of beating old age.'" –Kirkus

"An important reality check." –Booklist, starred review

"Moving and informative." –Publishers Weekly

"Jacoby sees a new ageism that doesn't just stigmatize old people for their years, but blames them for physical ills that no lifestyle adjustments or medicine can yet forestall...Among other perils, the `old old' have a roughly even chance of being counted among the mind-eaten ranks of Alzheimer's victims. We may not like to think that poverty, social isolation, crippling pain, dementia and loss of autonomy are likely to come calling the longer we live, but it's a fact." -New York Times Book Review

"Mixes rigorous reportage and tart-tongued criticism with memoir and history, slashing through romanticized versions of the golden years and delivering tough truths." –Newsday

"Eloquent…[Jacoby} is courageously right…one can hope that her impassioned, closely argued tract gains a serious hearing among her fellow boomers." –Columbia Journalism Review
 
"Jacoby cuts through the fog of bromides and half-truths enveloping the discussion of aging, shines a light on issues long neglected and offers cogent solutions to pressing problems." –Miami Herald 

"Jacoby demolishes the multiple myths of the golden age of aging, partly through personal experience, partly through extensive, smart research." –Seattle Times Best Books of 2011

"[A] book that will change the way you think about growing old. At least it changed the way this reviewer thinks...Jacoby proffers no magic pill for dealing with old age in America, but she calls for baby boomers to lead the way in forging an intergenerational contract that will recognize the responsibilities of one generation to anther...In the end, and in ways not recognized at the beginning of the book, Never Say Die is life-affirming." –Washington Independent Review of Books
 
"Relentlessly sensible…lively, carefully researched…[Jacoby] writes with both passion and reason." –St. Petersburg Times
 
"Never Say Die mixes the intellectual and the emotional, academic studies and personal anecdotes. It is intentionally contentious, sometimes to the point of harshness. That is just as it should be. Jacoby does not want to serve as a destroyer of hope. Thank goodness, however, that she is willing to be a destroyer of false hope." –Columbus Dispatch

"In Never Say Die, Susan Jacoby confronts the unhappiest of truths: many of us will live too long--both for our own good and for the good of others. This is the darkness that looms over us at the intersection of medical ethics, social justice, economics, and our midnight fears. Never Say Die is a beautifully written, clear-eyed, and deeply compassionate book."
—Sam Harris, author of The Moral Landscape and The End of Faith

"Warning: This book is heretical. Susan Jacoby, one of our most perceptive public intellectuals, examines the current myth that it is possible to transcend the vicissitudes of old age by living right. In this fascinating look at the "new old age," she shows that it is pretty much like the old one—marked by declining health, loss of independence, and often dementia. It is no service to older Americans to demand that they conform, or pretend to conform, to current notions of a serene, wisdom-packed, if passionless, old age. We need to deal with it as it is, not as we would like it to be."
—Marcia Angell, M.D., Senior Lecturer in Social Medicine, Harvard Medical School

"Susan Jacoby, a sworn enemy of irrationality of every form, has some shockingly bad news: We will all die, and most of us will get old first—not 'older' but actually old. In this beautifully crafted book, she punctures the promises that aging will eventually be 'cured' either by a wonder drug or though positive thinking. The good news is that if we wake up from our delusions we may be better able to grow old with dignity."
—Barbara Ehrenreich, author of Nickel and Dimed: On (Not) Getting by in America

"For those of us who are old, Susan Jacoby's candor about old age is bracing; for those not yet old, Never Say Die should provide an unsentimental education for the years to come." –Philip Roth

"Disturbing and important…Civic planners, makers of public policy, sociologists, geriatricians, cultural historians, and advocates of the elderly should make their way through Jacoby's book." –The New Republic

"Important and informative…Jacoby does not want to serve as a destroyer of hope. Thank goodness, however, that she is willing to be a destroyer of false hope." –Cleveland.com

"A searing examination…Never Say Die is a deeply personal book." –AARP Bulletin
 
"Full of sobering truths." –The Oregonian

"Jacoby, who is sharp and shoots straight, is bucking most of what is currently being written on this subject." –The New Yorker
 
"Jacoby writes from the perspective of someone who fully understands the challenges of aging…The issues she raises are ones that Americans will need to address as more and more baby boomers officially qualify for senior discounts at their local Cineplex." –The Erickson Tribune
 
"Never Say Die is solidly researched, full of convincing statistics, revealing anecdotes and Jacoby's own personal stories…a valuable wakeup call to Americans." –Winnipeg Free Press

"This is well-crafted book is relevant and certain to resonate with readers, especially those who are concerned about the uncertain future of our senior years." –Tucson Citizen
 
"Everyone should read Jacoby's Never Say Die because it deals with a topic none of us really wants to contemplate: life after the traditional retirement age of 65…Jacoby's commentary about improving health care is among many suggestions she makes about how old age can be handled." –The Washington Times

"In this well-written book, Jacoby takes a hard look at what she sees as the realities facing millions of old people in a country where youth is idolized…Never Say Die offers a hard-hitting and insightful guide to the daunting challenges baby boomers will face as they age." –Spirituality & Practice  

"An eloquent meditation on the pitfalls of 'the new old age.'" –Mother Jones
 
"A straight-shooter, and a fine writer…Jacoby's response to the opponents of physician-assisted dying is thoughtful and rational—and interesting." –deathwithdignity.org

"Jacoby provides a fascinating and inherently interesting look at an issue that all Americans will face sooner or later. Her fluid literary style effectively integrates opinion, facts and anecdotes into an enthralling narrative that reads more like an edge-of-your-seat suspense novel than a scholarly treatise on a very serious subject…This is a very powerful book; it needs to be required reading for all Americans." –Kentucky Daily News    

Praise for
The Age of American Unreason
 
"Jacoby presents a cogent defense of intellectualism. America, she believes, faces a 'crisis of memory and knowledge,' in which anti-intellectualism is not only tolerated but celebrated by those in politics and the media to whom we are all 'just folks.'"
—The New Yorker            
 
"Jacoby joins the grand tradition of authors who refused to swallow the notion that 'visual literacy'—film, TV, video games—is the intellectual equivalent of reading a classic novel."  
—Julia Keller, Chicago Tribune

 



Pantheon, 9780307377944, 352pp.
Publication Date: February 1, 2011
About the Author
Susan Jacoby is the author of nine books, most recently "The Age of American Unreason, Alger Hiss and the Battle for History, "and "Freethinkers: A History of American Secularism." She writes The Spirited Atheist blog for On Faith, a website sponsored by "The Washington Post." She lives in New York City. For more information, visit www.susanjacoby.com.
or
Not Currently Available for Direct Purchase