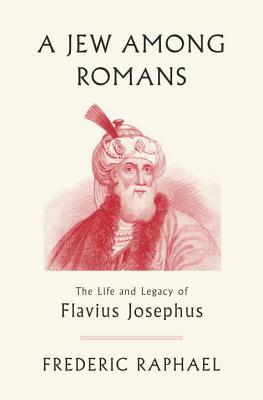 A Jew Among Romans
The Life and Legacy of Flavius Josephus
Hardcover

* Individual store prices may vary.
Description
From the acclaimed biographer, screenwriter, and novelist Frederic Raphael, here is an audacious history of Josephus (37–c.100), the Jewish general turned Roman historian, whose emblematic betrayal is a touchstone for the Jew alone in the Gentile world.
 
Joseph ben Mattathias's transformation into Titus Flavius Josephus, historian to the Roman emperor Vespasian, is a gripping and dramatic story. His life, in the hands of Frederic Raphael, becomes a point of departure for an appraisal of Diasporan Jews seeking a place in the dominant cultures they inhabit. Raphael brings a scholar's rigor, a historian's perspective, and a novelist's imagination to this project. He goes beyond the fascinating details of Josephus's life and his singular literary achievements to examine how Josephus has been viewed by posterity, finding in him the prototype for the un-Jewish Jew, the assimilated intellectual, and the abiding apostate: the recurrent figures in the long centuries of the Diaspora. Raphael's insightful portraits of  Yehuda Halevi, Baruch Spinoza, Karl Kraus, Benjamin Disraeli, Ludwig Wittgenstein, and Hannah Arendt extend and illuminate the Josephean worldview Raphael so eloquently lays out.
Praise For A Jew Among Romans: The Life and Legacy of Flavius Josephus…
"Raphael joins a distinguished line of historians of Josephus, but few have accounted for the outcast sage so vividly. Raphael's motion for acquittal is written in such spirited, lambent prose that he deserves to succeed where previous scholars have failed."
—Stephen Daisley, Commentary


"Raphael's magnificently odd book does not skimp on details about the life of Josephus . . . but the real focus is on his legacy. . . . Raphael transform Josephus, the thinking person's Judas, into a figure of tragic grandeur and connects him with a wide of range of other Jewish writers, artists, scapegoats from Baruch Spinoza, Alfred Dreyfus, and Leon Trotsky to Isaac Babel, Walter Benjamin, and Joseph Roth. . . . [An] erudite book. . . . When Raphael imagines Josephus . . . his subject, to say nothing of his subject's quandary, feels newly strange and complicated." 
—Tom Bissell, Harper's
 
"To recalibrate Josephus' legacy in modern times, the screenwriter and novelist Frederic Raphael, who was trained in classics at Cambridge University, has written A Jew Among Romans, an eloquent appraisal of Josephus. In the book's first part, he skillfully recounts the transformation of Joseph ben Mattathias, a descendant of priests, into Titus Flavius Josephus, confidant of emperors. . . . As Mr. Raphael's sharply etched account makes clear, the turncoat Josephus may have been a 'sponsored propagandist.' . . . In the second and bolder part of A Jew Among Romans, Mr. Raphael casts Josephus as a prototype of the alienated 'un-Jewish Jew' in the Diaspora. . . . [I]n capturing Josephus' ambivalences and ambiguities, Mr. Raphael has with great subtlety shed light on the heirs of that fascinating figure: those memory-haunted thinkers, living on the borderlines of nations and religions, defined by the attempt to transcend the very tradition to which they were so richly indebted." 
—Benjamin Balint, The Wall Street Journal
 
"Expansive, sometimes frustrating, often fascinating boundary-crossing book. . . . [A] work of historical and literary reflection. . . . In the end, with its sprawling topic, rich visual prose, and obsession with odd characters, it reads like a thick description of an epic film that Raphael sees in his head. It is moving, fun, and sure to linger." 
—Winnipeg Free Press
 
"In the multitalented and prickly Raphael—novelist, classicist and Oscar-winning screenwriter for Darling (1965)—[Josephus] the ancient survivor has found his ideal judge, a man as certain of being a Jew as he is uncertain of the meaning of that fact, much as Josephus himself was. . . . The result is a mesmerizing study that evaluates Josephus's choices within the context of internecine Jewish strife (both real and polemical) and overwhelming Gentile power." 
—Maclean's

"Novelist, screenwriter and biographer Raphael succeeds admirably in recovering the reputation of much-maligned historian Titus Flavius Josephus. . . .  Informed by scrupulous, sometimes exhaustive footnotes and addenda, the book is not simply an arresting biography, but a persuasive history of an era. Like his subject, Raphael's breadth of intelligence works against single-mindedness. Throughout, he quotes the conclusions, often opposed to his reading, of other historians. Raphael is imposingly erudite and at pains to demonstrate it, yet there is a remarkable clarity to the writing, many elegant turns of phrase and a measure of sly humor." 
—Kirkus Reviews

"With the verve of good storyteller, novelist and biographer Raphael recreates Josephus' life and chaotic times. . . . [A] page-turning chronicle." 
—Publishers Weekly

"In his marvelous hands, Frederic Raphael transforms Flavius Josephus from the self-hating Jew he is often portrayed as being to the first great critic of religious fundamentalism. A Jew Among Romans is especially relevant to a time when Jews argue so furiously with each other." 
—Alan Wolfe, author of Political Evil

"It is astonishing how many modern themes are thrown up by the vicissitudes of Josephus' life of two millennia ago. With his Cambridge Classics scholars' eye and his customary sophisticated wit—he simply cannot write a dull sentence—Frederic Raphael uses the life of the general-turned-historian to explore the issues of Jewish alienation and assimilation, of collaboration versus realism, of virility and vanity, of identity, love and the meaning of historical truth. The first modern Jewish historian and the first ever writer to use first-person prose, Josephus emerges as magnificently superior to those critics who have depicted him as a mere turncoat and traitor. Meanwhile, Raphael tells us something insightful on every page, about Edward Gibbon, the Wandering Jew, Stalin's Jewish executioner, Arthur Koestler, the battle of Masada, Pharisees, Hellenists, Tsarist pogroms, Judas Iscariot, Zionism and the ancient laws on farting." 
—Andrew Roberts, author of The Storm of War: A New History of the Second World War

"Only someone with the gifts of Frederic Raphael could have written a book as original and wide-ranging as this one.  His purpose is to explore the moral ambiguity of identity and loyalty that Jews from Josephus to Hannah Arendt have tried to deal with ever since the Roman conquest of Judaea.  It is exhilarating to read history that properly illuminates the present." 
—David Pryce-Jones, author of Betrayal: France, the Arabs, and the Jews
 
"Joseph Ben Mattathias or—in his latter-day transformation as a Romanized historian of his own earlier role as failed leader of the Jewish nationalist revolt against Rome, 66-70 C.E.—Titus Flavius Josephus, is an extraordinarily modern character, who could easily, in all his political and moral ambiguity, have stepped straight out of a novel by John Le Carré. Understandably, he does not too often figure in the normal classical curriculum. To the rebels he led, and deserted, he became the ultimate traitor. To Romans, he was a pliable convert who nevertheless refused to go all the way to proper Romanitas. Now, at last, he has found his ideal biographer. Frederic Raphael was trained at Cambridge as classicist and philosopher, and has lived for years in France: he sees Joseph(us)'s dilemmas reflected in those of Albert Camus, the radical pro-Algerian who was nevertheless a pied-noir, a French colonialist malgré lui. With subtlety, irony, and acute insight into Diaspora politics, Raphael brilliantly disentangles, from ancient sources and modern scholarship, a psychologically convincing account of this ancient looking-glass war, and of the elusive individual who was both its chief protagonist and its much-reviled historian. It is a story with endless echoes of, and lessons for, eerily similar conflicts today, and Raphael tells it superbly." 
—Peter Green, author of The Hellenistic Age

"Frederic Raphael's probing, reflexive essay on the life and legacy of Joseph ben Mattathias aka Flavius Josephus brilliantly straddles several mental and political worlds at once, situating—not always comfortably or comfortingly—its subject between Judaea and Rome, and us between a deeply troubled Roman middle east of the first century C.E. and several scarcely more serene hotspots of the modern western world." 
—Paul Cartledge, A.G. Leventis Professor of Greek Culture, University of Cambridge
 
"A Jew Among Romans is a truly immense achievement by any standards. I hope it gets the large readership it deserves."
—William Lyons, emeritus professor of philosophy at Trinity College, Dublin
Pantheon Books, 9780307378163, 336pp.
Publication Date: January 22, 2013
About the Author
Frederic Raphael is the author of more than twenty novels, f ive volumes of short stories, biographies of Byron and W. Somerset Maugham, and five volumes of his personal notebooks and journals. He is also the translator of, among other works, Petronius's "Satyrica" and is a regular contributor to the "Times Literary Supplement."