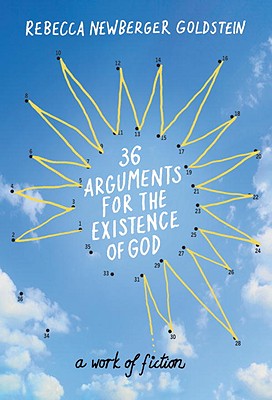 36 Arguments for the Existence of God
A Work of Fiction
Hardcover

* Individual store prices may vary.
Other Editions of This Title:
MP3 CD (7/26/2016)
Compact Disc (10/1/2019)
Description
After Cass Seltzer's book becomes a surprise best seller, he's dubbed "the atheist with a soul" and becomes a celebrity. He wins over the stunning Lucinda Mandelbaum, "the goddess of game theory," and loses himself in a spiritually expansive infatuation. A former girlfriend appears: an anthropologist who invites him to join in her quest for immortality through biochemistry. And he is haunted by reminders of the two people who ignited his passion to understand religion: his mentor and professor—a renowned literary scholar with a suspicious obsession with messianism—and an angelic six-year-old mathematical genius who is heir to the leadership of a Hasidic sect. Each encounter reinforces Cass's theory that the religious impulse spills over into life at large.
 
36 Arguments for the Existence of God plunges into the great debate of our day: the clash between faith and reason. World events are being shaped by fervent believers at home and abroad, while a new atheism is asserting itself in the public sphere. On purely intellectual grounds the skeptics would seem to have everything on their side. Yet people refuse to accept their seemingly irrefutable arguments and continue to embrace faith in God as their source of meaning, purpose, and comfort.
 
Through the enchantment of fiction, award-winning novelist and MacArthur Fellow Rebecca Newberger Goldstein shows that the tension between religion and doubt cannot be understood through rational argument alone. It also must be explored from the point of view of individual people caught in the raptures and torments of religious experience in all their variety.
 
Using her gifts in fiction and philosophy, Goldstein has produced a true crossover novel, complete with a nail-biting debate ("Resolved: God Exists") and a stand-alone appendix with the thirty-six arguments (and responses) that propelled Seltzer to stardom.
Praise For 36 Arguments for the Existence of God: A Work of Fiction…
"Rebecca Goldstein is a rare find among contemporary novelists: she has intellectual muscle as well as a tender emotional reach." —Ian McEwan

"Amid the multitude of bestselling books by atheists and apologists preaching to their respective choirs, here finally is an answer to prayer and reason: a brainy, compassionate, divinely witty novel…sports so many spot-on episodes of cerebral pomposity that you've got to place this novel among the very funniest ever written. Goldstein doesn't want to shake your faith or confirm it, but she'll make you a believer in the power of fiction." –The Washington Post Book World

"Appeared like an answer to a fevered prayer…Part academic farce, part metaphysical romance, all novel of ideas, 36 Arguments for the Existence of God may not settle the question of whether God exists but it does affirm the phenomenon of literary miracles." –Fresh Air from WHYY

"Rollicking….Irreverent and witty, Goldstein seamlessly weaves philosophy into this lively and colorful chronicle of intellectual and emotional struggles."
—Publishers Weekly, starred review

"MacArthur fellow Goldstein, philosopher and writer, continues her many-faceted inquiry into the nature of genius and the intersection between religion and science, returning to fiction (Properties of Light, 2000) and ramping up her gifts for radiant humor and the transmutation of metaphysics, mathematics, and Jewish mysticism into narrative gold. Cass Seltzer, whose field is the psychology of religion, and who is madly in love with Lucinda Mandelbaum, the "Goddess of Game Theory," has written the surprise best-seller The Variety of Religious Illusion, achieving fame as "the atheist with a soul." But when his old flame, the fearless and irreverent anthropologist Roz, reappears, he is hurtled back to the past, launching a scintillating romp of academic ambition and spiritual conundrums with a cast of whirling brainiacs. There's Cass' edgy ex-wife, the French poet Pascale; Cass' idol, the ludicrous Jonas Elijah Klapper; and a mathematical prodigy, the son of the rebbe in the Hudson Valley Hasidic settlement where Cass' mother was raised. Goldstein is entrancing and unfailingly affectionate toward her brilliant yet bumbling seekers in this elegant yet uproarious novel about the darkness of isolation and the light of learning, the beauty of numbers and the chaos of emotions, the "longing for spiritual purity" and love in all its wildness." -Booklist, starred review

 
 "A psychology professor copes with his celebrity present and haunting past after writing a best seller called The Varieties of Religious Illusion. An award-winning novelist and MacArthur Fellow for her work in philosophy, Goldstein has the wherewithal to discuss a hot topic—where our religious impulses originate and how they shape us."
—Library Journal

"You do not have to perpetrate an act of faith to confront the question of why there is something rather than nothing. It is faith itself that consists of nothing. Rebecca Goldstein, on the other hand, is quite something."
–Christopher Hitchens, author of God is Not Great

"Rebecca Newberger Goldstein does it all. She has written a hilarious novel about people's existential agonies, a page-turner about the intellectual mysteries that obsess them. The characters in 36 Arguments For the Existence of God explore the great moral issues of our day in a novel that is deeply moving and a joy to read."
—Jonathan Safran Foer, Extremely Loud and Incredibly Close

"Comic and supremely witty, 36 ARGUMENTS FOR THE EXISTENCE OF GOD is both a satire of the academic world and a feast of philosophical and religious ideas."
—Alan Lightman, author of Einstein' s Dreams

"Thirty-six Arguments for the Existence of God is a remarkable novel–as entertaining as it is illuminating–savagely funny in its characterizations, brilliant in its contemplation of the self and the sublime. This is a timely and timeless book and definitive proof of Rebecca's Goldstein's protean intellect and engaging talent."
—Jess Walter, The Zero

"Here, she has taken on some of the deepest, philosophical questions of human existence and shaped them into a page-turner at once funny and heartbreaking and challenging and—yes—proves that there's no such thing as "too smart" to write a terrifically engaging novel." –Moment Magazine

"36 Arguments for the Existence of God is an intriguingly structured work, tricky but also very traditional; a book that tries to make a serious argument but also tells a captivating story…This is a charming story, deftly told, crackling with intelligence. If I can be granted the license to end with a rabbinic flourish the book itself would frown upon, I would say this work is evidence of the gifted novelist's ability to create world in imitation of the Author of all." –Huffington Post

"A lovely dream." –L.A. Times

"Sublime." –The Chicago Times

"An enjoyable feast of ideas that also serves as a very funny satire on the politic of campus life." –Times Literary Supplement

"Poignant, funny, and brilliant." –Harvard Gazette Online

"Pitch-perfect." –The Spirited Atheist
 
"One of the more fun, substantive reads of the year… an academic satire that deftly mixes heft and hilarity." –"Five Favorite" on NPR
Pantheon, 9780307378187, 416pp.
Publication Date: January 12, 2010
About the Author
Rebecca Newberger Goldsteinreceived her doctorate in philosophy from Princeton University. Her award-winning books include the novels "The Mind-Body Problem, Properties of Light, " and "Mazel, " and nonfiction studies of Kurt Godel and Baruch Spinoza. She has received a MacArthur Foundation Fellowship and Guggenheim and Radcliffe fellowships, and she was elected to the American Academy of Arts and Sciences in 2005. She lives in Massachusetts.
Book Videos
Coverage from NPR
or
Not Currently Available for Direct Purchase