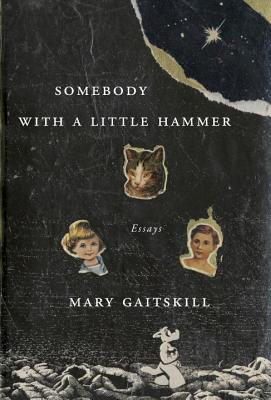 Somebody with a Little Hammer
Essays
Hardcover

* Individual store prices may vary.
Other Editions of This Title:
Paperback (4/17/2018)
Description
From one of the most singular presences in American fiction comes a searingly intelligent book of essays on matters literary, social, cultural, and personal. Whether she's writing about date rape or political adultery or writers from John Updike to Gillian Flynn, Mary Gaitskill reads her subjects deftly and aphoristically and moves beyond them to locate the deep currents of longing, ambition, perversity, and loneliness in the American unconscious. She shows us the transcendentalism of the Talking Heads, the melancholy of Björk, the playfulness of artist Laurel Nakadate. She celebrates the clownish grandiosity and the poetry of Norman Mailer's long career and maps the sociosexual cataclysm embodied by porn star Linda Lovelace. And in the deceptively titled "Lost Cat," she explores how the most intimate relationships may be warped by power and race. 

Witty, tender, beautiful, and unsettling, Somebody with a Little Hammer displays the same heat-seeking, revelatory understanding for which we value Gaitskill's fiction.
Praise For Somebody with a Little Hammer: Essays…
"Gaitskill's intuition . . . borders on clairvoyance. Her prescience is agenda-free, but it's her exceptionally discerning writings on women—Linda Lovelace, Elizabeth Wurtzel, Sarah Palin, Hillary Clinton—that make one wish she had (or even wanted) her own syndicated newspaper column." —Kate Bolick, The New York Times Book Review

"Indispensable . . . Gaitskill has a gift for traversing taboo territory with a subtlety that's sometimes downright Jamesian . . . She draws on her personal experience to crack the veneers of the social codes and sexual ambiguities we all navigate . . . Essential reading." —Michael Upchurch, The Boston Globe
 
"It feels refreshing to finally have a grownup in the room, laying down the law but not really caring whether you follow it or not." —Merve Emre, The Boston Review

"If you have not yet worked through a thought with Gaitskill, Somebody with a Little Hammer is a primer. It makes entirely clear how seriously she takes the idea of fairness, in life and in fiction, and how averse she is to even the lightest thumb on the scale." —Sasha Frere-Jones, Bookforum

"As in her fiction, Gaitskill sees everything . . . The essays in Somebody with a Little Hammer . . . further establish her as the important critical thinker she's always been. Her extreme sensitivity makes her one of the most reliable witnesses to life in the US." —Chris Kraus, 4Columns

"While Gaitskill is best known for her fiction, this collection demonstrates her power as an essayist, and thrums with the same sexual energy." —The New Yorker

"Mary Gaitskill never fails to transport her reader . . . These essays not only embrace but define their subjects, making you rethink the way you interact with the things around you in a much more meaningful way." —Newsweek

"[Gaitskill's] explorations are incisive and unpredictable . . . The emotional centerpiece of this collection, 'Lost Cat: A Memoir,' is as fine a personal essay as you will find anywhere . . . A bracing, terrific new collection." —Mark Cecil, The Millions

"A voice of reason and sanity, of piercing intelligence and generous humanity." —Sariah Dorbin, Los Angeles Review of Books

"[Mary Gaitskill] says the things you didn't know needed to be said until she says them, and only then do you know what you've been missing." —Emily Simon, The Buffalo News

"A cool and formidable collection." —Dwight Garner, The New York Times

"Immersing yourself in [Gaitskill's] world for a page or three has the bracing aliveness of throwing yourself into almost-freezing water." —Margaret Quamme, The Columbus Dispatch
 
"Expect to never look at any of her subjects the same way again." —Cosmopolitan

"Gaitskill is as original in these reviews and personal essays, gathered over two decades, as she is in her fiction; from pieces on Gone Girl and Talking Heads to others on losing her cat, date rape, and born-again Christianity her trajectory may seem apparent but she often takes us to unexpected, revelatory places."
—Paul S. Makishima, The Boston Globe

"Gaitskill uses compassion as a conduit for interpretation." —Larissa Pham, The Nation

"Mary writes with startling, otherworldly clarity, peeling back the surface of things we might think we understand to peer into the slippery psychological realities underneath." —Jason Gots, Big Think
 
"A beautiful, thought-provoking work that cements Mary Gaitskill as one of the sharpest critical thinkers and most important cultural critics of our time." —Sadie L. Trombetta, Bustle

"Gaitskill's biting tongue and literary pyrotechnics make for a delightful combination."
—Poornima Apte, Booklist

"This collection of essays spanning two decades has the same fearless curiosity about the human psyche that Gaitskill exhibits in her fiction, along with the same unerring precision of prose . . . The pages burst with insight and a candid, unflinching self-assessment sure to thrill Gaitskill's existing fans and win her new ones."
—Publisher's Weekly (starred review)

--------------------

PRAISE FOR MARY GAITSKILL

 "No writer is sharper about the fickle exigencies of desire."
—Alexandra Schwartz, The New Yorker

"Ambiguity—the inseparability of light and darkness, love and pain, nurture and destruction, progress and regress—is her métier. The question she seems to ask again and again, and with astonishing force . . . is how to feel, how we do feel."
—Stacey D'Ersamo, The New York Times Book Review

"Gaitskill's prose has never been cold, that's only what it has been called; and her writing has never been about the absence of emotion so much as its unapologetic abundance. She resists sentimentality not by banishing feeling to the white margins with understatement but by granting emotion enough space to misbehave."
—Leslie Jameson, Bookforum 

"Gaitskill's strange gift is to unfold emotions, no matter how petty or upsetting, and describe them with disarming patience for their stutters and silences, their repetitions and contradictions. The result often feels both primal and electric, something like a latter-day D. H. Lawrence."
—Amy Gentry, Chicago Tribune 

"Bracing in its rigorous truth-seeking, subtle and capacious in its moral vision, Gaitskill's work feels more real than real life, and reading her leads to a place that feels like a sacred space."
—Priscilla Gilman, The Boston Globe
Pantheon, 9780307378224, 288pp.
Publication Date: April 4, 2017
About the Author
MARY GAITSKILL is the author of the story collections Bad Behavior, Because They Wanted To (nominated for the PEN/Faulkner Award), and Don't Cry, and the novels The Mare, Veronica (nominated for the National Book Award), and Two Girls, Fat and Thin. Her stories and essays have appeared in The New Yorker, Harper's, Artforum, and Granta, among many other journals, as well as in The Best American Short Stories and The O. Henry Prize Stories.
Coverage from NPR
or
Not Currently Available for Direct Purchase