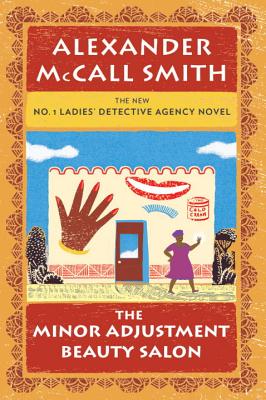 The Minor Adjustment Beauty Salon (Hardcover)
Pantheon Books, 9780307378415, 242pp.
Publication Date: November 5, 2013
Other Editions of This Title:
Paperback (6/3/2014)
Paperback, Large Print (7/1/2014)
Compact Disc (11/5/2013)
Hardcover, Large Print (11/7/2013)
* Individual store prices may vary.
Description
Modern ideas get tangled up with traditional ones in the latest intriguing installment in the beloved, best-selling No. 1 Ladies Detective Agency series.
Precious Ramotswe has taken on two puzzling cases. First she is approached by the lawyer Mma Sheba, who is the executor of a deceased farmer's estate. Mma Sheba has a feeling that the young man who has stepped forward may be falsely impersonating the farmer's nephew in order to claim his inheritance. Mma Ramotswe agrees to visit the farm and find out what she can about the self-professed nephew. Then the proprietor of the Minor Adjustment Beauty Salon comes to Mma Ramotswe for advice. The opening of her new salon has been shadowed by misfortune. Not only has she received a bad omen in the mail, but rumors are swirling that the salon is using dangerous products that burn people's skin. Could someone be trying to put the salon out of business?
Meanwhile, at the office, Mma Ramotswe has noticed something different about Grace Makutsi lately. Though Mma Makutsi has mentioned nothing, it has become clear that she is pregnant . . . But in Botswana a land where family has always been held above all else this may be cause for controversy as well as celebration.
With genuine warmth, sympathy, and wit, Alexander McCall Smith explores some tough questions about married life, parenthood, grief, and the importance of the traditions that shape and guide our lives.
"This is the fourteenth installment in the series.
About the Author
Alexander McCall Smith is the author of the No. 1 Ladies Detective Agency series, the Isabel Dalhousie series, the Portuguese Irregular Verbs series, and the 44 Scotland Street series. He is professor emeritus of medical law at the University of Edinburgh in Scotland and has served with many national and international organizations concerned with bioethics. He was born in what is now known as Zimbabwe and taught law at the University of Botswana. He lives in Scotland."
Praise For The Minor Adjustment Beauty Salon…
"Forgiveness and generosity, she ultimately concludes, are the answer to most of life's ills. Which may explain the longevity of the series. Precious Ramotswe's adventures, as inconsequential as they may seem, do not so much offer an escape from life's woes as a suggestion for how to make the whole deal more palatable—fragility, fruit cake, and all."
—The Boston Globe
 
"Deep into a series, it's not unusual for the characters or plots to lose their luster, but that's not the case with this series. McCall Smith's thoughtful observations on life and human nature, as well as his distinctive writing style and gentle humor, make this volume as enjoyable as the ones that have come before."
—The Wichita Eagle
 
"A particularly endearing entry in the long-running series, which has lost none of its gentleness or its love for Botswana, of which McCall Smith clearly has fond memories."
—The Christian Science Monitor
 
"When you are in the company of Mma Ramotswe, you know that, despite the clamor and chaos that passes for modern life, somewhere out there, all is right with the world." 
—BookReporter

"They're leisurely, wonderfully crafted descriptions of life in the agency and at home, the beauties of Botswana, and the joys, big and small, of life. This latest [novel] is, especially, a tribute to enduring friendship."
—Booklist (starred review)
or
Not Currently Available for Direct Purchase