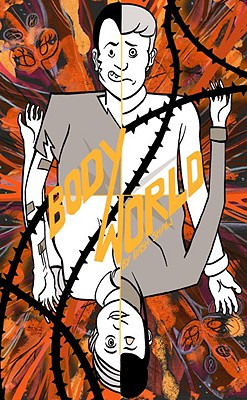 BodyWorld (Pantheon Graphic Library)
Hardcover

* Individual store prices may vary.
Description
From the astonishing imagination of Dash Shaw, visionary author of Bottomless Belly Button, comes a darkly fantastical graphic novel about a small town, a lowlife botanist, and a mysterious plant with strange powers.

It's 2060, and a devastating civil war has left the country in shambles. Professor Paulie Panther–botanist, writer, and hopeless romantic–arrives in the experimental forest town of Boney Borough to research a strange plant growing behind the high school. As he conducts his research, he befriends some of the local residents: Miss Jem, the alluring science teacher; Billy Borg, Boney Borough's star athlete; and Pearl Peach, the rebellious schoolgirl. Paulie soon discovers that the plant, when smoked, imparts telepathic powers. But when he shares this remarkable drug with his new friends, he finds that they're not interested in mind-expansion. In fact, it appears that Paulie's brash individualism might not be at all welcome in a town that prefers conformity to eccentricity.

Nominated for a 2009 Eisner Award and with a bold, innovative design, BodyWorld is a mind-blowing blend of science-fiction, classic high school drama, and futuristic what-if. It is at once funny and fearless–and sure to be the graphic novel event of the year.
Praise For BodyWorld (Pantheon Graphic Library)…
"A heady immersion into science fiction. . . . [Professor Paulie] Panther is, quite simply, one of the great messed-up antiheros of recent fiction. . . . Shaw pulls out all the stops to show such complex altered states in a manner both intuitive and chaotic. Graphics and text overlap, the timeframes and layers of meaning there to be teased out; in this haze, bits of one body get transferred to another, and it's tantalizingly unclear whose thoughts are being articulated. Most graphic novels are easily consumed at a gallop, but these sequences slow down the speed of Bodyworld, making for a rich experience (or should that be an irony-free synaesthetic experience?) that can't be achieved through words alone. . . . Shaw is a brilliant writer too. . . . Bodyworld turns out to be another showcase for Shaw's emotional generosity. Indeed, what better way to explore the limits of sympathy than with characters who can literally feel each other's pain?"
—Ed Park, The Los Angeles Times

"A psychedelic, romantic, science-fictional high school melodrama. . . . Shaw enthusiastically tosses one dizzying visual technique after another at his readers, because his story constantly heads into territories where simple narrative artwork isn't enough. . . . Shaw is as eager to entertain as he is to mess with the parameters of his medium, and he goes out of his way to guide readers through the obstacle course he's laid out. . . . [Shaw's] a hell of an artist, constructing vivid, uncanny compositions with a spectacular sense of color and space. . . . And he seems to have fully absorbed the visual vocabularies of whole schools of cartooning that barely took notice of one another: old Japanese adventure comics, the art brut Fort Thunder scene, animation storyboards. . . . There's so much gusto and invention [here] that it's more rewarding than any number of more modest successes."
—Douglas Wolk, The New York Times Book Review

"A sensory knockout. . . . The drawings a mix of stark black and white outlines with color accents, vivid yet dark. . . . Amazingly complex and impressively engrossing. . . . The book is erotic and kinky, blending sci-fi, musings on the efficacy of psychedelics, commentary on high school character assassination, and an ending sure to give you delicious creeps."
—Boston Globe

"A rare example of the hype not doing it justice. . . . The story takes place in some murky corner of Shaw's brain where time, perception, emotion, and even human metabolism are all raw materials for the sculpting, where memories manifest like graphic phantoms, and the subconscious bubbles up in textual blurts. The book's design is just as sublime, and just as intrinsic to the overall vibe; Shaw's lush-yet-angular artwork—which is deceptively deeper than it first seems—takes random detours into world-building splashes, foldout pages, and dead white space. Few comics since the early issues of Love And Rockets have instantly crafted such a vivid, self-contained identity, vocabulary, and cosmology; that said, there's nothing remotely retro about it. BodyWorld is wholeheartedly, and in the best possible sense, the comic book of the future… A."
—The Onion A.V. Club

"A twisted masterpiece of storytelling built from stunning visuals and panel-manipulation, rendered with much care."
—Austin Chronicle

"Brilliant. . . . A vivid slice of neuro-fiction melded from a brash array of graphic styles."
—Wired.com

"Imagine if David Lynch and David Cronenberg collaborated on a graphic novel. . . . It wouldn't be nearly as good as Dash Shaw's BodyWorld. . . . The guy's imagination is boundless. . . . This book will confound, disturb, delight, and amaze you."
—Bookgasm.com

"Masterfully drawn and delightfully tossed-off. . .  A mix of darkly funny, kaleidoscopically challenging and eerily discomfiting interactions. . . . Reading the book will take you on a long, strange trip where the final destination will make you value the fact that you own your thoughts, no matter how twisted they are."
—Time Out New York (four out of five stars)
 
"Fantastic. . . . Gorgeous. . . . Shaw's willingness to experiment with his drawing style pays off particularly in pages portraying the effects of the drug with abstract blurring and melding of images.  Another brilliant work that is sure to attract loads of attention and praise this year."
—Publishers Weekly (starred review)
 
"A graphic novel that seems not only to expand the possibilities of the form but explode them. . . . Just hop aboard and enjoy the ride." —Kirkus (starred review)
 
"A Brave New World for our time."
—Library Journal
 
"I have seen the future of comics and its name is Dash Shaw."
—David Mazzucchelli, author of Asterios Polyp
Pantheon, 9780307378422, 384pp.
Publication Date: April 13, 2010
About the Author
DASH SHAW grew up in Richmond, Virginia, and studied at the School of Visual Arts. A prolific cartoonist and animator, he is the author of the 2008 graphic novel Bottomless Belly Button. He lives in Brooklyn.
or
Not Currently Available for Direct Purchase