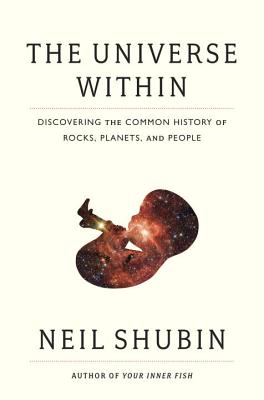 The Universe Within (Hardcover)
Discovering the Common History of Rocks, Planets, and People
Pantheon, 9780307378439, 240pp.
Publication Date: January 8, 2013
Other Editions of This Title:
Digital Audiobook (1/7/2013)
Paperback (10/8/2013)
* Individual store prices may vary.
Description
**Kirkus Best Books of the Year (2013)**

From one of our finest and most popular science writers, and the best-selling author of Your Inner Fish, comes the answer to a scientific mystery as big as the world itself: How are the events that formed our solar system billions of years ago embedded inside each of us?
 
In Your Inner Fish, Neil Shubin delved into the amazing connections between human bodies—our hands, heads, and jaws—and the structures in fish and worms that lived hundreds of millions of years ago. In The Universe Within, with his trademark clarity and exuberance, Shubin takes an even more expansive approach to the question of why we look the way we do. Starting once again with fossils, he turns his gaze skyward, showing us how the entirety of the universe's fourteen-billion-year history can be seen in our bodies. As he moves from our very molecular composition (a result of stellar events at the origin of our solar system) through the workings of our eyes, Shubin makes clear how the evolution of the cosmos has profoundly marked our own bodies.

WITH BLACK-AND-WHITE LINE DRAWINGS THROUGHOUT

About the Author
Neil Shubin is the author of the best-selling Your Inner Fish, which was chosen by the National Academy of Sciences as the best book of the year in 2009. Trained at Columbia, Harvard, and the University of California at Berkeley, Shubin is associate dean of biological sciences at the University of Chicago. In 2011 he was elected to the National Academy of Sciences.
Praise For The Universe Within: Discovering the Common History of Rocks, Planets, and People…
**Kirkus Best Books of the Year (2013)**

"What is special about the book is its sweep, its scope, its panorama—how physics, biology, geology, chemistry and seemingly every other science are brought to bear on the most intricate details of human life…In 'Auguries of Innocence' Blake wrote with rapture about the ability 'To see a world in a grain of sand, / And a heaven in a wild flower, / Hold infinity in the palm of your hand, / And eternity in an hour.' Shubin's ability to do all this comes from long experience, not blissful Blakean innocence. But the two ends somehow wrap around and meet: They tap into the same awe, and this makes science seem a very uplifting enterprise indeed." —Wall Street Journal  
 
"Hooray! A new book by Neil Shubin (Your Inner Fish) has just been published: The Universe Within. This book is, quite literally, cosmic: a profound story told with Shubin's usual clarity and passion." —Oliver Sacks, author of Hallucinations


"A truly delightful story of how human beings and life on Earth are connected to the wider universe. We don't observe reality from outside; we're embedded deeply within in it, and it shows. Neil Shubin is a sure-handed and entertaining guide to the big picture of how we came to be." —Sean Carroll, theoretical physicist and author of The Particle at the End of the Universe   

"What better young paleontologist to tie together the physical and biological aspects of our universe to comprehend the emergence of modern humans.  Engagingly written, The Universe Within, is sure to enlighten all who peruse this stimulating book." —Donald Johanson, author of Lucy: The Beginnings of Humankind 

"A fascinating, accessible tour of how life on Earth, include our own, has been shaped by many upheavals in our planet's long history. Full of surprising, yet profound insights, Neil Shubin's The Universe Within is also a celebration of the humans whose curiosity and genius have, in a very short time, transformed our understanding of our ever-changing world."—Sean B. Carroll, author of Remarkable Creatures          

"This is beautiful story, beautifully told. Our very bodies store within them the entire arc of cosmic history, and Neil Shubin's tale weaves, with great authority, accuracy and a wonderfully light touch, a grand synthesis that manages to incorporate forefront research in astronomy, geology, paleontology, and genetics. He captures not only the excitement of the scientific enterprise, but also the many personalities from many different fields, countries, and eras, each of whose lifelong contributions have helped continue to further reveal the ever more subtle and remarkable cosmic connections that each of us has with the cosmos." —Lawrence M. Krauss, Director of the Origins Project and Foundation Professor in the School of Earth and Space Exploration at Arizona State University, and the author of numerous books including The Physics of Star Trek, Quantum Man, and most recently A Universe from Nothing           
 
"'We are stardust,' goes the old song, but most of us don't give the fact much thought. The Universe Within will change that. Neil Shubin roots around our physiology and finds the history of the cosmos lodged in our cells. And in the process, he makes the familiar wondrous." —Carl Zimmer, author of Evolution: Making Sense of Life and A Planet of Viruses

"Engrossing…An intelligent, eloquent account of our relations with the inanimate universe." —Kirkus, starred review 

"We sometimes forget just how closely we humans are bound to the rest of the cosmos in both our bodily composition and our history.  Nobody is better placed to remind us than Neil Shubin, and he does so with brio in his fascinating page-turner The Universe Within." —Ian Tattersall, author of Masters of the Planet  

"From the finest scientific detail to the biggest picture, Shubin understands who we are and why we are here, and even what we need to do to keep going. The magic of  his writing is that you can open to any page and in a paragraph or two witness an entire revelation. If you really want your mind blown, read the whole thing. Shubin weaves very human stories into an earthly and universal narrative that without this book might seem too vast or two miniscule to matter." —Craig Childs, author of Apocalyptic Planet  

"A volume of truly inspired science writing…Shubin deftly balances breadth and depth in his search for a 'sublimely beautiful truth.'" —Publishers Weekly

"Walt Whitman yawped, 'I contain multitudes,' and in Your Inner Fish (2008), Shubin confirmed him by demonstrating how the evolution of life on earth is inscribed in the human body. Now Shubin shows that all creation, from the big bang on, is packed in there, too…In short, universal history made us what we are. Wow."—Booklist starred review

"Biologist Shubin's grand tour of human origins goes beyond the well-worn Carl Sagan line, 'We're made of star stuff'…Even those familiar with the basic underpinnings of how we evolved will find The Universe Within engaging. It is laced with Shubin's own fossil-hunting adventures and filled with colorful tales of historical figures." —Scientific American
 
"The biblical passage, 'You are dust, and to dust you shall return,' is a poignant reminder of our fragile place in the world. It also reminds us how deeply we are connected to the earth, the water, the air and to the other creatures who roam the land. Shubin's The Universe Within is a further reminder of this critical relationship…The Universe Within gives us an appreciation of how we are just small specks and small moments in time." —Bookpage

"Shubin, takes us on an exhilarating ride through the workings of science and gives a fascinating glimpse into the vast universe's many constituents…To read The Universe Within is to arrive at all sorts of wonders…Shubin illuminates our inner and outer selves and our world, and demonstrates how beautifully connected, transitory, rare, and changeable we are." —Book Browse  

"An illuminating account of how life on earth is shaped by the rhythms of the cosmos…Shubin's gift for storytelling is rooted in such shifts of scale, from the cosmic to the quotidian…'Every astronomer is a paleontologist', notes Neil Shubin, but on the evidence of this dazzling excursion into life, the universe and everything, every palaeontologist is also a biologist, a physicist and a cosmologist rolled into one, a magical storyteller whose work succeeds in reminding us how at home we are in our universe." —The Times Literary Supplement
 
"Entertaining." —METRO newspaper
or
Not Currently Available for Direct Purchase