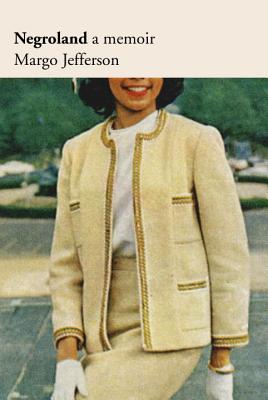 Negroland
A Memoir
Hardcover

* Individual store prices may vary.
Other Editions of This Title:
Digital Audiobook (11/30/2015)
Paperback (8/23/2016)
Compact Disc (12/1/2015)
MP3 CD (12/1/2015)
Compact Disc (12/1/2015)
Description
Winner of the 2015 National Book Critics Circle Award for Autobiography

A NEW YORK TIMES BESTSELLER
New York Times: 100 Notable Books of 2015
New York Times: Dwight Garner's Best Books of 2015
Washington Post: 10 Best Books of 2015
Los Angeles Times: 31 Best Nonfiction Books of 2015
Marie Claire: Best Books of 2015
Vanity Fair: Best Book Gifts of 2015
TIME Best Books of 2015



At once incendiary and icy, mischievous and provocative, celebratory and elegiac—here is a deeply felt meditation on race, sex, and American culture through the prism of the author's rarefied upbringing and education among a black elite concerned with distancing itself from whites and the black generality while tirelessly measuring itself against both.
 
Born in upper-crust black Chicago—her father was for years head of pediatrics at Provident, at the time the nation's oldest black hospital; her mother was a socialite—Margo Jefferson has spent most of her life among (call them what you will) the colored aristocracy, the colored elite, the blue-vein society. Since the nineteenth century they have stood apart, these inhabitants of Negroland, "a small region of Negro America where residents were sheltered by a certain amount of privilege and plenty."
 
Reckoning with the strictures and demands of Negroland at crucial historical moments—the civil rights movement, the dawn of feminism, the fallacy of postracial America—Jefferson brilliantly charts the twists and turns of a life informed by psychological and moral contradictions. Aware as it is of heart-wrenching despair and depression, this book is a triumphant paean to the grace of perseverance.

(With 8 pages of black-and-white photographs.)
Praise For Negroland: A Memoir…
"Ever provocative and insightful, the cultural critic Margo Jefferson bravely directs the focus inward to her own life and times as a child of the rigid and nearly invisible world of black elites in pre-Civil Rights, mid-century America. By turns, melancholic and hopeful, raw and disarming, she weighs the psychic toll of constructed divisions at the intersection of race, gender, caste and privilege. A moving memoir that is an act of courage in its vulnerability." —Isabel Wilkerson

"The generic sub-title—a memoir—doesn't do justice to everything that's going on in Margo Jefferson's marvelous, complex, stimulating and thought-provoking personal history." —Geoff Dyer

"Margo Jefferson's memoir leaps from the mica-sharp evocations of her Chicago girlhood into a strikingly original consideration of American cultural history. If you think you were confident using the words "race" and "class," think again after reading this fierce interrogation of American life. A beautiful scorcher of a book, essential reading." —Patricia Hampl

"At the heart of Margo Jefferson's masterpiece—a phenomenal study-cum-memoir about the black bourgeoisie—is a sensibility that belongs to no group or community other than the author's sorority of one. Jefferson has lived and worked like the great reporter she is, traversing a little-known or -understood landscape peopled by blacks and whites, dreamers and naysayers, the privileged and the strivers who make up the mosaic known as America." —Hilton Als

"Margo Jefferson's Negroland—autopsy snapshots of mostly upper-class black ways of being and performing—is a tight-lipped performance of willed, earned, and harshly edited silence. Refusing to construct an erotic black body for white consumption, she desires nothing and challenges everything. Asking if it's possible or meaningful to be human, she posits etiquette as the interrogator of America's psyche. She can read a graveyard in a theater, personality in a hairstyle; she lists instead of declaims. Her asperity is elegantly pithy and violent. In the fissures between and among items, she revolts. Her words are ascetic. She doesn't want me to envy her life, the fullness of which is only hinted at. She wants me to leave her alone to live within this sentence of her mother's: "Sometimes I almost forget I'm a Negro." The last two words, Go on, aren't just a writer walking off stage and getting on with life; they convey the pleasure of taunting future pain the truth of vision will surely yield." —David Shields
 
"Margo Jefferson sees everything and expresses it with surgical clarity. She is the Toqueville of race in America. This is a great book, destined to be read for a century." —Edmund White
 
"I revere Margo Jefferson's critical voice for its directness and wit and sanity, its tonal precision, its unabashed aestheticism, and its secret pockets of ambivalence.  For years she has been a brilliant interpreter of performance; it makes perfect sense that her analysis of race and class—and the painful performances those categories entail—should offer a similarly wondrous intensity of detail, emotion, and wisdom.  Negroland, a compactly crafted treasure, showcases a new way to write memoir—a new mode of honest and complicated reckoning, without masks." —Wayne Koestenbaum

"Powerful and complicated . . . power dwells in the restraint of 'Negroland.' Ms. Jefferson gets a lot said about her life, the insults she has weathered, her insecurities, even her suicidal impulses. There's sinew and grace in the way she plays with memory, dodging here and burning there, like a photographer in a darkroom. . . . Ms. Jefferson will not be denied. . . . With luck, there will be a sequel to this book."—Dwight Garner, The New York Times


"Jefferson is a national treasure and her memoir should be required reading across the country." —Nicole Jones, Vanity Fair

"Powerful. . . . Margo Jefferson identifies and deftly explores the tensions that come with being party of America's black elite." —Roxane Gay, O, The Oprah Magazine

"Razor sharp, self-lacerating and singular." —Pam Houston, More Magazine

"A candid observer, Jefferson articulates the complicated and calculated performance of upper-class black life." —New York Magazine

"Treads briskly and fearlessly across the treacherous terrain of race, class, gender and entitlement in this tightly edited memoir that recalls her youth in 1950s and 60s Chicago. . . . [Jefferson] is a poetic and bracing memoirist. . . . Lean, specific and personal . . . enlightening." —Robin Givhan, The Washington Post

"A nuanced meditation from a life lived in the upper echelons of Chicago's black bourgeoisie, beginning before the civil-rights era and trailing off in our still-conflicted present." —Vulture

"Jefferson's descriptions of how she 'craved' the right to despair are some of the most haunting parts of the book." —Vanessa De Luca, Time

"Poignant. . . . In Negroland, Jefferson is simultaneously looking in and looking out at her blackness, elusive in her terse, evocative reconnaissance, leaving us yearning to know more." —Rebecca Carroll, Los Angeles Times

"A veritable library of African-American letters and a sumptuous compendium of elegant style. . . . [Jefferson] paints her rich inner and outer landscape with deft, impressionistic strokes. It's a technique that disrupts convention—which is her privilege after all." —Donna Bailey Nurse, The Boston Globe

"Pulitzer winner Jefferson's personal history is—as she says about vigorous analysis of race, gender, and class prerogatives—as fundamental as 'utensils and clothing.' This is to say that it's one of the truly indispensable books of 2015." —Flavorwire

"Reads with the blast force of a prose poem." —Heather Seggel, BookPage

"[NEGROLAND] shines a spotlight on a fascinating slice of the American experience of which many people are barely aware." —Colette Bancroft, Tampa Bay Times

"Vibrant... lyrical" —Minneapolis Star-Tribune

"A stunning, stunning meditation on the limitations of race, class, gender in America and Jeffries own life. More than a memoir, poetic, critical, profound." Clara Nibbelink, A Cappella Books
Pantheon, 9780307378453, 256pp.
Publication Date: September 8, 2015
About the Author
The winner of a Pulitzer Prize for criticism, MARGO JEFFERSON was for years a theater and book critic for Newsweek and The New York Times. Her writing has appeared in, among other publications, Vogue, New York magazine, and The New Republic. She is the author of On Michael Jackson and is a professor of writing at Columbia University School of the Arts.
Coverage from NPR
or
Not Currently Available for Direct Purchase