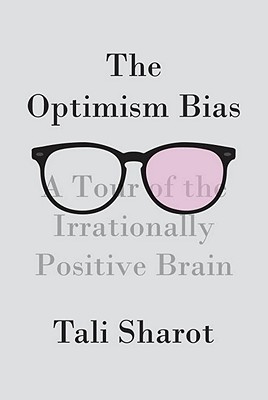 The Optimism Bias (Hardcover)
A Tour of the Irrationally Positive Brain
Pantheon, 9780307378484, 272pp.
Publication Date: June 14, 2011
* Individual store prices may vary.
Description
From one of the most innovative neuroscientists at work today, an investigation into the bias toward optimism that exists on a neural level in our brains and plays a major part in determining how we live our lives.
 
Psychologists have long been aware that most people maintain an often irrationally positive outlook on life. In fact, optimism may be crucial to our existence. Tali Sharot's experiments, research, and findings in cognitive science have contributed to an increased understanding of the biological basis of optimism. In this fascinating exploration, she takes an in-depth, clarifying look at how the brain generates hope and what happens when it fails; how the brains of optimists and pessimists differ; why we are terrible at predicting what will make us happy; how emotions strengthen our ability to recollect; how anticipation and dread affect us; and how our optimistic illusions affect our financial, professional, and emotional decisions.
 
With its cutting-edge science and its wide-ranging and accessible narrative, The Optimism Bias provides us with startling new insight into the workings of the brain.
About the Author
Tali Sharot's research on optimism, memory, and emotion has been the subject of features in "Newsweek, The Boston Globe, Time, The Wall Street Journal, New Scientist, " and "The Washington Post, " as well as on the BBC. She has a Ph.D. in psychology and neuroscience from New York University and is currently a research fellow at the Wellcome Trust Centre for Neuroimaging at University College London. She lives in London.
Praise For The Optimism Bias: A Tour of the Irrationally Positive Brain…
"What a treat.  A charming, engaging and accessible book written by a scientist who knows how to tell a story." - Richard Thaler, author of Nudge

"Very enjoyable, highly original and packed with eye-opening insight, this is a beautifully written book that really brings psychology alive." – Simon Baron-Cohen, author of The Science of Evil

"With rare talent Sharot takes us on an unforgettable tour of the hopes, traps and tricks of our brains…cutting-edge…a must-read." –David Eagleman, author of Sum and Incognito

"If you read her story, you'll get a better grip on how we function in it. I'm optimistic about that." –Richard Stengel, Time

"Lively, conversational…A well-told, heartening report from neuroscience's front lines." –Kirkus

"Insightful, Oliver Sacks–y first book." –Village Voice (Summer Book Picks)

"Most readers will turn to the last page not only buoyed by hope but also aware of the sources and benefits of that hope." –Booklist  

"Fascinating." –Insane Science, NPR

"A book I'd suggest to anyone.. offers evolutionary, neurological, and even slightly philosophical reasons for optimism" –Forbes 
 
"An intelligently written look into why most people take an optimistic view of life… fascinating trip into why we prefer to remain hopeful about our future and ourselves." –New York Journal of Books
 
"Fascinating book offers compelling evidence for the neural basis of optimism and what it all means." –Scientific American Book club

"Once I started reading The Optimism Bias, I could not put it down.". –Positive Psychology News Daily
  
"A fascinating yet accessible exploration of how and why our brains construct a positive outlook on life." –Brain Pickings (7 Essential Books on Optimism)

"Engaging…There are many absorbing stories and facts in this concise and well-written book…you will find yourself reflecting on its contents long after you've read the final page." –makewavesnotnoise.com

or
Not Currently Available for Direct Purchase