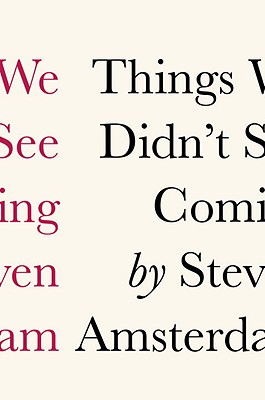 Things We Didn't See Coming
Hardcover

* Individual store prices may vary.
Other Editions of This Title:
Paperback (8/1/2011)
Description
Michael Williams, in Melbourne's The Age, wrote of this award-winning, dazzling debut collection, "By turns horrific and beautiful . . . Humanity at its most fractured and desolate . . . Often moving, frequently surprising, even blackly funny . . . Things We Didn't See Coming is terrific." This is just one of the many rave reviews that appeared on the Australian publication of these nine connected stories set in a not-too-distant dystopian future in a landscape at once utterly fantastic and disturbingly familiar.
 
Richly imagined, dark, and darkly comic, the stories follow the narrator over three decades as he tries to survive in a world that is becoming increasingly savage as cataclysmic events unfold one after another. In the first story, "What We Know Now"—set in the eve of the millennium, when the world as we know it is still recognizable—we meet the then-nine-year-old narrator fleeing the city with his parents, just ahead of a Y2K breakdown. The remaining stories capture the strange—sometimes heartbreaking, sometimes funny—circumstances he encounters in the no-longer-simple act of survival; trying to protect squatters against floods in a place where the rain never stops, being harassed (and possibly infected) by a man sick with a virulent flu, enduring a job interview with an unstable assessor who has access to all his thoughts, taking the gravely ill on adventure tours. But we see in each story that, despite the violence and brutality of his days, the narrator retains a hold on his essential humanity—and humor.

Things We Didn't See Coming is haunting, restrained, and beautifully crafted—a stunning debut.
Praise For Things We Didn't See Coming…
Guardian First Book Award Longlist

Winner, The Age Book of the Year Award

"Breathtakingly strange . . . Things We Didn't See Coming is the kind of book that can inspire us to think differently about the world and entertain us at the same time. In its occasional darkness, we can also see light."
—The Washington Post
 
"Amsterdam has shaped a novel that becomes a fast-moving, nightmarish extravaganza. It is fantastic and gripping and utterly original—now you see it, now you don't, or perhaps you missed it all? It doesn't matter; read it again . . . Rarely has the darkness of life been looked at with such buoyant irony, imaginative grace and disarming candour."
—Irish Times
 
"There is a satisfying tingle in imagining an Armageddon just round the corner. But Amsterdam also gives his book an emotional heart; it lies in the contrast between the narrator's very ordinary emotions—jealousy, fear, the desire to belong—and his extraordinary circumstances . . . A memorable debut."
—Financial Times
 
"Even in the blackest scenes Amsterdam's gift for mordant humour keeps the reader entertained and depression at bay, just about . . . What makes Things We Didn't See Coming such an impressive novel—and very impressive debut—is the playfulness of the writing contrasted to the grimness of the subject matter. In Amsterdam's hands the apocalypse sounds like it might be fun."
—The Sunday Times (London)

"Disturbing and deeply smart . . . darkly comic and full of surprises . . ."  
—TimeOut New York
 
 "Funny, scary, and described with a flair for the telling detail . . . The strength of Amsterdam's book, as of [Margaret] Atwood's recent work, lies in its eschewing of pie-in-the-sky theorizing that so often mars science fiction. This is not a nerdy fantasy of some undiscovered galaxy. Steven Amsterdam reads the newspapers."
—Harper's Magazine
 
"As well-crafted as McCarthy's novel is, Steven Amsterdam's brilliant novelistic collection of stories, Things We Didn't See Coming, is an even better post-apocalyptic book than McCarthy's Pulitzer Prize-winning novel . . . The voice in these interconnected stories is thoughtful, intelligent, savvy but not hard-boiled . . . Amsterdam has written a literary novel, in the form of a collection of stories about a post-apocalyptic future, that deals with how, and why, people survive the most extreme traumas. It is full of horror and hope and compels you to think . . . "
—News & Observer
 
"My only problem with the collection—and this is big praise for a debut—is that the author fills his characters, particularly the randomly occurring ones, with enough life and panache to merit a full-blown novel that gives them greater voice . . ."
—Chicago Sun-Times
 
"In his award-winning debut volume of connected short stories, Amsterdam takes his lead from the apocalyptic speculations that grew more ominous by the minute as 1999 drew to a close . . . The author enters the literary world with a full-blown talent that can't be stopped."
—Library Journal (starred review) 
 
"Eye-opening . . . The emphasis here is on holding fast to love and faith in even the direst circumstances."
—Booklist
 
"Stunning"
—Australian Literary Review
 
"Challenging and impressive"
—The Australian
 
"Preternaturally assured, finely crafted and thoroughly accomplished, it deserves to be read widely." 
—The Age (Melbourne)
 
"[A] clever blend of humour and razor-edged sadness"
—Courier-Mail (Brisbane)
 
"Restrained beauty"
—Sydney Morning Herald
 
"The perfect combination of uncanny landscapes, existential anxiety and social critique"
—Australian Book Review
 
"Something very strange happens upon finishing Steven Amsterdam's (remarkably assured and kind of masterful) stories: what should be a bum trip through a variety of dystopias—foodless worlds; heartless periods of ceaseless rain and savagery; breakouts of peace and plenty marked by venality and ambition; biblical pestilence and illness—ends up anything but; one puts down the book feeling something close to hope. Perhaps it's the life-is-long, cyclical wisdom of it all, maybe it's a newfound appreciation for the Here And Now, although I'm inclined to think it's just gratitude that there are such writers around."
—David Rakoff, author of Fraud and Don't Get Comfortable
 
"A fresh, modern voice . . . Amsterdam's writing is tight, calculated, and compelling."
—Andrew Hutchinson, author of Rohypnol
 
"Bold, original, and sneakily affecting."
—Emily Maguire, author of Taming the Beast
 
"In Things We Didn't See Coming, Steven Amsterdam describes a convulsed world, from its regressive barbarism to the inevitable savagery on the horizon, while suggesting that the human animal can, perhaps, rediscover empathy and humor in the thick of planetary meltdown. In this book we hear a voice as naturally surprising as the jazz of Django Reinhardt or Dexter Gordon. A real writer, in short."
—Gary Indiana, author of The Shanghai Gesture and Utopia's Debris
Pantheon, 9780307378507, 208pp.
Publication Date: February 2, 2010
About the Author
Steven Amsterdam, is a native New Yorker who moved to Melbourne, Australia, in 2003. He currently works as a psychiatric nurse. You can visit him on the web at www.stevenamsterdam.com
or
Not Currently Available for Direct Purchase