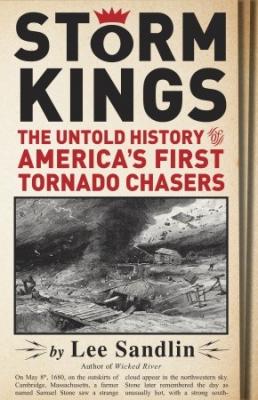 Storm Kings
The Untold History of America's First Tornado Chasers
Hardcover

* Individual store prices may vary.
Other Editions of This Title:
Digital Audiobook (4/11/2013)
Paperback (3/11/2014)
Description
With 16 pages of black-and-white illustrations

From the acclaimed author of Wicked River comes Storm Kings, a riveting tale of supercell tornadoes and the quirky, pioneering, weather-obsessed scientists whose discoveries created the science of modern meteorology.
 
While tornadoes have occasionally been spotted elsewhere, only the central plains of North America have the perfect conditions for their creation. For the early settlers the sight of a funnel cloud was an unearthly event. They called it the "Storm King," and their descriptions bordered on the supernatural: it glowed green or red, it whistled or moaned or sang. In Storm Kings, Lee Sandlin explores America's fascination with and unique relationship to tornadoes. From Ben Franklin's early experiments to the "great storm war" of the nineteenth century to heartland life in the early twentieth century, Sandlin re-creates with vivid descriptions some of the most devastating storms in America's history, including the Tri-state Tornado of 1925 and the Peshtigo "fire tornado," whose deadly path of destruction was left encased in glass.
 
Drawing on memoirs, letters, eyewitness testimonies, and archives, Sandlin brings to life the forgotten characters and scientists who changed a nation—including James Espy, America's first meteorologist, and Colonel John Park Finley, who helped place a network of weather "spotters" across the country. Along the way, Sandlin details the little-known but fascinating history of the National Weather Service, paints a vivid picture of the early Midwest, and shows how successive generations came to understand, and finally coexist with, the spiraling menace that could erase lives and whole towns in an instant.
Praise For Storm Kings: The Untold History of America's First Tornado Chasers…
"Even before the horrific events in Oklahoma last week, Lee Sandlin's Storm Kings banished any notion I may have had that it would be a lot of fun to see a tornado up close.  Mr. Sandlin knows how to tell a story, and his gripping narrative, often lyrical and often horrifying, conveys the awesome destructive power of tornadoes as well as their bewildering randomness. . . . Much of the book is devoted to biographies of the often cantankerous figures who advanced and occasionally retarded efforts to record, explain and predict tornadoes. . . . But the stars of the book are the fearsome clouds themselves. . . . Mr. Sandlin debunks many common misconceptions. Don't waste time opening windows to equalize pressure, he says, because tornadoes don't explode houses in a vacuum; the winds do the damage. Find a windowless room; bathrooms are good, since the pipes add support. There is no best corner. For emergency shelter outside, a ditch is better than a highway overpass. . . .  [Storm Kings] reads like a police procedural, a 300-year journey of wrong turns and sometimes agonizingly slow progress toward the era of Doppler radar, the enhanced Fujita scale and the funnel chasers bouncing through Tornado Alley in gadgeted vehicles. . . . Scientists should not scoff at the absence of technical detail in Storm Kings. They are likely to learn a lot about the backgrounds and obsessions of their predecessors, who made real science in the fashion of a tornado itself: twisting and meandering, with great energy and much warm air rising."
—Michael Pollack, The New York Times 

"Thrilling. . . . Sandlin's triumph is turning a historical survey of generations of American tornado scholars, victims and obsessives into something that reads like a brisk novel. It offers an epic scope reminiscent of Gabriel García Márquez; vivid, eccentric characters that could inhabit a Jonathan Lethem book; rivalries as intense as anything in Dostoevsky or Archie comics; and wonders as grand as any described by L. Frank Baum (but with better tornado descriptions). . . . But Sandlin's attempt to turn history into entertainment is not alchemy: As he documents magnificently, science and showbiz were intimately intertwined in America's early years. Ben Franklin's fascination with electricity (his famed kite and key experiment unintentionally establishing him as a storm expert) came from watching "Electricians," traveling magicians who did sideshow tricks with static electricity. The lyceum circuit of the early 19th century saw semi-professional scientists give lectures and debates before an everyman audience, the validity of theories determined by audience applause. Even the scientific papers published in the 19th century, at least the ones that proved useful to Sandlin, so valued dramatic, anecdotal accounts that a seaman who witnessed a storm was as welcome as his professor to submit his paper, making academic journals as action packed as an episode of "Deadliest Catch" or "Man vs. Wild." With source material this narrative-friendly, it's no surprise Sandlin's work is as an engaging as any trashy page-turner. . . . Which brings to mind another literary precedent for "Storm Kings." Despite Noah encountering a weather emergency with much more narrative focus, the Old Testament provides a fine example of a book where despite numerous fascinating characters, the least-developed protagonist has proven the most important and influential over the centuries. That's not to imply that Sandlin will sell the billions of copies that that other good book has. But there's a good chance that this exciting study may become a bible of sorts to a generation of tornado aficionados, storm chasers and Weather Channel addicts."
—Chicago Tribune

"Even readers who live far from Tornado Alley will appreciate Mr. Sandlin's amiable style, his wide-ranging, infectious curiosity and the light he sheds on these most American of all storms."
—The Wall Street Journal

"A lively and entertaining account with, as befits its subject, dark undertones. . . . [Sandlin] follows the [tornado] from Franklin and his kite across two centuries of spotters and chasers to the Japanese-born scientist Tetsuya Fujita, who, schooled on the ruins of Nagasaki, invented the rough calibration system evoked by every TV weather forecaster: the Fujita Scale. . . . All this Sandlin spices — if any spice were needed — with hair-raising accounts of famous disasters: the hellish 1879 double tornado of Irving, Kan.; the Tri-State tornado that in 1925 plowed a 219-mile furrow across Missouri, Illinois and Indiana, leaving almost 700 dead; the April 1974 upper Midwestern super-outbreak, the worst single tornado event in American history. But the bureaucratic and the political here out-storm the meteorological, at times making our dispute over global warming seem like a polite conversation. The lesson is as clear as one of those still spring mornings when the air is charged with humidity, and as menacing: When science and politics mix it up, invariably the loser is science. And the rest of us."
—Dallas Morning News

"The awe and terror that American weather inspired in early settlers is one of the most compelling motifs of Lee Sandlin's compulsively readable Storm Kings. . . . Like much of the history of science, the story of this quest is rich with controversy. . . . Sandlin's book is not simply a historical text about a problem that has been solved by technology; rather, it is a cautionary tale about the frequently unpredictable role that weather continues to play in our lives."
—Christian Science Monitor  

"A fascinating look at all things tornado. . . . Sandlin delves into intense detail giving us wonderful accounts of the history of the National Weather Service, the 18th and early 19th century scientists. . . . an enjoyable book that will change the way we look at these extreme funnel clouds in the future."
—Northwest Indiana Times
 
"Storm Kings is not merely a theoretical or data-driven history of tornados and meteorology. Using his skills as a brilliant storyteller, Lee Sandlin places the reader in the middle of a storm, where he becomes an eyewitness to the helplessness, fear, destruction, and psychological aftermath of tornados. . . . Lee Sandlin uses the old song about "ghost riders in the sky" as a metaphor for today's amateur storm chasers who continue in the tradition of James Espy and John Park Finley. Professionals and amateurs alike continue their quest—thundering onward across the endless skies. . . . The author takes us along for the ride. Readers will definitely feel its gale force."
—New York Journal of Books

"I have been a meteorologist interested in tornadoes for my entire career. . . . I found Storm Kings a compelling history."
—Chuck Doswell, Nature
 
"[Storm Kings] examines not only the science behind the mysterious twisters but also takes readers through some extremely compelling stories of rival scientists in the new field of meteorology. . . . The real stars of the book are the storms themselves. To read of them is harrowing: entire towns destroyed, bridges torn apart and raised into the sky, wakes of destruction hundreds of yards wide and hundreds of miles long."
—The Chicago Reader

"Sandlin deftly synthesizes and illuminates the duality of his title—both the tornado itself, which early settlers in America referred to as "the Storm King"; and the individuals who made it their life's work to document, predict, and better understand those despots of the plains. Legendary storms roil throughout the text, from the funnel of fire—or as one eyewitness (whose eyeballs were consequently seared) described it, "the finger of God"—that destroyed Peshtigo, Wis., in 1871, scorching over a million acres and killing 1,500 people, to the Tristate Tornado of 1925, which rampaged for 219 miles across parts of Missouri, Illinois, and Indiana. . . . Sandlin makes talking about the weather much more than a conversational nicety—he makes it come brilliantly to life."
—Publishers Weekly, starred review

"Sandlin offers a lively account of early investigators who, through both "grinding stupidity and unaccountable insights,"  eventually came to understand and learned to coexist with—but never tame—the furious force of tornadoes. . . . [A] well-constructed history of the politics and personalities of weather."
—Kirkus

"If the vast majority of climate scientists are right, the weather is going to become an increasingly important, and threatening, feature of our daily lives. Lee Sandlin's new book is a riveting history of our relationship with the funnel clouds of the Midwest. This is a story we need to know, and Sandlin tells it with uncommon grace and style."
—Joseph J. Ellis, Pulitzer Prize-winning author of Founding Brothers and the upcoming Revolutionary Summer
Pantheon, 9780307378521, 304pp.
Publication Date: March 5, 2013
About the Author
Lee Sandlin is the author of Wicked River, Storm Kings, and The Distancers. He was also an award-winning journalist, essayist, and book reviewer for The Wall Street Journal. Born in Wildwood, Illinois, he grew up in the suburbs of Chicago. He died in 2014.
or
Not Currently Available for Direct Purchase