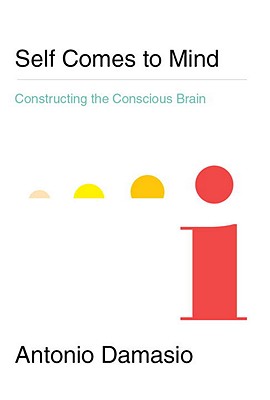 Self Comes to Mind
Constructing the Conscious Brain
Hardcover

* Individual store prices may vary.
Other Editions of This Title:
Paperback (3/6/2012)
Paperback (4/1/2012)
MP3 CD (3/17/2015)
MP3 CD (11/1/2010)
Compact Disc (11/1/2010)
MP3 CD (11/9/2010)
Compact Disc (11/9/2010)
MP3 CD (2/21/2012)
Compact Disc (2/21/2012)
Description
From one of the most significant neuroscientists at work today, a pathbreaking investigation of a question that has confounded philosophers, psychologists, and neuroscientists for centuries: how is consciousness created?
 
Antonio Damasio has spent the past thirty years studying and writing about how the brain operates, and his work has garnered acclaim for its singular melding of the scientific and the humanistic. In Self Comes to Mind, he goes against the long-standing idea that consciousness is somehow separate from the body, presenting compelling new scientific evidence that consciousness—what we think of as a mind with a self—is to begin with a biological process created by a living organism. Besides the three traditional perspectives used to study the mind (the introspective, the behavioral, and the neurological), Damasio introduces an evolutionary perspective that entails a radical change in the way the history of conscious minds is viewed and told. He also advances a radical hypothesis regarding the origins and varieties of feelings, which is central to his framework for the biological construction of consciousness: feelings are grounded in a near fusion of body and brain networks, and first emerge from the historically old and humble brain stem rather than from the modern cerebral cortex.
 
Damasio suggests that the brain's development of a human self becomes a challenge to nature's indifference and opens the way for the appearance of culture, a radical break in the course of evolution and the source of a new level of life regulation—sociocultural homeostasis. He leaves no doubt that the blueprint for the work-in-progress he calls sociocultural homeostasis is the genetically well-established basic homeostasis, the curator of value that has been present in simple life-forms for billions of years. Self Comes to Mind is a groundbreaking journey into the neurobiological foundations of mind and self.
Praise For Self Comes to Mind: Constructing the Conscious Brain…
"Exquisite…Readers fascinated from both a philosophical and scientific perspective with the question of the relationship among brain, mind, and self will be rewarded."
—Publishers Weekly

"The marvel of reading Damasio's book is to be convinced one can follow the brain at work as it makes the private reality that is the deepest self."
—V.S. Naipaul, Nobel Laureate and author of A Bend in the River and the Enigma of Arrival

"Damasio makes a grand transition from higher-brain views of emotions to deeply evolutionary, lower-brain contributions to emotional, sensory and homeostatic experiences. He affirms that the roots of consciousness are affective and shared by our fellow animals. Damasio's creative vision leads relentlessly toward a natural understanding of the very font of being."
—Jaak Panksepp, author of Affective Neuroscience and Baily Endowed Professor of Animal Well-Being Science, Washington State University 

 "I was totally captivated by Self Comes to Mind.  In this work Antonio Damasio presents his seminal discoveries in the field of neuroscience in the broader contexts of evolutionary biology and cultural development. This trailblazing book gives us a new way of thinking about ourselves, our history, and the importance of culture in shaping our common future."
—Yo-Yo Ma, musician

"The epicenter of Self Comes to Mind concerns the neurological basis for cognition and the issue of the superposition of a "self' onto the construct which we address as reality. In very characteristic style, Antonio is both eloquent and scholarly. His command of the themes he approaches is impressive, as is the vigor with which he tackles such recondite issues as the elusive "self," inside the head. A wonderful read, and a recommended one!"
—Rodolfo R. Llinás, Chair and Professor of Physiology and Neuroscience, New York University

"In this astonishing work, Antonio Damasio puts his years of investigation into the processes of the brain to open the impenetrable mysteries of self and mind, where all the contradictions of human experience unite in the ultimate unknown, consciousness."
—Peter Brook, theater and film director and author of The Empty Space and Threads of Time

"Awareness may be mostly mystery, but Damasio shapes its hints and glimmerings into an imaginative, informed narrative."
—Kirkus  

"A thoughtful work."
—Scientific American Book Club
 
"A very interesting book…cogent, painstaking, imaginative, knowledgeable, honest, and persuasive…Damasio's quest is both thorough and comprehensive"
—New York Journal of Books

"Ambitious…a lucid and important work." –Wired.com

"Self Comes to Mind is a Big Idea book penned by a luminous thinker…The result is this beautifully sprawling and marvelous work." –The Dallas Morning News

"[Damasio] writes with such flair and confidence that it is almost as if he makes the mystery dissolve into knowledge before our eyes…a compelling picture, once one sets aside the power of the unconscious, and of grasping, other-hating, defensive, anxious, ideologically-motivated consciousness…what one has to applaud is the imaginative vision Damasio brings to the task." –Barnes and Noble Review
 
"Intriguing…introduces some novel ideas." –New Scientist

"An important and impressive study." –The Magonia Blog and Magonia Review of Books

"I found Self Comes to Mind a delight…an intellectual journey well worth the effort." –Wilson Quarterly

"Breathtakingly original." –Financial Times
Pantheon, 9780307378750, 384pp.
Publication Date: November 9, 2010
About the Author
Antonio Damasio is University Professor; David Dornsife Professor of Neuroscience, Neurology and Psychology; and director of the Brain and Creativity Institute at the University of Southern California [www.usc.edu/bci]. He is the author of numerous scientific articles and the recipient of many awards, including the Asturias Prize in Science and Technology; the Honda Prize; and the Pessoa and Signoret prizes. Damasio is a member of the Institute of Medicine of the National Academy of Sciences, and a Fellow of the American Academy of Arts and Sciences, the Bavarian Academy of Sciences, and the European Academy of Sciences and Arts. He holds honorary doctorates from several universities and is the author of "Descartes' Error, The Feeling of What Happens," "Looking for Spinoza, " and "Self Comes to Mind," which have been translated and taught in universities throughout the world.

(For more information go to the Brain and Creativity Institute website at http: //www.usc.edu/bci/)
or
Not Currently Available for Direct Purchase