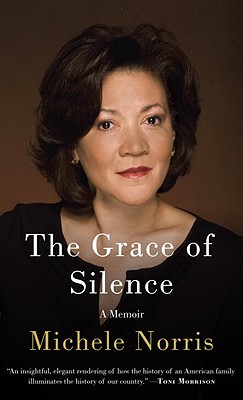 The Grace of Silence
A Memoir
Hardcover

* Individual store prices may vary.
Other Editions of This Title:
Digital Audiobook (9/20/2010)
Paperback (9/6/2011)
Compact Disc (10/5/2010)
Description
In the wake of talk of a "postracial" America upon Barack Obama's ascension as president of the United States, Michele Norris, cohost of National Public Radio's flagship program All Things Considered, set out to write, through original reporting, a book about "the hidden conversation" on race that is unfolding nationwide. She would, she thought, base her book on the frank disclosures of others on the subject, but she was soon disabused of her presumption when forced to confront the fact that "the conversation" in her own family had not been forthright.
 
Norris unearthed painful family secrets that compelled her to question her own self-understanding: from her father's shooting by a Birmingham police officer weeks after his discharge from the navy at the conclusion of World War II to her maternal grandmother's peddling pancake mix as an itinerant Aunt Jemima to white farm women in the Midwest. In what became a profoundly personal and bracing journey into her family's past, Norris traveled from her childhood home in Minneapolis to her ancestral roots in the Deep South to explore the reasons for the "things left unsaid" by her father and mother when she was growing up, the better to come to terms with her own identity. Along the way she discovered how her character was forged by both revelation and silence.
 
Extraordinary for Norris's candor in examining her own racial legacy and what it means to be an American, The Grace of Silence is also informed by rigorous research in its evocation of time and place, scores of interviews with ordinary folk, and wise observations about evolving attitudes, at once encouraging and disturbing, toward race in America today. For its particularity and universality, it is powerfully moving, a tour de force.
Praise For The Grace of Silence: A Memoir…
"An insightful, elegant rendering of how the history of an American family illuminates the history of our country." 
           —Toni Morrison

"A riveting, inspiring memoir of an at once singular and representative American family. Norris takes us on a painful yet triumphant journey of self-discovery. She relies on her formidable skills as an investigative reporter to unearth shocking family secrets kept from her by her father and mother when she was growing up. Feeling hurt and betrayed, she learns that their lack of forthrightness allowed her to rise in a country haunted by its racial past. Powerful and tender, The Grace of Silence reveals our human complexity in exemplary fashion."
           —Henry Louis Gates, Jr., University Professor and Director of the W. E. B. Du Bois Institute, Harvard University, and author of Colored People
 
"History at its best is about telling stories—stories about people who lived before, about events in the past that create the contours of the present…In the hands of a gifted storyteller, a memoir becomes more than a chronicle of the writer's life. It becomes the history of a time and a place. So it is with this magnificent memoir—one of the most eloquent, moving and insightful memoirs I have ever read."
            —Doris Kearns Goodwin, Pulitzer Prize-winning historian and author of the New York Times bestseller Team of Rivals
 
"Michele Norris takes us on a riveting personal journey from north to south and back again through the tangled landscape of race in America—and teaches anew about the pain and possibilities of our past and future."
            —Tom Brokaw, author of New York Times bestsellers The Greatest Generation and Boom
 
"A soaring memoir that pays powerful tribute to the quiet and dignified heroes among us. Norris' remarkable family, and her courageous journey to tell their story, creates an inspiring portrait of America that will stay with you forever. I loved this book. 
            —Dave Isay, founder of StoryCorps
 
"In this exquisite memoir, Michele Norris turns her formidable powers of interviewing and storytelling onto her toughest subjects: herself, her family, and this country's scar tissue. What follows is a journey of discovery into some of the darkest corners and brightest stars of the greatest generation. The Grace of Silence is sometimes raw, often gripping, and always graceful. A remarkably moving and enriching experience."
            —Richard Wolffe, author New York Times bestseller Renegade: The Making of a President
 
"A revealing, affectionate and sometimes painful memoir which dispenses with stereotype to get to the heart of what makes a family."
            —Gwen Ifill, The News Hour with Jim Lehrer
Pantheon Books, 9780307378767, 208pp.
Publication Date: September 21, 2010
About the Author
Michele Norris, host of "All Things Considered, " is cowinner of the Alfred I. duPont-Columbia University Award for "The York Project: Race and the '08 Vote" and was chosen in 2009 as Journalist of the Year by the National Association of Black Journalists. She has written for, among other publications, "The Washington Post, " the "Chicago Tribune, " and the "Los Angeles Times." As a correspondent for ABC News from 1993 to 2002, she earned Emmy and Peabody awards for her contribution to the network's 9/11 reporting. She has been a frequent guest commentator on "Meet the Press, The Chris Matthews Show, " and "Charlie Rose." Norris lives in Washington, D.C., with her husband and children.
Coverage from NPR
or
Not Currently Available for Direct Purchase