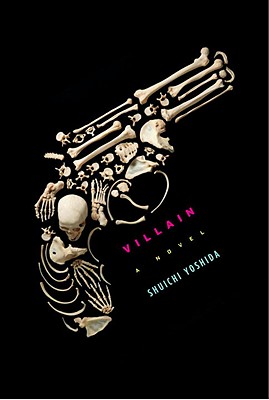 Villain
Hardcover

* Individual store prices may vary.
Other Editions of This Title:
Paperback (8/9/2011)
Paperback (8/1/2011)
Description
A young insurance saleswoman is found strangled at Mitsuse Pass. Her family and friends are shocked and terrified. The pass—which tunnels through a mountainous region of southern Japan—has an eerie history: a hideout for robbers, murderers, and ghostly creatures lurking at night.
 
Soon afterward, a young construction worker becomes the primary suspect. As the investigation unfolds, the events leading up to the murder come darkly into focus, revealing a troubled cast of characters: the victim, Yoshino, a woman much too eager for acceptance; the suspect, Yuichi, a car enthusiast misunderstood by everyone around him; the victim's middle-aged father, a barber disappointed with his life; and the suspect's aging grandmother, who survived the starvation of postwar Japan only to be tormented by local gangsters. And, finally, there is desperate Mitsuyo, the lonely woman who finds Yuichi online and makes the big mistake of falling for him.
 
A stunningly dark thriller and a tapestry of noir, Villain is the English-language debut for Shuichi Yoshida, one of Japan's most acclaimed and accomplished writers. From desolate seaside towns and lighthouses to love hotels and online chat rooms, Villain reveals the inner lives of men and women who all have something to hide. Part police procedural, part gritty realism, Villain is a coolly seductive story of loneliness and alienation in the southernmost reaches of Japan.
Praise For Villain…
"A complex and powerful exploration of the lives of a victim, a killer and their families and friends . . . Set in the sterile world of online dating and love hotels, Villain is a moving and disturbing novel about loneliness, lies and the gap between expectation and reality. Highly recommended."
—Laura Wilson, The Guardian (London)
 
"A convincing portrait of today's Japan."
—Rob Sheffield, The Week (Best Books)
 
"A page-turning mystery . . . Ably translated by Philip Gabriel . . . [It] will make you think and will leave you guessing right up to the very end."
—BSCReview.com
 
"A ripping good story of murder and secrets . . . What sets Yoshida's tale apart, however, is the way it plays with our modern identity issues. If you can upload a misleading and overly flattering photo to your online dating profile and clean up the shadowy bits of your life story, why can't you do the same thing in your offline life? Start over, move away from your dinky little hometown, change your name, maybe even convince yourself that your lies are the truth. Where better to explore this transformation than Japan, where the contrast between its welcoming embrace of the wired world and its strong roots in tradition and custom makes for some pretty wicked tension . . . [Yoshida] writes with the cool confidence of a seasoned storyteller."
—Jessa Crispin, NPR.org 
 
"A compelling examination of loneliness and desperation."
—Kathleen Daley, Newark Star-Ledger
 
"A complex portrait of contemporary Japan . . . Yoshida's Japan is a place where families have begun to fragment but old bonds still remain, and where loneliness drives people to acts they wouldn't otherwise consider. It's a place where money is always on the minds of the characters - and the writer. Every cost, from the price of a love hotel (4,320 yen for three hours) to that of a fill-up with premium gas (5,990 yen) is documented. It's a place of 7-11s and cheaply built condos, of glitzy bars and failing department stores. But it's also a place where the supernatural and the unconscious exert their influence. Dark, cold Mitsuse Pass, where the murder takes place, is avoided by most motorists, who know it as a place where ghosts are likely to appear. Dark forces also twist the characters, who try without success to suppress the pasts that have shaped them."
—Margaret Quamme, The Columbus Dispatch

"A psychological puzzle . . . Engrossing and unsettling . . . We encounter an assortment of contemporary Japanese citizens so alienated from one another and from any shared humanity that they seem like strangers even to themselves . . . This is an environment where people have internalized their own ambiguities. A character for whom one begins to feel sympathy may reveal a dark side—or perhaps only feign to reveal it in order to protect someone else."
—Tom Nolan, The Wall Street Journal

"Shuichi Yoshida, Japan's Stieg Larsson? . . . Villain is more than a typical 'Whodunnit?' suspense . . . Yoshida focuses on the motivations behind the crime through his portrayal of  lost youth struggling to find direction and purpose . . . Suspense junkies that get a taste for the Japanese twist on the genre after reading Villain can rest assured that there is more to come."
—Rosie Kusunoki Jones, "Japan Real Time," a Wall Street Journal blog

"Hypnotizing . . . While the unfolding mystery holds our interest, Yoshida is really most concerned with exploring the alienation of his young characters and the lack of connective tissue between them. As the story takes a surprising turn toward the end, the author saves the biggest question for his readers: Who is the real villain: a killer who feels remorse, or a person who feels nothing at all?"
—Booklist

"Yoshida examines the lives of a victim and a killer in this subtle but powerful novel about collective guilt and individual atonement, his first book to appear in English translation . . . Multiple points of view reveal both slight and dramatic changes in a host of other people, including acquaintances and relatives, affected by the murder. Most impressively, Yoshida's complex portrait of Japanese society leaves no doubt as to his characters' actions, but tantalizing doubts about their meaning."
—Publishers Weekly

"Thrilling . . . The sort of book that is difficult to put down. [Villain] lays out a panorama of modern Japanese society, a patchwork of composed people of various classes and occupations . . . A modern literary achievement the like of which is rarely seen."
—Japan Book News
Pantheon, 9780307378873, 304pp.
Publication Date: August 3, 2010
About the Author
Shuichi Yoshida was born in Nagasaki, Japan, in 1968. The author of nine books, he has won numerous literary awards in Japan and has also had several of his short stories adapted for Japanese television. "Villain" won the Osaragi Jiro Prize and the Mainichi Publishing Culture Award, two prestigious Japanese prizes. Yoshida lives in Tokyo.
or
Not Currently Available for Direct Purchase