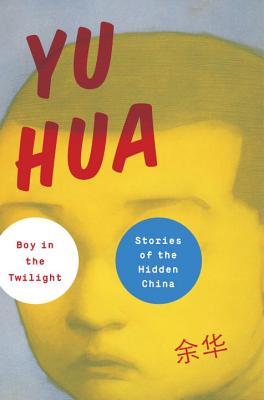 Boy in the Twilight
Stories of the Hidden China
Hardcover

* Individual store prices may vary.
Other Editions of This Title:
Paperback (10/7/2014)
Description
From the acclaimed author of Brothers and To Live: thirteen audacious stories that resonate with the beauty, grittiness, and exquisite irony of everyday life in China.
 
Yu Hua's narrative gifts, populist voice, and inimitable wit have made him one of the most celebrated and best-selling writers in China. These flawlessly crafted stories—unflinching in their honesty, yet balanced with humor and compassion—take us into the small towns and dirt roads that are home to the people who make China run.
 
In the title story, a shopkeeper confronts a child thief and punishes him without mercy. "Victory" shows a young couple shaken by the husband's infidelity, scrambling to stake claims to the components of their shared life. "Sweltering Summer" centers on an awkward young man who shrewdly uses the perks of his government position to court two women at once. Other tales show, by turns, two poor factory workers who spoil their only son, a gang of peasants who bully the village orphan, and a spectacular fistfight outside a refinery bathhouse. With sharp language and a keen eye, Yu Hua explores the line between cruelty and warmth on which modern China is—precariously, joyfully—balanced. Taken together, these stories form a timely snapshot of a nation lit with the deep feeling and ready humor that characterize its people. Already a sensation in Asia, certain to win recognition around the world, Yu Hua, in Boy in the Twilight, showcases the peerless gifts of a writer at the top of his form.
Praise For Boy in the Twilight: Stories of the Hidden China…
"How much happiness should one expect? How much security? How much adventure? What sorts of kitchen appliances, what kind of husband? . . . The stories in this collection . . . deal with the treachery latent in ordinary human relationships: marriages, friendships, professional contacts, and the bonds between parents and children. Living at a time when competition, consumerism, and global youth culture challenged traditional morals, Yu's characters find themselves caught between obsolete codes for proper behavior and novel modes of being. . . . Hua's 'hidden' China . . . is one of regular people: not allegorical caricatures or media archetypes, but men and women struggling to sort out their lives in the early years of reform."
—Drew Calvert, Boston Review

"The prolific Yu's stories tease the reader to expect some epiphany, but the real payoff lies subtly within. . . . A series of quirky folktales cast in a modern-day setting. . . . He uses the soft patter of language to wash away at least some of the hardened surface, and enduring mystery, of human behavior. . . . Demonstrates Yu's strength as a writer."
—Jonathan Liebson, Time Out New York

"A Chinese writer noted for his 'popular realism' sketches a portrait of his country through fictional vignettes of everyday life."
—O, the Oprah Magazine, "Ten Titles That Will Broaden Your Point of View"

"The stories in Yu Hua's Boy in the Twilight mine the lives of ordinary folks in small-town China."
—Elissa Schappell, Vanity Fair

"Boy in the Twilight: Stories of the Hidden China, written in the 1990s and newly translated into English, showcased this acclaimed writer's mastery of the popular realism that was in vogue during China's reform era, with mesmerizing tales on subjects ranging from generational conflict to childhood poverty to a notorious village bully."
—Lisa Shea, Elle
 
"Yu's clear-eyed voice perfectly suits the lives of his characters, whose humanness we recognize, even as it makes us smile or, more often, flinch."
—Tricia Springstubb, The Plain Dealer

"Yu Hua's highly suggestive and provocative short stories capture, in the author's own distinctively minimalist style, the subtle nuances of a modern China still seeking to break away from the legacy of the Cultural Revolution. They offer unsentimental vignettes of the lives of ordinary people in the Chinese hinterland enmeshed in webs of deception, adultery, betrayal, loss, and cruelty. . . . Yu Hua grabs his readers' attention and keeps them guessing and involved till the very end. . . . Boy in the Twilight offers an enduring testimony to the power of the short story and its ability to convey epic themes through the point of a pen."
— Meenakshi Venkat, The New York Journal of Books

"George Eliot once wrote that 'the finest language is mostly made up of simple unimposing words.' This statement rings true in the writings of the Hangzhou-born Yu Hua. In Boy in the Twilight, his carefully crafted vignettes, minimalist in style, portray stark and emotional scenarios that regular citizens of reform-era China are forced to face in their everyday lives. . . . Boy in the Twilight, first published in 1999 in Chinese, is eloquently reinvigorated in English in a translation by Allan H. Barr. . . . This collection of tales highlights Yu's true narrative talents, and with them the truth and tensions of modern China. Suffering and sin are juxtaposed with humour and irony in this gritty, honest melange of simple sketches, showing how quickly and frighteningly normalcy can be disturbed. . . . Yu delivers wonderful and vivid character portrayals. It is his plain style which lends itself to the raw honesty encountered in his characters—flaws are laid bare, private lives exposed—and which lets the distinct narrative voice of each one shine through, whether it's the bully or the village idiot being tormented, the jealous husband or his stifled wife. . . . These tales hinge on contrasts and tensions. We simultaneously detest characters and admire others, see certain actions as destructive and reinforcing, and find bleakness and hope in the messages Yu delivers. . . . He has exposed a darker, painful side of ordinary life in China and invited us to see things as they truly are—frightening both in their simplicity and their strength."
—Amy Russell, South China Morning Post

"In a way, Chinese author Yu Hua's latest collection of stories, Boy in the Twilight, has a feel similar to a collection of Aesop's fables. . . . Full of irony. . . . These tales give the impression that there is something to be learned at hand. . . . There's much to be taken away from Hua's work, whether his stories truly have a moral or some sort of lesson in them or not. Perhaps what he is offering is nothing less than insight into the extremes of warmth, tragedy, pleasure and pain found in his version of the nation. . . . A remarkable, wisening read."
—Kati Heng, Corduroy Books

"If your New Year's resolution is to read more short stories, there's no better start than Yu Hua's Boy in the Twilight: Stories of the Hidden China, a standout collection from an international literary superstar. . . . Funny and unflinchingly violent encapsulations of provincial life."
—Megan Labrise, Kirkus Reviews (from an interview with the author)
 
"[Yu Hua] hones his recognizable minimalist craft to comic and tragic perfection, suffusing these brutally honest, philosophical pieces with compassion and cruel twists of sucker-punching irony that take the reader's breath away. . . . These are everyday stories about ordinary men and women that undulate with peaks of ecstatic highs and plunge to mind-numbing lows just as the desired happy ending appears over the horizon. . . . Yet there's an underlying, wistful hope that these individuals can evolve beyond the shadow of their cultural ghosts."
—Nancy Powell, Shelf Awareness (starred)

"A laconic, piercing glimpse into the daily life of citizens living in post-Mao China . . . Aficionados of the short form will savor these stories as both adroit literature and a sharp cultural lens. Appreciative readers of such diverse recent collections as Emma Donoghue's Astray and Yoko Ogawa's Revenge will want to add this title to waiting shelves."
—Library Journal (starred)
 
Pantheon Books, 9780307379368, 195pp.
Publication Date: January 21, 2014
About the Author
Yu Hua is the author of five novels, six story collections, and three essay collections. His work has been translated into more than twenty languages. He has received many awards, including the James Joyce Award, France s Prix Courrier International, and Italy s Premio Grinzane Cavour. Yu Hua lives in Beijing."
or
Not Currently Available for Direct Purchase