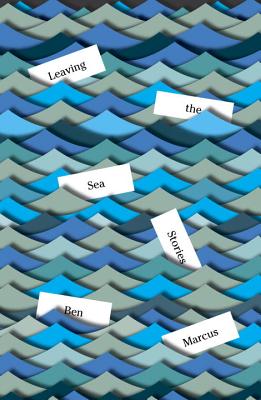 Leaving the Sea
Hardcover

* Individual store prices may vary.
Other Editions of This Title:
Digital Audiobook (1/6/2014)
Paperback (10/7/2014)
Description
From one of the most innovative and vital writers of his generation, an extraordinary collection of stories that showcases his gifts—and his range—as never before.

In the hilarious, lacerating "I Can Say Many Nice Things," a washed-up writer toying with infidelity leads a creative writing workshop on board a cruise ship. In the dystopian "Rollingwood," a divorced father struggles to take care of his ill infant, as his ex-wife and colleagues try to render him irrelevant. In "Watching Mysteries with My Mother," a son meditates on his mother's mortality, hoping to stave off her death for as long as he sits by her side. And in the title story, told in a single breathtaking sentence, we watch as the narrator's marriage and his sanity unravel, drawing him to the brink of suicide.

As the collection progresses, we move from more traditional narratives into the experimental work that has made Ben Marcus a groundbreaking master of the short form. In these otherworldly landscapes, characters resort to extreme survival strategies to navigate the terrors of adulthood, one opting to live in a lightless cave and another methodically setting out to recover total childhood innocence; an automaton discovers love and has to reinvent language to accommodate it; filial loyalty is seen as a dangerous weakness that must be drilled away; and the distance from a cubicle to the office coffee cart is refigured as an existential wasteland, requiring heroic effort.
In these piercing, brilliantly observed investigations into human vulnerability and failure, it is often the most absurd and alien predicaments that capture the deepest truths. Surreal and tender, terrifying and life-affirming, Leaving the Sea is the work of an utterly unique writer at the height of his powers.
Praise For Leaving the Sea…
Praise for Ben Marcus's Leaving the Sea
  
"Exhilarating, a treatment of both the world and the self as hostile strangers, where a man can become 'an allergy to himself,' and where language is both powerful and poisonous . . . But here the struggle to express oneself is also at times hilarious . . . A wonder and a cautionary tale all in one . . . Marcus presents a deeper range of identification for the reader, more emotional complexity, but still plenty of the chair-gripping alienation that marked his previous books . . . Thoroughly and perversely entertaining."
            —New York Times Book Review  

"Utterly compelling. What's not said, or left out, implies infinite possibilities after almost every sentence: thus creating a constant state of anxiety in the text at all times . . . As the book progresses Marcus tears up the rulebook completely. And it works beautifully . . . If you enjoy writers like Samuel Beckett, Wallace Stevens and John Ashberry, who refuse to put language in a neat little box where conventional rules apply, then I'm sure you will love this collection . . . Outstanding."
            —NPR
 
 "The protagonists in Marcus's new collection of disturbing and excruciatingly funny short stories are socially inappropriate, alienated from their lovers and relatives, anxious, bitter, mortified, lonely . . . The collection's later stories are more experimental in style and subject matter, but they, too, address themes of isolation and existential inquietude . . . Wrenching."
            —The New Yorker
 
 "Brilliant, astute . . . Filled with Marcus's lovely, rhythmic sentences and wise insights about family, self, and masculinity . . . Stakes out Marcus's best territory: the beautifully and intimately rendered claustrophobic space where our hard-won selves battle a world of others who want to compromise us. He can turn a man's spiral into despair and loneliness into a fascinating journey, buoying it with blackly comic overtones . . . There's something so seductive about Marcus's imagination and flow of language . . . It's a distant relative to Virginia Woolf's style in The Waves, a wash of abstract beauty."
            —Boston Globe

"The best stories in Leaving the Sea . . . seem powered by the electrostatic charge that results whenever the texture of the familiar is abraded by some alien, highly resistant material . . . As we make our way through this collection, we may feel as if we're moving gradually through a dark chronology of America's imminent social and political unraveling . . . Marcus is nothing less than fully engaged in an artistic enterprise that the surrealists would have authorized: injecting into our recognizable world just enough weirdness to make readers second-guess their senses."
            —Washington Post
 
"Ben Marcus is one of my favorite writers on the planet, and I am in awe of his new collection. A Marcus story is clinically proven to quadruple the vision of your inner eye, enlarge your heart ten sizes, and give you lucid dreams. In Leaving the Sea, Ben Marcus has collected fifteen wise, extraordinarily moving, funny and frightening tales. They spelunk into deep cave systems of love and treachery, dynamite new horizons of storytelling possibility. Nobody writes prose like Marcus. Anyone fortunate enough to read Leaving the Sea will feel as though she is making an evolutionary leap into new zones of insight and emotion."
            —Karen Russell
 
"Expressionistic, surreal, and morbid, Marcus has become a giant in the world of innovative, demanding prose . . . He never ceased being a humbling writer, one who demands work from his readers, both of a cognitive and an emotional nature . . . Leaving the Sea is darkly funny, psychologically provocative, and playful . . . This interesting, horrifying thing we call life is something that deserves many angles, and Marcus nails them."
            —San Francisco Chronicle
 
"Although the year is young, it's not a stretch to say that Ben Marcus's new collection, Leaving the Sea, may well be among the finest books of short fiction released in 2014."
            —The Rumpus

"Powerful and poignant . . . Exceptionally intelligent . . . A collection of short stories of extraordinary technical agility and control . . . that showcases work from all stages of Marcus's writing career . . . The language in all of these stories is acute and exacting; details of observation are haunting and revelatory."
            —The National 

"Marcus's re-imaginings of the conditions and lives of human beings in ways both radically different than other writers and uncomfortably close to some of our secret thoughts wakes the reader up, jolts the brain, and makes us see ourselves anew . . . Leaving the Sea includes some of the best stories I have read in years. If you haven't yet read Marcus, Leaving the Sea is a magnificent, and magnificently discomfiting, place to start."
            —The Oregonian
 
"Marcus's whimsical and weird stories sometimes have the matter-of-fact, fairy-tale quality of Donald Barthelme's work, and sometimes have the renaming, redefining tactics of Kurt Vonnegut's. More often, though, a darkening perplexity lurks beneath the surface—not far, because the surface is the thing, every story an exercise in testing it, stretching it, seeing how much meaning and music it might contain. The answer, finally, is: plenty. 'And though I do not understand the words,' one narrator says, 'I enjoy their defeat of silence.' This is writing as likely to satisfy the need for sympathy as it is capable of answering the craving for language that speaks to that need in a new way. It certainly defeats the silence."
            —Minneapolis Star Tribune
 
"There is a loquacious energy and inventiveness at work and at play in these stories that carries things along even when we travel to what one character admits is a place 'deeply outside any likely reality.' While the connection between language and the world is stretched, it never loses its tether entirely . . . For those tired of wilted language and the dead ends of more conventional fiction it provides a welcome and therapeutic intervention."
            —The Toronto Star

"A wide-ranging meditation on parenthood, relationships, language, and the end of the world . . . Regardless of idiom, Marcus tackles deep-held, universal terrors and anxieties in his singular way."
            —Time Out New York 

"A bounty of Ben Marcus's surreal, heartrending stories, linguistic marvels all, gathers together in Leaving the Sea."
            —Vanity Fair
 
 "Marcus's stories are nothing if not intense. They are opaque, elliptical. They go on, Beckett-like. Each finds its own form on its own terms. He's always looking for a new way to tell an old story. As he has written elsewhere, stories 'seek personal residence within a reader.' They should take over the reader's imagination, as these do."
            —Shelf Awareness
 
"Unnerving . . . Brilliant . . . Exhilarating . . . Marcus's characters will live on after the final page is turned and the book is back on the shelf . . . There's no denying the man's talent. The stories in Leaving the Sea are the perfect showcase for his range and innovation. They are thoughtful, challenging, even frustrating, but the rewards are there for those willing to put in the effort."
            —Lit Reactor
 
"It's in moments of sharp discomfort that Marcus thrives; these are, above all, tales about characters on the edge . . . It's a recurring theme in Leaving the Sea that violently destructive forces lurk both inside and out."
            —The Daily Beast, "Hot Reads"
 
 "When Ben Marcus issues a collection of stories, the literary world quakes. This latest collection shows why the imaginative Marcus's uncompromising style has earned him such respect."
            —Flavorwire, "Must-Read Books for January"
 
"Utterly masterful . . . Marcus makes you love each of his Sad Guys; he forces you to empathize against your will."
            —WUNC.org
 
 "Marcus explores the gap between the characters' true selves and the conformist roles others expect them to play . . . Leaving the Sea is recommended to serious readers who will want to reread its stories gaining new insights with each reading."
            —New York Journal of Books 

"Brilliant, unsettling . . . Unmatched in his imagining of the human form . . . Marcus articulates every grade of the uncanny, with masterful attention to the twisted vortices of language . . . Hilarious and ingenious."
            —Booklist (starred review)

"Exhilarating . . . A peculiar, funny, original analysis of the human psyche and modern language . . . A very strong collection."
            —Publishers Weekly
 
"Mind-bending . . . Boundary-pushing . . . Fifteen tales of modern anxiety that display Marcus' range . . . Marcus has mastered a bitterly comic tone and a level of psychological insight that make the characters more than repositories of middle-age rage . . . At once smart, claustrophobic, and comic."
            —Kirkus 
Alfred A. Knopf, 9780307379382, 273pp.
Publication Date: January 7, 2014
About the Author
Ben Marcus is the author of three books of fiction: "The Age of Wire and String, Notable American Women, "and "The Flame Alphabet, "and he is the editor of "The Anchor Book of New American Short Stories." His stories have appeared in "Harper's, The New Yorker, Granta, Electric Literature, The Paris Review, McSweeney's, Tin House, "and "Conjunctions." He has received the Berlin Prize, a Guggenheim Fellowship, a Whiting Writers' Award, a National Endowment for the Arts Fellowship in fiction, three Pushcart Prizes, and the Morton Dauwen Zabel Award from the American Academy of Arts and Letters. He lives in New York with his wife and children.
or
Not Currently Available for Direct Purchase