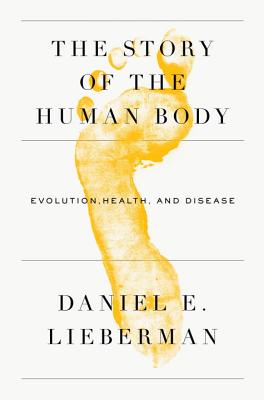 The Story of the Human Body
Evolution, Health, and Disease
Hardcover

* Individual store prices may vary.
Description
In this landmark book of popular science, Daniel E. Lieberman--chair of the department of human evolutionary biology at Harvard University and a leader in the field--gives us a lucid and engaging account of how the human body evolved over millions of years, even as it shows how the increasing disparity between the jumble of adaptations in our Stone Age bodies and advancements in the modern world is occasioning this paradox: greater longevity but increased chronic disease.
" "
"The Story of the Human Body" brilliantly illuminates as never before the major transformations that contributed key adaptations to the body: the rise of bipedalism; the shift to a non-fruit-based diet; the advent of hunting and gathering, leading to our superlative endurance athleticism; the development of a very large brain; and the incipience of cultural proficiencies. Lieberman also elucidates how cultural evolution differs from biological evolution, and how our bodies were further transformed during the Agricultural and Industrial Revolutions.
While these ongoing changes have brought about many benefits, they have also created conditions to which our bodies are not entirely adapted, Lieberman argues, resulting in the growing incidence of obesity and new but avoidable diseases, such as type 2 diabetes. Lieberman proposes that many of these chronic illnesses persist and in some cases are intensifying because of "dysevolution," a pernicious dynamic whereby only the symptoms rather than the causes of these maladies are treated. And finally--provocatively--he advocates the use of evolutionary information to help nudge, push, and sometimes even compel us to create a more salubrious environment.
(With charts and line drawings throughout.)
Praise For The Story of the Human Body: Evolution, Health, and Disease…
"No one understands the human body like Daniel Lieberman or tells its story more eloquently. He's found a tale inside our skin that's riveting, enlightening, and more than a little frightening."
—Christopher McDougall, author of Born to Run
 
"Monumental: The Story of the Human Body, by one of our leading experts, takes us on an epic voyage that reveals how the past six million years shaped every part of us—our heads, limbs, and even our metabolism. Through Lieberman's eyes, evolutionary history not only comes alive, it becomes the means to understand, and ultimately influence, our body's future."
—Neil Shubin, author of Your Inner Fish

"These are not debates to gloss over or reduce to simple statements of cause and effect — they are stories with scientific complexity and tremendous, sometimes contradictory accumulations of evidence and detail. The Story of the Human Body does full justice to those stories, to that evidence and to that detail, and brings them to bear on daily health and well-being, individual and collective.
—Washington Post

"[Lieberman] is a true expert in a system where architecture and history intersect: the human foot. He ably describes how behavior and anatomy can lead to foot injuries in long-distance runners."
—Wall Street Journal

"In thoughtful, lucid prose backed up by a hard-to-fathom amount of research, Lieberman gives us the language to understand the history of our ancestors—the history that lives on in our minds and in our bodies . . . The Story of the Human Body, expertly researched and told in an original voice, will make you look at your own body more critically—and perhaps treat it with a little more respect. After all, we sit at the edge of millions of years of small refinements that stretched this part and shortened that piece. Lieberman shows how it all fits together and that it was no accident."
—Everyday eBook

"Eloquent and precise . . . Lieberman is the first to point out that modern living and technology have made our lives better in many ways. Still, a look back at where we came from can tell us a lot about where we're headed, he says—and how we might alter that course for the better."
—Grist

"In thoroughly enjoyable and edifying prose, Lieberman . . . leads a fascinating journey through human evolution. He comprehensively explains how evolutionary forces have shaped the human species as we know it . . . . He balances a historical perspective with a contemporary one . . . while asking how we might control the destiny of our species. He argues persuasively that 'cultural evolution is now the dominant force of evolutionary change acting on the human body.'"
—Publishers Weekly (starred review)

"Lieberman holds nothing back . . . He cleverly and comprehensively points out the perils of possessing Paleolithic anatomy and physiology in a modern world and bemoans 'just how out of touch we have become with our bodies'. . . If we want to continue our phenomenal run as a species, it is essential to understand (and embrace) our evolutionary legacy."
—Booklist 

"A massive review of where we came from and what ails us now . . . Would that industry and governments take heed."
—Kirkus Reviews
Pantheon Books, 9780307379412, 480pp.
Publication Date: October 1, 2013
About the Author
Daniel E. Lieberman is professor of human evolutionary biology and the Edwin M. Lerner II Professor of Biological Sciences at Harvard. He has written more than one hundred articles, many appearing in the journals "Nature "and "Science. "Lieberman is especially well known for his research on the evolution of the human head and the evolution of running, including barefoot running (earning him the nickname the Barefoot Professor). His research and discoveries have been highlighted widely in newspapers, magazines, books, news programs, and documentaries.