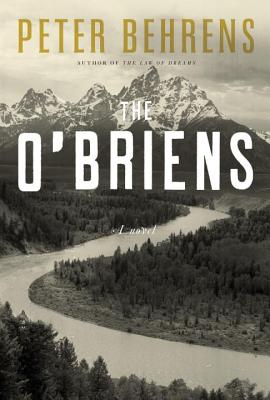 The O'Briens (Hardcover)
Pantheon, 9780307379931, 400pp.
Publication Date: March 6, 2012
Other Editions of This Title:
Digital Audiobook (3/5/2012)
Paperback (3/12/2013)
* Individual store prices may vary.
Description
An unforgettable saga of love, loss, and exhilarating change spanning half a century in the lives of a restless family, from the author of the acclaimed novel The Law of Dreams.
 
The O'Briens is a family story unlike any told before, a tale that pours straight from the heart of a splendid, tragic, ambitious clan. In Joe O'Brien—grandson of a potato-famine emigrant, and a backwoods boy, railroad magnate, patriarch, brooding soul—Peter Behrens gives us a fiercely compelling man who exchanges isolation and poverty in the Canadian wilds for a share in the dazzling riches and consuming sorrows of the twentieth century.
 
When Joe meets Iseult Wilkins in Venice, California, the story of their courtship—told in Behrens's gorgeous, honed style—becomes the first movement in a symphony of the generations. Husband and wife, brothers, sisters-in-law, children and grandchildren, the O'Briens engage unselfconsciously with their century, and we experience their times not as historical tableaux but as lives passionately lived. At the heart of this clan—at the heart of the novel—is mystery and madness grounded in the history of Irish sorrow. The O'Briens is the story of a man, a marriage, and a family, told with epic precision and wondrous imagination.
About the Author
Peter Behrens is the author of "The Law of Dreams "(which received Canada's Governor General's Literary Award for Fiction and was published around the world to wide acclaim) and "Night Driving, " a collection of short stories. His stories and essays have appeared in many publications, including "The Atlantic "and "Tin House. "Honors he has received include a Wallace Stegner Fellowship from Stanford University's Creative Writing Program.
Praise For The O'Briens…
"Impressive . . . World War II hovers in this novel's path like flak and rips the lives of the novel's characters to shreds. The last hundred pages are a powerful evocation of that war's effect . . . A major accomplishment. "
—The New York Times Book Review
 
"As befits a saga so ambitious in design, there is an able mixture of agony and ecstasy throughout. Time and time again, Behrens proves himself a first-rate seanchaí, the Irish term for a storyteller, by bringing the O'Brien clan to life on the page. En route, he fashions a topographically capacious narrative that relishes the scents of Santa Barbara, the pastoral beauty of the Ojai Valley and the tidal mantras of coastal Maine."
—The Washington Post

"Powerful . . . Moments of grace and romance are rocked by cruel words and violence in this epic, a piece of rough beauty itself."
—Publishers Weekly (starred)
 
"Illuminating . . . An epic along the lines of Middlesex in the way it follows a family through time and examines the results of their actions . . . A brooding novel, engrossing in its scope and detail, The O'Briens keeps sight of the family's personal stories amid the larger history of much of the twentieth century."
—Booklist
 
"Behrens's characters are engaging and the history of the various cities, budding industries, and wars expertly handled."
—Library Journal
 
"Peter Behrens's family saga The O'Briens (Pantheon) spans the first half of the Canadian twentieth century, finding a parallel epic in an unforgettable narrative of marriage."
—Vogue.com
 
"The next generation in Irish literature . . . A fascinating depiction of how Irish sorrow ripples through time."
—Bookpage

"[A] deftly painted portrait of a marriage . . . Two smart, determined individuals are hardly the recipe for a tranquil marriage. But they certainly make life—and fiction—more interesting."
—The Seattle Times

"Gritty and nimble, leaping from point to point and character to character, and breaking as many links of chain as it builds . . . The O'Briens has the surprising, sometimes-random quality of real life rather than the plotted-ness of a conventional novel. Births are balanced by deaths; lives take unexpected turns; characters leave and are heard from years later."
—The Columbus Dispatch
 
"Brimming with character and incident, even more ambitious in scope than its prizewinning predecessor, The Law of Dreams . . . Behrens celebrates the warmth of human attachments without pretending they can ever entirely dispel the existential chill of mortality and loneliness."
—The Daily Beast
 
"The story of Joe O'Brien and his family is epic in its scope (the building of the North American railroads, two world wars, the Depression, Prohibition, children and grandchildren, businesses built and lost and restarted) and lifetimes unfold in its pages. That the lives hold our attention so closely is a tribute to Behrens' beautiful writing, and a reminder of just how vital, brutal, and pervasive, love is."
—Huffington Post 
 
"The O'Briens is the story of a marriage and a family moving through history—from the first flying machines, through two world wars, to the election of JFK—told with epic precision and wondrous imagination." —Birmingham News
 
"This is a saga that warrants your attention. This is a story whose quiet brilliance can't be ignored. It's an intimate epic, if that makes sense—a portrait of an entire world through the lens of a single bloodline. All the joy and passion, all the anger and fear, all the love and loss involved in simply living and being—that's what Peter Behrens has captured with The O'Briens." —The Maine Edge
 
"This is a family saga with triumphs and tragedies."
—Daily American
 
"[A] really, really good, beautifully written book."
—Bill Goldstein, NBC-TV's "Weekend Today in New York
Book Videos
Coverage from NPR
or
Not Currently Available for Direct Purchase