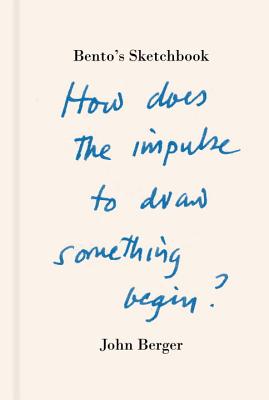 Bento's Sketchbook (Hardcover)
Pantheon Books, 9780307379955, 176pp.
Publication Date: November 8, 2011
Description
"Bento's Sketchbook" is an exploration of the practice of drawing, as well as a meditation on how we perceive and seek to explore our ever-changing relationship with the world around us.
About the Author
John Berger's many books include "Ways of Seeing, "the fiction trilogy "Into Their Labours, " the Booker Prize-winning novel "G.," and "To the Wedding."
Praise For Bento's Sketchbook…
"Warmly engaging, philosophical, unpredictable, and, at times, almost unbearably moving… Berger's signature cultural fluency, compassion, and profound sense of beauty and justice coalesce exquisitely in this sketchbook." –Booklist

"With his clear, sinuous prose, he gives an account of how the contours of reality 'harass' the act of drawing…the book coheres because Berger's is a humane and uniquely confiding voice, and this voice is coextensive with his skill as a draftsman. The two attributes act in concert with Spinoza's enigmatic philosophical propositions. All three constitute a singular act of witness."—The New York Times Book Review

"Bento's Sketchbook is delightful and yet reaches a depth of thought somewhat surprising in a book of its size—with pictures, nonetheless. If you are an artist, read this. If you have ever wondered what it's like to see through the eyes of an artist or what it's like to think like an artist, read this. If you want an escape, if you want to learn, if you want to be entertained, read this. But most of all, if you want to be inspired—read this." –Everyday eBook

"Someone familiar with John Berger as a writer, might have guessed the Spinozian bent of his humanity. Someone familiar with John Berger the art critic certainly knows of his visual sensibility. What a feast it is, then, to discover these two strands of Berger's astonishing body of work united in this treasure of a book."
—Antonio Damasio, author of Self Comes to Mind

"A deceptively brief volume offers profound meditations on art, the creative process and so much more… Whether he's extending an analogy that compares making a drawing to riding a motorbike or discusses storytelling in a manner that could apply just as well to drawing, he makes such interaction and interconnection seem central to the human condition. Berger's readers will see with fresh eyes."
—Kirkus, starred review

"Bento's Sketchbook is a literary work that epitomizes the wonderful world of imagination and play, and a reminder of how we can truly see—if only we can slow down…Highly recommended." –New York Journal of Books

"Berger steers away from direct answers to the mystery of the artistic impulse or the many other questions he poses in this short book. But the value of this impressionistic work lies less in those answers than it does in exposing us to new ways of encountering the world." –Shelf Awareness

"An uplifting rumination." –New York Times Style Magazine 
 
"Bento's Sketchbook is an example of categories more than just transcended: trampled, in fact… his own jottings, recollections, and encounters, though occasionally knotty, display a freshness sharpened by passages of haiku-like surprise… Berger can still lift us to indignation and enchantment." –The Boston Globe
 
"If any single quality most characterizes Berger, it is presence. John Berger seems to live every moment, his earthy engagement with the world reflected in his sketching technique. He draws with black ink, wash and spit, using his finger rather than a brush…Bento's Sketchbook  is not a book to peruse while waiting for a document to download on your computer. It should be read like poetry." –The Washington Independent Review of Books

"His prose, with its easy and fluid lyricism, begs to be read, poured over, and soaked in. He shrugs off the authority he could quite easily claim (a stature writers of lesser knowledge are often unable to resist coveting) and writes with humble compassion. His thoughts glide so easily from one topic to the next, his tone of urgency never bordering on lecture, that it seems only natural to wonder: why aren't more writers trying to write like this?... this is decidedly Berger — eyes always open, political fire forever raging. His words, so grounded in history and humanitarianism, begin to feel timeless, as if their relevance were set in stone." –Idiom Magazine

"Berger offers unflinching insights into the predicaments of our time and how we might face them…Unlike many other political thinkers, Berger has remained true in his old age to the ideals of his youth. What has sustained his optimism, his idealism, his ability to persevere? Perhaps it is just such an outlook. It does not promise victory, but it is resistant to defeat. It is skeptical, but remains steadfast. It is a philosophy of hope, tempered by experience, and without illusion." –The Forward
Advertisement