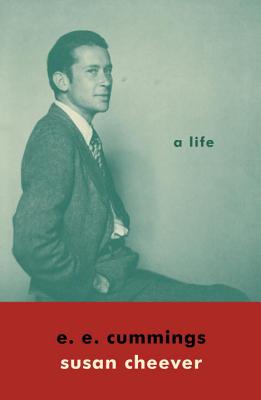 E. E. Cummings (Hardcover)
A Life
Pantheon Books, 9780307379979, 213pp.
Publication Date: February 11, 2014
Other Editions of This Title:
Paperback (4/28/2015)
Compact Disc (2/11/2014)
Compact Disc (2/11/2014)
MP3 CD (2/11/2014)
* Individual store prices may vary.
Description
From the author of American Bloomsbury, Louisa May Alcott, and Home Before Dark, a major reassessment of the life and work of the novelist, painter, and playwright considered to be one of America's preeminent twentieth-century poets. At the time of his death in 1962, at age sixty-eight, he was, after Robert Frost, the most widely read poet in the United States.
E. E. Cummings was and remains controversial. He has been called a master (Malcolm Cowley); hideous (Edmund Wilson). James Dickey called him a daringly original poet with more vitality and more sheer uncompromising talent than any other living American writer.
In Susan Cheever's rich, illuminating biography we see Cummings's idyllic childhood years in Cambridge, Massachusetts; his Calvinist father distinguished Harvard professor and sternly religious minister of the Cambridge Congregational Church; his mother loving, attentive, a source of encouragement, the aristocrat of the family, from Unitarian writers, judges, and adventurers.
We see Cummings slight, agile, playful, a product of a nineteenth-century New England childhood, bred to be flinty and determined; his love of nature; his sense of fun, laughter, mimicry; his desire from the get-go to stand conventional wisdom on its head, which he himself would often do, literally, to amuse.
At Harvard, he roomed with John Dos Passos; befriended Lincoln Kirstein; read Latin, Greek, and French; earned two degrees; discovered alcohol, fast cars, and burlesque at the Old Howard Theater; and raged against the school's conservative, exclusionary upper-class rule by A. Lawrence Lowell.
In Cheever's book we see that beneath Cummings's blissful, golden childhood the strains of sadness and rage were already at play. He grew into a dark young man and set out on a lifelong course of rebellion against conventional authority and the critical establishment, devouring the poetry of Ezra Pound, whose radical verses pushed Cummings away from the politeness of the traditional nature poem toward a more adventurous, sexually conscious form.
We see that Cummings's self-imposed exile from Cambridge a town he d come to hate for its intellectualism, Puritan uptightness, racism, and self-righteous xenophobia seemed necessary for him as a man and a poet. Headstrong and cavalier, he volunteered as an ambulance driver in World War I, working alongside Hemingway, Joyce, and Ford Madox Ford . . . his ongoing stand against the imprisonment of his soul taking a literal turn when he was held in a makeshift prison for undesirables and spies, an experience that became the basis for his novel, The Enormous Room.
We follow Cummings as he permanently flees to Greenwich Village to be among other modernist poets of the day Marianne Moore, Hart Crane, Dylan Thomas and we see the development of both the poet and his work against the backdrop of modernism and through the influences of his contemporaries: Stein, Amy Lowell, Joyce, and Pound. Cheever's fascinating book gives us the evolution of an artist whose writing was at the forefront of what was new and daring and bold in an America in transition.
(With 28 pages of black-and-white images.)
About the Author
Susan Cheever was born in New York City and graduated from Brown University. A Guggenheim fellow and a director of the board of the Yaddo Corporation, Cheever currently teaches in the MFA programs at Bennington College and The New School. She lives in New York City.
Praise For E. E. Cummings: A Life…
Praise for Susan Cheever'sE.E. CUMMINGS "E.E. Cummings: A Life is like the poet himself: playful, trim, and meticulous."                                                                                                                 -Claire Luchette, Poetry Foundation "Cheever has gone deep into Cummings' personal life and his relationships to give us a fully rounded portrait of one of the previous century's most important writers." - Andrew McKeever, Manchester Journal  "Absorbing…a vibrant life that was representative of its time and place in no way more than its refusal to be representative…Cheever revives Cummings as a gregarious, quirky iconoclast through her evocative prose."                                                                                                                -Steve G. Kellman, SF Chronicle  "Cummings's life is inherently interesting, dramatic, and sad, and Cheever highlights its colorful and tragic aspects…one has to admire the spirit of acceptance that Cheever breathes into her book. Even as she celebrates Cummings's rebelliousness, bravado, and 'irrepressible' nature, she emphasizes, with compassion and tenderness, his frailty, anxiety, vulnerability."                                                                                     -Priscilla Gilman, Boston Globe  "Blending biography, memoir and cultural history – among her favored genres – Cheever offers not a definitive scholarly work but a textured inspection of some of the more intriguing faces of the multifaceted Cummings…we get a tightly focused image of Cummings, an image comprising evocative words that occasionally drip Susan Cheever's heart's blood." -Daniel Dyer, Cleveland Plain Dealer "E.E. Cummings: A Life isn't the first biography of the poet, but it may be the most charming and heartfelt. An ideal, unpretentious and welcoming biography for those interested in learning more about a great poet too often remembered for his rejection of capital letters than his verse."                                                                                     -Tom Lavoie, Shelf Awareness  "Cheever's biography stands as a welcomed introductory attempt to understand Cummings's impact, and it is even one of the best efforts to situate a Modernist inside the larger historical context."                                                                                     -Charles Shafaieh, Daily Beast  "Cheever burrows with credibility, exposing Cummings' actual life, actual unfiltered activities, and from this reveals his motivations and, finally, his world view…She establishes a golden age of poetry with Cummings at its center…Cheever becomes our guide through Cummings' styles of life and art…She shows remarkable objectivity, which is critical in honest reportage, and her personal skills are beautifully developed and make for delightful reading…With care and responsibility, Cheever gives us a comprehensive view of a man with interesting problems whom we only thought we knew." -Grace Cavalieri, Washington Independent Review of Books "Cheever's reconsideration of Cummings and his work charms, rattles, and enlightens in emulation of Cummings' radically disarming, tender, sexy, plangent, and furious poems."                                                                                    -Booklist (Starred Review) "Drawing on letters, archival material and several more comprehensive biographies, Cheever distills the major events of Cummings' life… This sympathetic life may win Cummings a new generation of readers."                                                                                    —Kirkus  "Affecting…brilliant…Ms. Cheever is the kind of biographer who can maintain both an intimacy and dispassionate relationship with her subject...deeply satisfying." -Norman Powers, New York Journal of Books "Cheever rends excellent dramatic scenes out of climactic moments."                                                                                     -Publishers Weekly  
Coverage from NPR
or
Not Currently Available for Direct Purchase