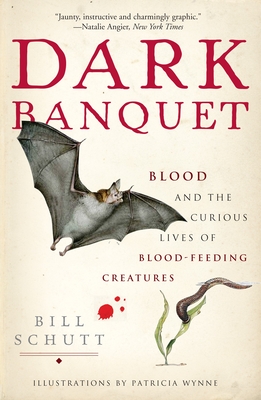 Dark Banquet
Blood and the Curious Lives of Blood-Feeding Creatures
Paperback

* Individual store prices may vary.
Description
"A witty, scientifically accurate, and often intensely creepy exploration of sanguivorous creatures."—San Francisco Chronicle

"Bill Schutt turns whatever fear and disgust you may feel towards nature's vampires into a healthy respect for evolution's power to fill every conceivable niche."—Carl Zimmer, author of Parasite Rex and Microcosm: E. coli and the New Science of Life

For centuries, blood feeders have inhabited our nightmares and horror stories, as well as the shadowy realms of scientific knowledge. In Dark Banquet, zoologist Bill Schutt takes us on a fascinating voyage into the world of some of nature's strangest creatures—the sanguivores. Using a sharp eye and mordant wit, Schutt makes a remarkably persuasive case that blood feeders, from bats to bedbugs, are as deserving of our curiosity as warmer and fuzzier species are—and that many of them are even worthy of conservation.

Examining the substance that sustains nature's vampires, Schutt reveals just how little we actually knew about blood until well into the twentieth century. We revisit George Washington on his deathbed to learn how ideas about blood and the supposedly therapeutic value of bloodletting, first devised by the ancient Egyptians and Greeks, survived into relatively modern times.
 
Dark Banquet details our dangerous and sometimes deadly encounters with ticks, chiggers, and mites (the ­latter implicated in Colony Collapse Disorder—currently devastating honey bees worldwide). Then there are the truly weird—vampire finches. And if you thought piranha were scary, some people believe that the candiru (or willy fish) is the best reason to avoid swimming in the Amazon.

Enlightening and alarming, Dark Banquet peers into a part of the natural world to which we are, through our blood, inextricably linked.
Praise For Dark Banquet: Blood and the Curious Lives of Blood-Feeding Creatures…
"A jaunty, instructive and charmingly graphic look at nature's born phlebotomists."—Natalie Angier, The New York Times
 
"Schutt illuminates the bizarre world of sanguivores with the wizened voice of a biologist who's gotten his hands dirty."—Orion Magazine
 
"Wide ranging . . . packed with fascinating facts and anecdotes."—The Star-Ledger

"It's creepy, funny and really, really interesting."—Baltimore Sun

"My vote for the most fun and best-written 'nature book' of the past several years."—Idaho Nature Notes
 
"Schutt reveals elements of nature that few authors have written about with such vigor and wit."—Albuquerque Journal
 
"I love Bill Schutt's book. . . . Schutt writes with obvious enthusiasm about fascinating creatures that, quite frankly, repel most of us."—The Nature Conservancy
 
"Schutt may have a doctorate in zoology but he has also mastered the pen along the way. And, he gets an A+ for his droll sense of humor."—Roanoke Times
 
"A natural history of bloodsuckers that shines in gory glory."—Kirkus Reviews
 
"Absorbing and insightful . . . an interesting, well-written volume . . . educational and fun to read. Written in clear language in a witty conversational style . . . intriguing . . . highly recommended."—American Library Association
 
"Witty and illuminating . . . Schutt's fascination for 'sanguivores' goes a long way towards disarming, while defining, our primal fear of creatures that feed on blood."—Publishers Weekly
 
"With great scientific accuracy (backed up by extensive notes . . . ), text couched in layman's terms, and a sense of breathless discovery, Schutt will make blood feeding just another choice on the culinary spectrum."—Booklist
 
"Hooks the reader on the first page . . . riveting . . . well-rounded . . . engrossing science."—Library Journal

"Dr. Schutt's voyage through the world of blood-feeders is alive with humor and the sheer fun of scientific exploration. He may become the literary heir to Stephen Jay Gould—if you can imagine Gould writing after downing twelve cups of coffee sweetened with nitrous oxide."—Charles Pellegrino

"Having donated some of myself to most kinds of bloodsuckers during my field research around the world, mercifully with the exception of vampire bats and candiru catfish, I was totally absorbed by this thoroughly charming and scientifically accurate account."—Edward O. Wilson
Crown, 9780307381132, 336pp.
Publication Date: October 6, 2009
About the Author
Bill Schutt is a vertebrate zoologist and author of six nonfiction and fiction books, including the New York Times Editors' Choice Cannibalism: A Perfectly Natural History. Recently retired from his post as professor of biology at LIU Post, he is a research associate at the American Museum of Natural History, where he has studied bats all over the world. His research has been featured in Natural History magazine as well as in the New York Times, Newsday, the Economist, and Discover.
or
Not Currently Available for Direct Purchase