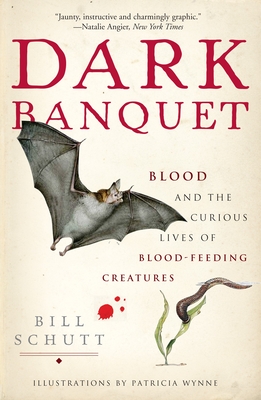 Dark Banquet (Paperback)
Blood and the Curious Lives of Blood-Feeding Creatures
Broadway Books, 9780307381132, 336pp.
Publication Date: October 6, 2009
Other Editions of This Title:
Hardcover (10/14/2008)
* Individual store prices may vary.
Description
"A witty, scientifically accurate, and often intensely creepy exploration of sanguivorous creatures."
—San Francisco Chronicle

For centuries, blood feeders have inhabited our nightmares and horror stories, as well as the shadowy realms of scientific knowledge. In Dark Banquet, zoologist Bill Schutt takes us on a fascinating voyage into the world of some of nature's strangest creatures–the sanguivores. Using a sharp eye and mordant wit, Schutt makes a remarkably persuasive case that blood feeders, from bats to bedbugs, are as deserving of our curiosity as warmer and fuzzier species are–and that many of them are even worthy of conservation.

Enlightening and alarming, Dark Banquet peers into a part of the natural world to which we are, through our blood, inextricably linked.

"Dark Banquet is an amazing account of all those creatures that most of us consider really creepy! But author Bill Schutt doesn't, and actually embraces these critters and their bloodthirsty lifestyles. It's great to see such wonderful animal research in a reader-friendly form. After finishing the book, you'll have a lot to discuss at your next dinner party!"
—Jack Hanna, director emeritus, Columbus Zoo, and host of television's Emmy Award—winning series Into the Wild

"[A] passionate defense of bloodsuckers from the leech to the candiru."
—Discover

About the Author
BILL SCHUTT is an associate professor of biology at C.W. Post College in Long Island and a research associate in mammalogy at the American Museum of Natural History in New York.
Praise For Dark Banquet: Blood and the Curious Lives of Blood-Feeding Creatures…
"A jaunty, instructive and charmingly graphic look at nature's born phlebotomists – creatures from wildly different twigs of the phylogenetic tree that all happen to share a fondness for blood."
—The New York Times

"[P]rofiles some of the animal kingdom's dedicated bloodsuckers, from vampire bats and the dreaded candiru catfish to the not-so-dreaded vampire finch….Schutt is an engaging writer."
—Washington Post Book World

"Zoologist Bill Schutt, through witty, informed writing, transforms bloodsuckers into enticing creatures."
—Metro (NY)

"With great scientific accuracy (backed up by extensive notes and a bibliography), text couched in layman's terms, and a sense of breathless discovery, Schutt will make blood feeding just another choice on the culinary spectrum."
—Booklist

"Dr. Schutt's voyage through the world of blood-feeders is alive with humor and the sheer fun of scientific exploration. He may become the literary heir to Stephen Jay Gould–if you can imagine Gould writing after downing twelve cups of coffee sweetened with nitrous oxide."
—Charles Pellegrino

"What starts out as a horror movie of a book morphs into an entrancing exploration of the living world. Bill Schutt turns whatever fear and disgust you may feel towards nature's vampires into a healthy respect for evolution's power to fill every conceivable niche. And once you're done, you'll be spoiling one dinner party after another retelling Schutt's tales of bats, leeches, and bed bugs."
—Carl Zimmer, author of Parasite Rex and Microcosm: E. coli and the New Science of Life

"Having donated some of myself to most kinds of bloodsuckers during my field research around the world, mercifully with the exception of vampire bats and candiru catfish, I was totally absorbed by this thoroughly charming and scientifically accurate account."
—Edward O. Wilson

"The combination of Bill Schutt's marvelous writing and Patricia J. Wynne's elegant illustrations makes Dark Banquet--the definitive account of blood feeding in nature-- an unstoppable, exhilarating read. Schutt brings both wisdom and wit to his coverage of fascinating facts about the biology of various creatures and the historical interplay of humans as victims, beneficiaries, and scientists. The book has the perfect balance of enlightenment, humor, an irreverence that is so true to a dedicated field biologist with a keen sense of subjects ranging from Leonardo Da Vinci's fascination with leech locomotion to New York's bed bug problem. Dark Banquet is engrossing without being gross at all!"
—Michael Novacek, Provost and Curator, American Museum of Natural History