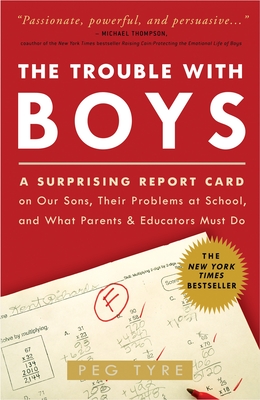 The Trouble with Boys
A Surprising Report Card on Our Sons, Their Problems at School, and What Parents and Educators Must Do
Paperback

* Individual store prices may vary.
Description
From the moment they step into the classroom, boys begin to struggle. They get expelled from preschool nearly five times more often than girls; in elementary school, they're diagnosed with learning disorders four times as often. By eighth grade huge numbers are reading below basic level. And by high school, they're heavily outnumbered in AP classes and, save for the realm of athletics, show indifference to most extra­curricular activities. Perhaps most alarmingly, boys now account for less than 43 percent of those enrolled in college, and the gap widens every semester!

The imbalance in higher education isn't just a "boy problem," though. Boys' decreasing college attendance is bad news for girls, too, because ad­missions officers seeking balanced student bodies pass over girls in favor of boys. The growing gender imbalance in education portends massive shifts for the next generation: how much they make and whom they marry.

Interviewing hundreds of parents, kids, teachers, and experts, award-winning journalist Peg Tyre drills below the eye-catching statistics to examine how the educational system is failing our sons. She explores the convergence of culprits, from the emphasis on high-stress academics in preschool and kindergarten, when most boys just can't tolerate sitting still, to the outright banning of recess, from the demands of No Child Left Behind, with its rigid emphasis on test-taking, to the boy-unfriendly modern curriculum with its focus on writing about "feelings" and its purging of "high-action" reading material, from the rise of video gaming and schools' unease with technology to the lack of male teachers as role models.

But this passionate, clearheaded book isn't an exercise in finger-pointing. Tyre, the mother of two sons, offers notes from the front lines—the testimony of teachers and other school officials who are trying new techniques to motivate boys to learn again, one classroom at a time. The Trouble with Boys gives parents, educators, and anyone concerned about the state of education a manifesto for change—one we must undertake right away lest school be-come, for millions of boys, unalterably a "girl thing."
Praise For The Trouble with Boys: A Surprising Report Card on Our Sons, Their Problems at School, and What Parents and Educators Must Do…
"Striking ... Tyre presents years of research and reporting from schools around the country and arrives at a gut-punch of a conclusion: Education in the United States is not geared to boys ... Tyre has the numbers, studies and interviews to back it up."
—WashingtonPost.com

"Boys have their troubles and The Trouble with Boys so sensitively reveals them. Parents, teachers and others of us who work with kids will do so more effectively having read this vital book. Boys everywhere will be the fortunate beneficiaries of Peg Tyre's insights and suggestions."
—Mel Levine, M.D. author of the #1 New York Times bestseller A Mind at a Time

"A riveting, deeply thoughtful and encouraging book that leads the way to embracing the best in our boys."
—Louann Brizendine, author of the national bestseller The Female Brain and the forthcoming The Male Brain

"Every once in a while a book comes along that offers us an opportunity to change the way we look at something we thought we understood. The Trouble With Boys offers just such an opportunity. It combines meticulous documentation with eloquent first person accounts in a way that good teachers know is the best way to present challenging ideas responsibly and persuasively."
—James Garbarino, PhD, author of Lost Boys: Why Our Sons Turn Violent and How We Can Save Them

"The Trouble with Boys is a rarity--a page-turner about teaching and learning. It does a brilliant job of demonstrating the mismatch between what many boys need and what education, from preschool through college, gives them. Peg Tyre is a wise and engaging guide on everything from what's going on in classrooms to the impact of video games and the findings of cutting-edge neuroscience. Her nuanced treatment of the plusses and minuses of single-sex education as well as her critique of faddish brain-based education are especially eye-opening. This is a book for all parents, whether they're raising girls or boys, as well as for everyone who cares about how we're educating our kids--which ought to be all of us."
—David Kirp, Professor, Goldman School of Public Policy, UC-Berkeley

"A new and insightful view of why boys are turning off from school and what parents and educators can do to bring them back…Brims with practical ideas as well as a sophisticated understanding of why boys have become the new underdogs from preschool through college."
—Judith Kleinfeld, Professor of Psychology and Director, Boys Project, University of Alaska Fairbanks

"A clear-eyed, wide ranging, deeply thoughtful book about what's going on with boys . . . and why we should care. This is the book about boys that could change our world."
—Jon Scieszka, Library of Congress-appointed "Ambassador for Children's Literature," and author of numerous bestsellers and award winners including "The Time Warp Trio" books, The Stinky Cheese Man and Math Curse

"A terrific book, solidly documented…Should be helpful to parents and teachers who need to understand why boys are falling behind and do something about it."
—Diane Ravitch, Professor, New York University's Steinhardt School of Education, and author of Left Back: A Century of Battles Over School Reform
 
"Passionate, powerful and persuasive, Peg Tyre's beautifully researched book, The Trouble withBoys offers the reader a compelling  explanation for why boys are not being served well by America's schools.   I recommend this book to any mother who is confused or worried by her son's struggles in the classroom.  What you learn here will help you to guide your son's education.  I suspect that  teachers may feel that Peg Tyre has given voice to their deepest doubts about the things we make boys endure in school.  I urge all educators to read The Trouble with Boys. You won't teach boys in the same way once you've finished it."
—Michael Thompson, coauthor of the New York Times bestseller Raising Cain: Protecting The Emotional Life of Boys
Harmony, 9780307381293, 320pp.
Publication Date: August 11, 2009
About the Author
PEG TYRE was, until recently, a senior writer at Newsweek specializing in social trends and education. She has won numerous awards, including a Pulitzer Prize, a Clarion Award, and a National Education Writers Association Award. She lives in New York City with her husband, novelist Peter Blauner, and their two sons.
or
Not Currently Available for Direct Purchase