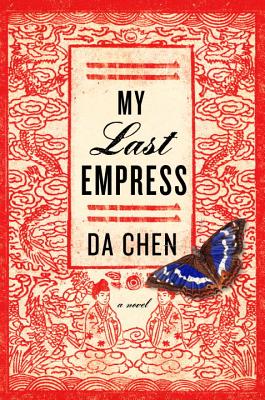 My Last Empress (Hardcover)
Crown, 9780307381309, 288pp.
Publication Date: October 2, 2012
* Individual store prices may vary.
Description
A sweeping story of passion and obsession, set against the upheavals of 19th-century imperial China, by the New York Times bestselling author Da Chen
 
   When Samuel Pickens' great love tragically loses her life, Samuel travels the globe, Annabelle always on his mind. Eventually, he comes face to face with the mirror image of his obsession in the last place he would expect, and must discover her secrets and decide how far he will go for a woman he loves. 
   Da Chen immerses the reader in the world of the Chinese imperial palace, filled with ghosts and grief, where bewitching concubines, treacherous eunuchs, and fierce warlords battle for supremacy. Da takes us deeply into an epic saga of 19th century China, where one man searches for his destiny and a forbidden love.
About the Author
DA CHEN grew up in China and graduated from Columbia University Law School. He lives in Los Angeles with his wife and two children. "Brothers," Da Chen's acclaimed first work of fiction, made the 2006 best book lists at the "Washington Post," "San Francisco Chronicle," "Miami Herald," and "Publishers Weekly." Other books include the "New York Times" bestselling memoir "Colors of the Mountain," "Sounds of the River," "Wandering Warrior" and "China's Son."
Praise For My Last Empress…
"Nabokov meets Dream of the Red Chamber. . . A lyrical tale of crossed borders, boundaries and destinies, expertly told." –Kirkus, starred review
 
"A wonderful tale of passionate obsession…the prose is elegantly inviting." –Library Journal

"The best romance stories are always the most fearless…Sweeps you away with visions of a bygone age of royal extravagance…Fans of sweeping historical romance like Gone with the Wind and Ian McEwan's Atonement, as well as fans of transgressive sexual explorations like Nabokov's Lolita, will find another engrossing story in My Last Empress. It's both moving and frightening, dark and hopeful, gut-wrenching and inspiring. Chen has delivered another powerful work in an already stellar career." —Bookpage

"Chen's lyrical prose enhances and deepens the eerie tone of this atmospheric melodrama." —Booklist

"Steeped in the language and colors of an Asia long gone… Chen's…19th-century tale of obsession explores the line between love and madness." —Publishers Weekly

"In My Last Empress, Da Chen pushes the reader into the strangest corners of the human heart, with a style of pure creepy gorgeousness. Like a fan opening, vane by mysterious vane." —Janet Fitch, New York Times bestselling author of White Oleander and Paint it Black
 
Da Chen's My Last Empress is an intoxicating and consistently surprising historical novel that delves into the nature of erotic passion, obsession and phantasmagoric haunting with vivid descriptive flourishes that evoke the courtly life of 19th century imperial China. Set against the backdrop of both New England and China, the narrative masterly interweaves the story of narrator Samuel Pickens going in search of his deceased beloved while stumbling upon the intrigue and mysterious machinations of the Chinese emperor, a world full of eunuchs, warlords, and concubines, replete with loyalty and betrayal. Simultaneously a timeless love story and a dazzling tale of dangerous infatuation, My Last Empress brings the reader along on a sensual and astounding journey of self-discovery and cultural revelation. A truly original novel written by one of our most inspired bicultural writers." —Ravi Shankar, Pushcart Prize winning poet and Founding Editor of Drunken Boat

"If you took the love child of J.D. Salinger and F. Scott Fitzgerald, then raised him in China, you would get something close to the beauty, truth, and elegance of the words of Da Chen in My Last Empress." — John Buffalo Mailer, author of Hello Herman and The Big Empty
 
Da Chen has followed Nabokov's dictum to caress the detail beautifully, with a calligraphic touch, to create an enchanting tale and a picaro journey through the vanities of the American upper classes with many surprising twists, humor, eros, and profound psychological insights." — Josip Novakovich, American Book Award and Whiting Award winning author of April Fool's Day
or
Not Currently Available for Direct Purchase